About this Event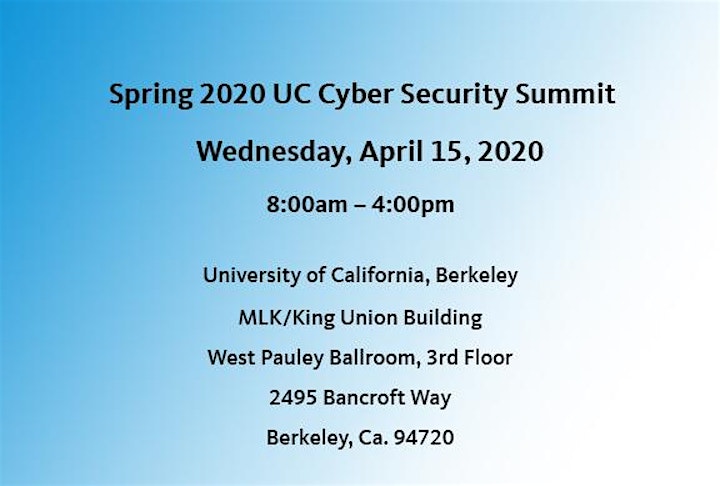 UC is proud to sponsor this by invitation only event.
The Summit brings together industry leaders, stakeholders from across UC, and invited guests from the California State University and California Community Colleges to discuss issues related to cybersecurity and cyber-risk management.
Speakers at the Spring 2020 Summit will share their expertise on topics such as improving risk management, ensuring data privacy, increasing patient safety, and harnessing the benefits of AI and machine learning.
Please register by clicking on the green register button. Space is limited to 170 attendees. Registration closes on April 1, 2020. If you have questions, please email uccybersummit@ucop.edu.
Hotels
Hotel reservations are on first-come basis. Make your plans early so that you can take advantage of the summit rates at the following hotels:
Courtyard by Marriott - 5555 Shellmound Street, Emeryville, California 94608 (510) 652- 8777 - rate: $275. Call or for an online reservation by March 17 for this guaranteed rate .
Graduate Hotel – 2600 Durant Ave, Berkeley, CA 9470 (510 ) 845-8981 info@graduateberkeley.com - rate: $239
Hotel Shattuck – 2086 Allston Way, Berkeley, CA 94704 (510) 845-7300 info@hotelshattuckplaza.com - You can request the UC rate by phone or go onto Connexxus. The rate will vary depending on when you make your reservation. Reserve early.
Parking
Public Parking in Berkeley - There are a number of public parking lots and facilities near campus and in downtown Berkeley. Link for a map of Berkeley parking. There is street and metered parking near the University, but be diligent about reading parking restrictions since regulations and schedules are strictly enforced by the City of Berkeley.
Allston Way near Shattuck - 2061 Allston Way
Bancroft Way near Bowditch - 2558 Bancroft Way
Durant Avenue near Telegraph - 2450 Durant Avenue
BART
You will want to get to the Downtown Berkeley BART station. The Downtown Berkeley BART Station is on both the Richmond-Daly City/Colma (Red) and the Richmond-Fremont (Orange) BART lines.
Please visit www.bart.gov to find out more specific fare, schedule, and station information.
Upon exiting the BART terminal, you will be on a brick plaza on Shattuck Avenue. Walk south on Shattuck Ave (1 block) towards Allston Way. Turn right (west). The hotel and shuttle will be on the left.
Shuttle from BART to UCB
The shuttle will leave from the Hotel Shattuck and will return at the end of Summit. The pick up will be on Allston Way in from the hotel. Check back for further information or check our website.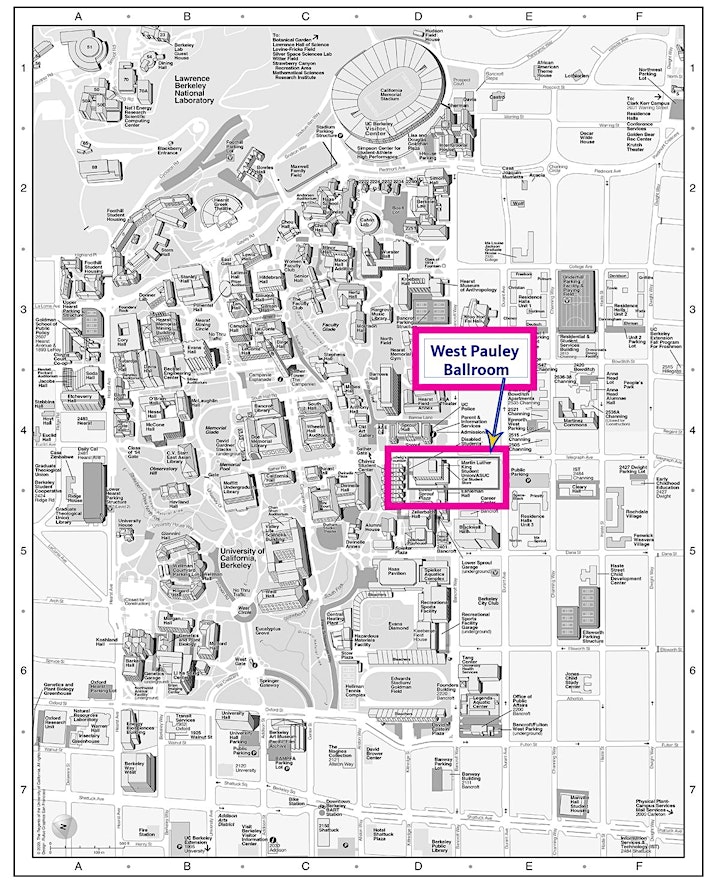 By registering, you agree that your name and email address will be shared with Summit organizers and sponsors. You also acknowledge that photos of you might be taken at the event.