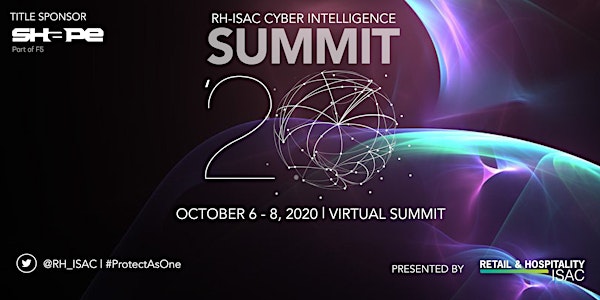 2020 RH-ISAC Cyber Intelligence Summit
RH-ISAC is excited to announce that our 2020 RH-ISAC Summit will be a fully virtual program!
Refund Policy
Refunds up to 30 days before event
Eventbrite's fee is nonrefundable.
About this event
Join us for a private, three-day event that brings together top cybersecurity leaders and teams representing the most prominent organizations in retail, gaming, hospitality, restaurants, grocers, consumer products and other consumer-facing service companies.  The RH-ISAC Summit features an RH-ISAC member-driven agenda including sessions delivered by prominent thought leaders, experts from the provider community, collaborative workshops, cybersecurity exercises, and exceptional networking opportunities. This is the "can't miss" event for cybersecurity professionals from the retail and hospitality industries. We look forward to seeing you on webcam in October! 
IMPORTANT: During the registration process, you will be required to confirm that your registration(s) meet the Registrant Eligibility Criteria. Please make sure to read these before starting your registration.
Eligible registrants include:
RH-ISAC Core Members with cybersecurity roles and related duties. If you are unsure you are an RH-ISAC Core Member, please email membership@rhisac.org.
Individuals with cybersecurity roles and related duties that are employed by organizations eligible for RH-ISAC Core membership
This includes companies within the following industries: retailers, restaurants, hotels, gaming casinos, food retailers, consumer products, and other consumer-facing companies.
To learn about Core membership visit us here
RH-ISAC Associate Members may send one (1) non-sales representative from their organization as per Associate membership entitlements.
Ineligible registrants include:
Non-sponsoring solution provider/vendors, consultative organizations, TIPs or other organizations who serve the RH-ISAC Core members and prospective members.
To learn about Core membership visit us here
RH-ISAC Core members with no cybersecurity roles or related duties
Cybersecurity practitioners not eligible for Core membership
To learn about Core membership visit us here
News publications and other media are not permitted to attend
FAQs