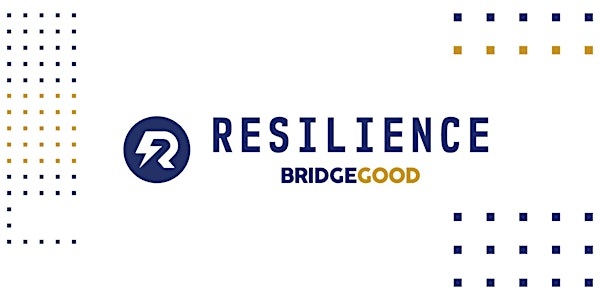 2020 RESILIENCE
BRIDGEGOOD RESILIENCE Design and Fundraising 3-Day Celebration
About this event
On Tuesday Dec 8, Wednesday Dec 9, and Thursday Dec 10, watch RESILIENCE at 12pm PST for FREE* with YouTube, Facebook, or Twitter.
*No-cost tickets made possible by the generosity of our sponsors. Can't attend? Donate to make an impact.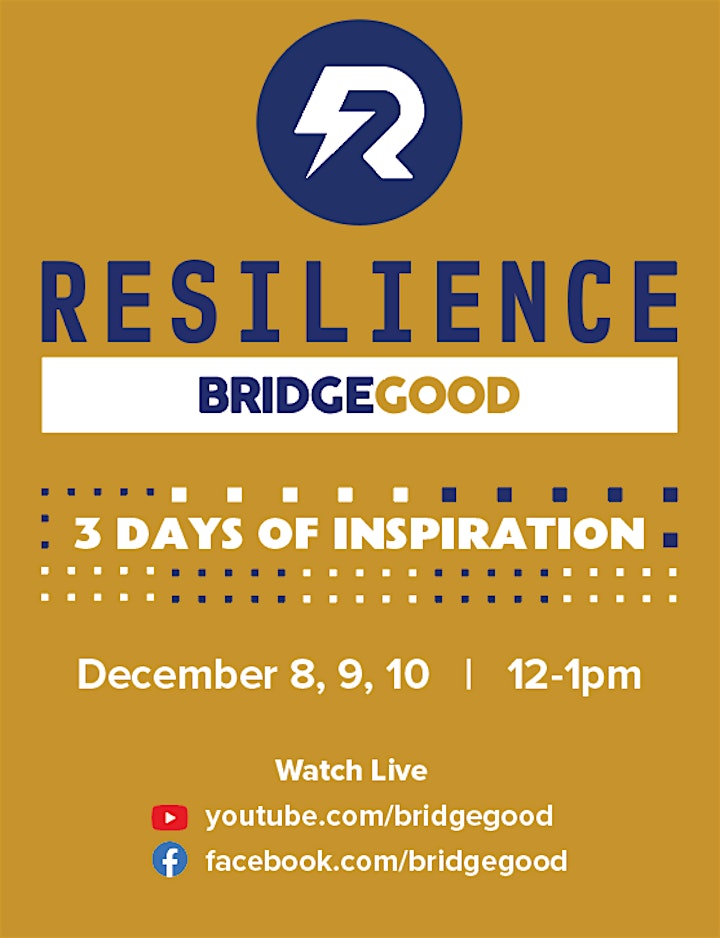 Join designers, community leaders, and do-gooders at RESILIENCE. On December 8, 9 & 10, learn about the power of design for social good while celebrating the work and impact of BRIDGEGOOD.
Day 1: Student Voices Through Design For Social Good | Dec 8, 12p-1p PT | Live Performance from The Philharmonik | Honoring Community Leader Oree Originol
Day 2: Cultivating Meaningful Tech Careers | Dec 9, 12p-1pm PT | Live Performance from Netta Brielle | Honoring Design Leader Amy Guterman (Salesforce)
Day 3: Access To Inclusive Collaboration | Dec 10, 12p-1p PT | Live Performance from Gabriela | Honoring Business Leader Jeff Lawson (Twilio)
On Dec 8, 9 & 10 stream this live event for FREE* with YouTube - youtube.com/bridgegood or Facebook - facebook.com/bridgegood or Twitter - twitter.com/bridgegood.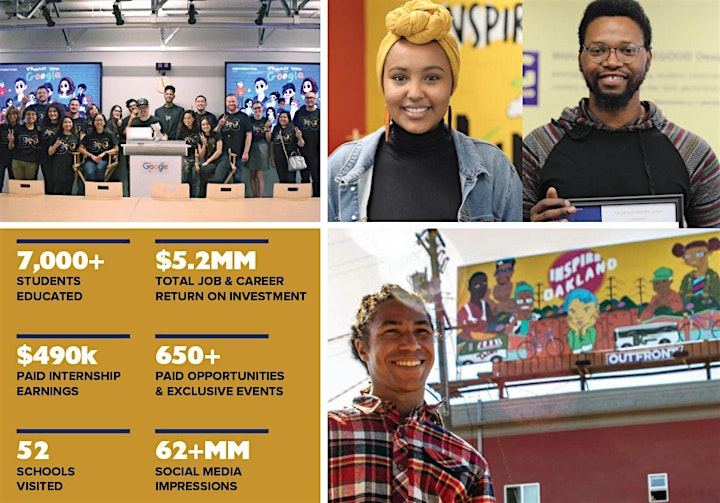 RESILIENCE, BRIDGEGOOD's Annual Inaugural Design and Fundraising Celebration, brings tech leaders and community together to pave the way for inclusive design.
Formerly Oakland Digital, BRIDGEGOOD is a 501(c)(3) nonprofit organization that prepares job seekers—predominantly Black, Indigenous, and Women/People of Color—in the digital design field by inspiring first-generation college students ages 18 to 34 to become creators in User Experience (UX), User Interface (UI), and Visual Design and leaders in their communities.

Each year, over 800 students get real-world experience through the INSPIRE OAKLAND Billboard Design Challenge, UX DESIGN APPRENTICESHIP Workforce Development Program, one-on-one support through open labs, access to hardware and design software, school visits, and exclusive trainings with tech companies. Boosting the local economy by $6.4MM, leading to opportunities for 21st century employment and economic mobility. Our student-led web application BRIDGEGOOD.com has bridged the design needs of over 1,100 business owners with 6,600 talented Creatives, creating tangible opportunity for everyone.
With your support, creativity can and is changing the world.
Join us as 2020 RESILIENCE and BRIDGEGOOD honors: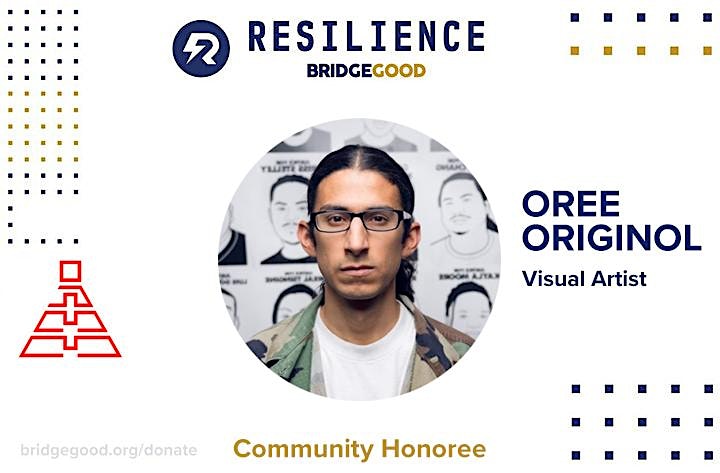 2020 RESILIENCE Community Honoree - Day 1
OREE ORIGINOL | Visual Artist | Dec 8, 12p-1p PT
As a child in Los Angeles, California, Oree Originol discovered his artistic talents by drawing cartoon figures. Gang culture in Oree's neighborhood inspired him to seek recognition as a graffiti artist. Oree started gaining visibility but it wasn't until 2009 when he decided to move to the Bay Area, pursuing an art career and building a meaningful connection with the community. Inspired by the shapes of everyday objects, Oree developed a unique art style consisting of colorful shapes arranged in dynamic compositions. On January 1, 2014, inspired by Black Lives Matter activism, he launched Justice For Our Lives, an open source digital portrait series of people who have been killed by US law enforcement. Oree continues his art and activism and while sharing his skills with the Bay Area community and beyond.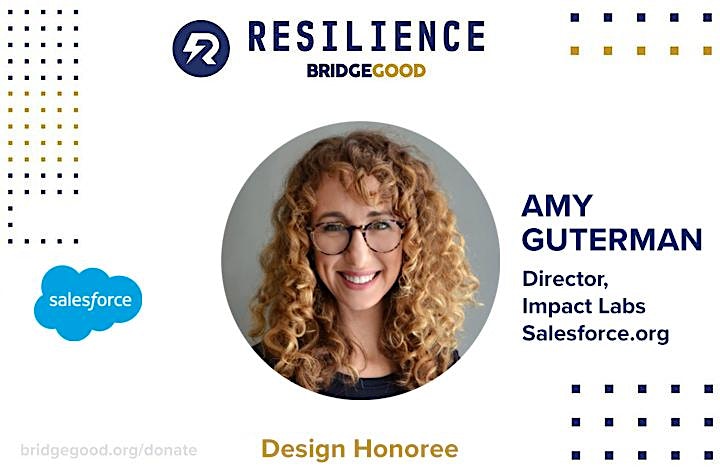 2020 RESILIENCE Design Honoree - Day 2
AMY GUTERMAN | Director, Impact Labs at Salesforce.org | Dec 9, 12p-1pm PT
Amy Guterman believes human-centered design has the power to create positive change in the world. She has 12+ years of experience in human-centered design, innovation, and visual communication. Amy's work has focused primarily on addressing complex, ambiguous problems by surfacing and translating user insights into actionable strategic visions and solutions for clients in the social sector.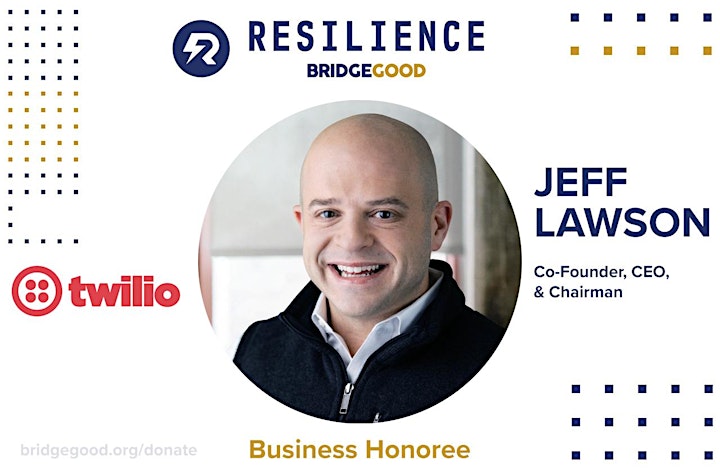 2020 RESILIENCE Business Honoree - Day 3
JEFF LAWSON | Co-Founder, CEO, & Chairman at Twilio | Dec 10, 12p-1p PT
A serial entrepreneur and a software developer, Jeff co-founded Twilio in 2008 to bring communications into the world of software. Prior to Twilio, Jeff was co-founder & CTO of NineStar, founding CTO of Stubhub.com, co-founder, CEO & CTO of Versity, and one of the first product managers for Amazon Web Services. Jeff grew up in Detroit, started his first company at age 12 doing event video production, DJ'd his way through college, and graduated from the University of Michigan. He is a father of two young boys, enjoys photography, and always makes time to hack on new software and hardware projects.
2020 RESILIENCE - 3 Days of Inspiration (Dec 8, Dec 9, Dec 10)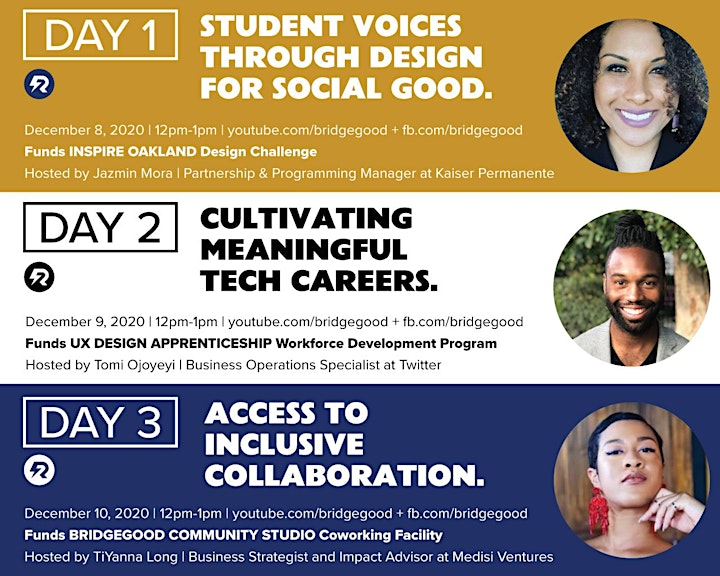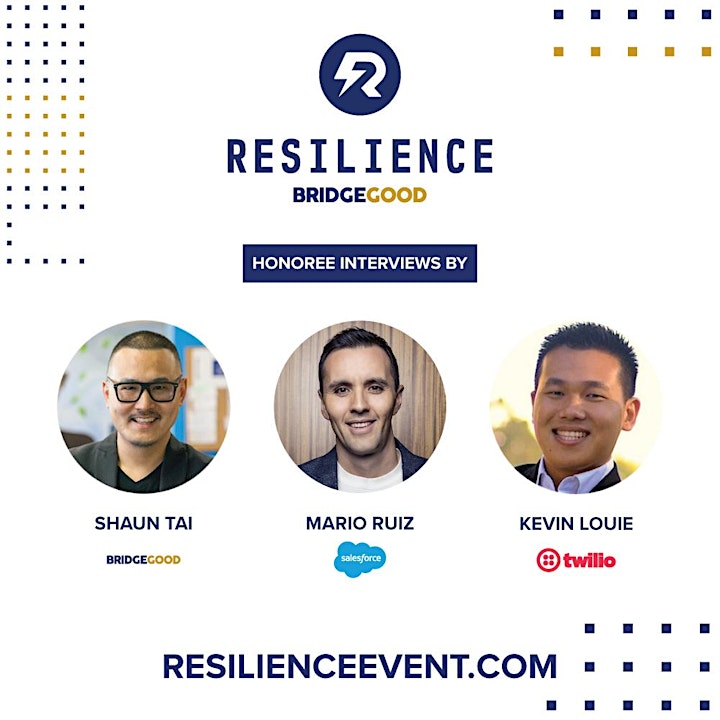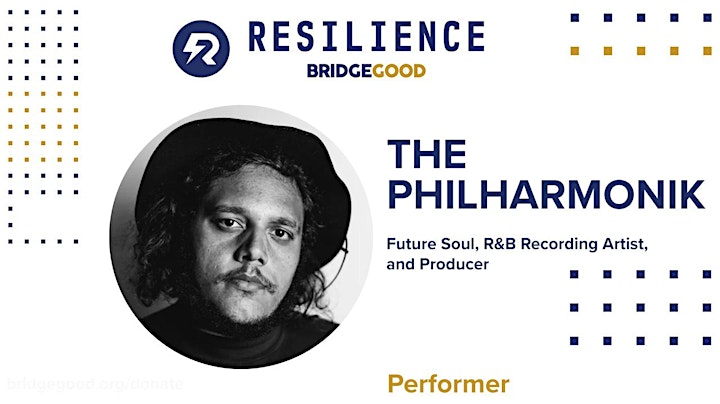 2020 RESILIENCE Performer - Day 1
THE PHILHARMONIK | Future Soul, R&B Recording Artist, and Producer | Dec 8, 12p-1p PT
The Philharmonik's musical beginnings started in Cleveland, Ohio where he began taking classical piano at the age of 5, participating in community choir. The Philharmonik was inspired by the great legends in music including Bach, Stevie Wonder, Jimi Hendrix, Bob Dylan, and Earth, Wind & Fire. The Philharmonik is known for his electrifying live performances at Sol Collective, Harlow's, The Tree Tone Records, and OnTheBlock Party. Learn more at thephilharmonik.com.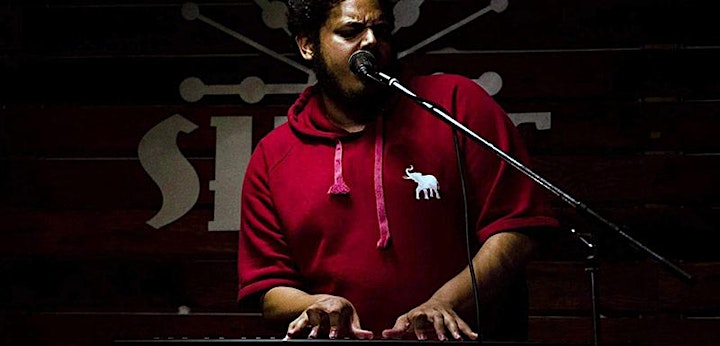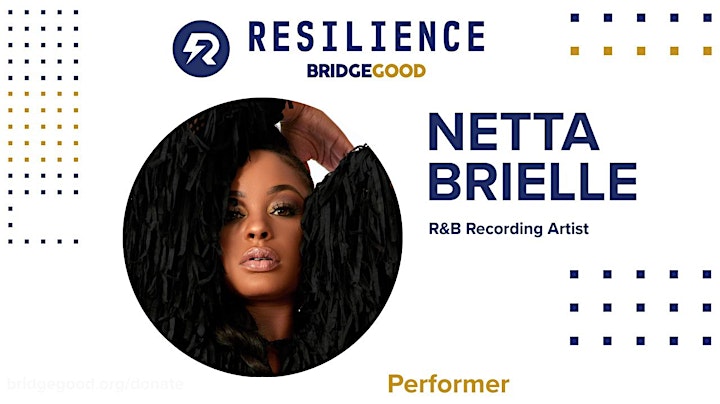 2020 RESILIENCE Performer - Day 2
NETTA BRIELLE | Singer, Songwriter, and Actress | Dec 9, 12p-1pm PT
As a child, Netta Brielle realized the power of music as a form of human expression and empowerment. Inspired by Mary J Blige, Janet Jackson, and Madonna, she was determined to take music seriously as a performing artist. Netta got her first big break as winner of "The Def Jam Mega Star Search," signing to El Seven/Atlantic and releasing her EP entitled "580" - a project inspired by the confusions of Love, overcoming struggles, and finding happiness. 2020/21 marks a new chapter in the life of Netta continuing to beat the odds and connecting with people's hearts. Learn more at officialnettabrielle.com.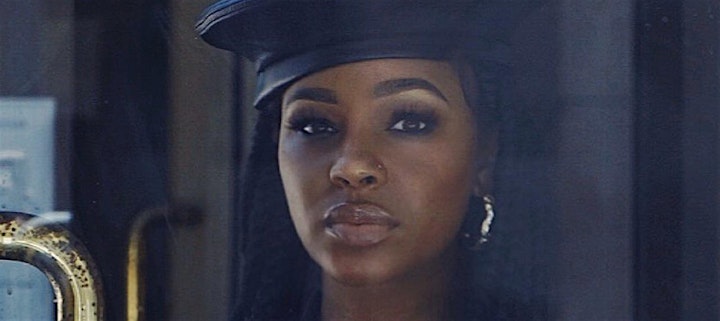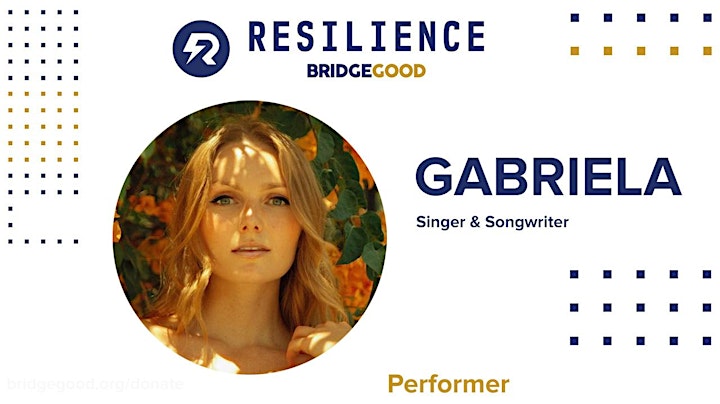 2020 RESILIENCE Performer - Day 3
GABRIELA | Singer and Songwriter | Dec 10, 12p-1p PT
Gabriela's versatility spans multiple genres and platforms of performance both live and recorded, including national and international commercial and film. Her 8 years in Oakland were spent producing community events including The Oakland Music Festival and curated showcases for artists. Gabriela looks to inspire self responsibility, re-connection and individual and collective healing through the conduit of collaborative, multi-media art and expression. In 2015, she independently released her debut original EP "And Who Am I Today", a 4 track collection. Gabriela will be releasing her first album in the Summer of 2021 and publishing a book of passages centered on tools for personal empowerment in the following future.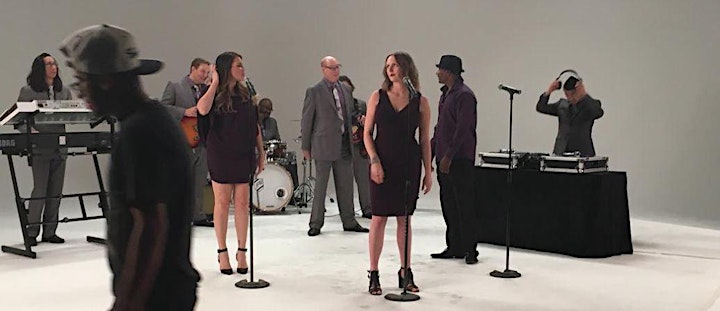 Donation methods: online at bridgegood.org/donate, check by mail, or call with credit card information on-hand. Checks can be mailed to Oakland Digital dba BRIDGEGOOD, 1224 Harrison Street, Oakland, CA 94612.
For questions about sponsorship benefits and recognition contact Yudy Herrera Orellana at 510-435-2945 or yudy@bridgegood.org.
Oakland Digital Arts and Literacy Center Inc dba BRIDGEGOOD's tax ID # is 27-0720655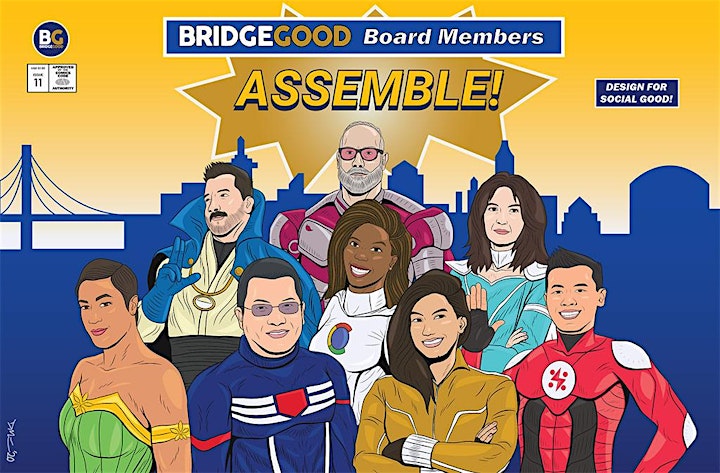 2020 BRIDGEGOOD Board of Directors
Kevin Louie, President
Linda Poeng, Treasurer
Michael Shih, Co-Treasurer
Brett Webb, Vice President
Lisa Towles, Secretary
TiYanna Long
Martin Kojnok
BRIDGEGOOD UX Design Apprenticeship Graduates
2020 RESILIENCE Committee Members
Alex Severin | ICF Spark Labs
Brett Webb | Favorite Medium
Chris Norman | Walmart Labs
Dominique Stewart-Thomas | JUST Media
Jasmine Toy | Salesforce
Kevin Louie | Twilio
Laurel Komos | Salesforce
Lisa Towles | HCL Technologies
Mario Ruiz | Salesforce
Michael Shih | US Bank
Sean Hodrick | Twitter
Shaun Tai | BRIDGEGOOD
Thao Huynh | AppDynamics / Cisco
TiYanna Long | Medisi Ventures
Tomi Ojoyeyi | Twitter
Wandie Kabule | Twitter
Yudy Herrera-Orellana | BRIDGEGOOD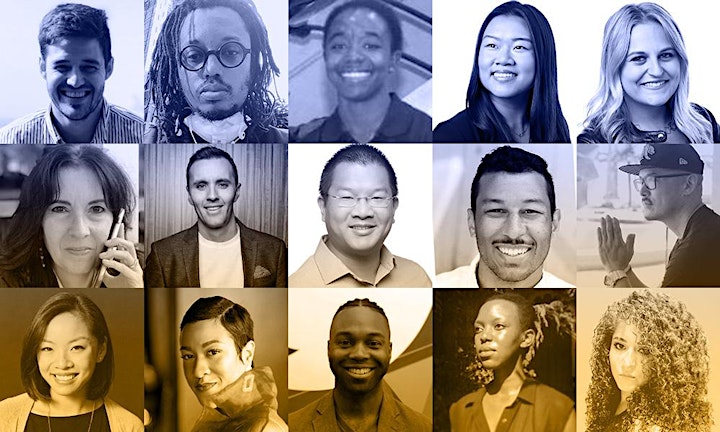 2020 RESILIENCE Event Sponsors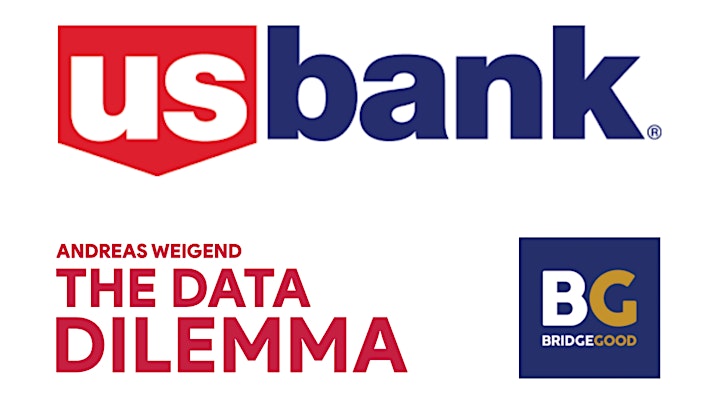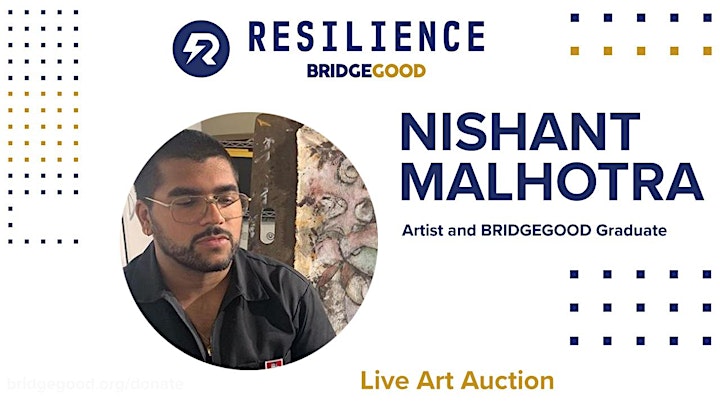 2020 RESILIENCE Live Art Auction - Day 3
NISHANT MALHOTRA | Artist and BRIDGEGOOD Graduate | Dec 10, 12p-1p PT
Tune in to RESILIENCE Day 3 and be a part of our live art auction - one (1) 16" x 20" original painting (Market value: $800)- created by Nishant Malhotra, benefiting BRIDGEGOOD. Send your highest bid(s) to donate@odalc.org.
"Ego Death or 'ego dead' is a concept with a special resonance in the Bay Area. While other Bay Area natives associate this concept with the '70s counterculture movement or techies trying to flaunt their newly-found SF enlightenment, Nishant is inspired by the ancient origins of ego death. His paintings are colorful, chaotic musings on both the 'good' and the 'bad' that one's ego can cause, but the next step in this artist's practice is getting younger generations to tune into the concept." Read more.