About this Event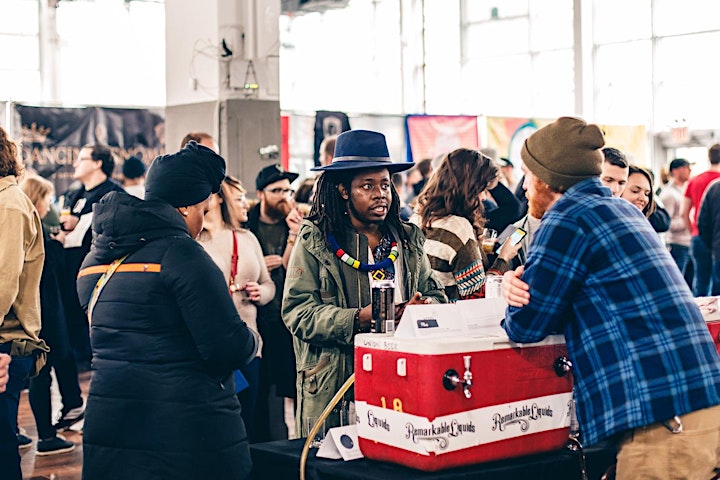 NYC Beer Week is back! We want you to join us for the festivities.
It kicks off on Saturday, February 22, 2020 with our NYC Brewers Guild hosted festival. OPENING BASH 2020, the best party in the city!
OPENING BASH is a unique opportunity to spend time with the people who make the beer in your glass. Meet and speak with the brewers! This is an unlimited sampling festival. Your ticket gets you in to taste beers with brewers and brewery teams from over 75 different breweries. In addition to a collab 4pk to take home, VIP tickets include an early entry hour with limited attendance, and access to exclusive specialty pours during VIP hour.
We've got some incredible food partners this year too. Including the NYC debut of Lager Dog! As well as our friends Empanada Papa, Groundlings Pizza Co, and Stuf'd.
Music by DJ Rob Swift, with special guest appearance by Chris Maestro of BierWax.
General Admission tickets for both sessions are now on sale.
VIP tickets are also now available (and always make a great gift).
VIP will include an extra hour of exclusive pours, special beers, collab cans, and more!
Session 1 VIP - Kicks off at 11:30 AM
Session 1 GA - 12:30 -3:30PM
Session 2 VIP - Kicks off at 5:30 PM
Session 2 GA - 6:30 -9:30PM
Our friends at Singlecut have brewed the collab beer this year, and we are super excited about it! A four pack (to go) of 16oz cans of the DDH IIPA will be included in the cost of a VIP ticket. And all attendees are invited to purchase four packs or cases to go.
Keep an eye on this space as we will regularly update our list of breweries attending. See the starting list below.
NYC: 18th Ward • Alewife • Big aLICe • Bridge and Tunnel • Bronx Brewery • The Brooklyn Brewery • Circa Brewing • Coney Island • DaleView • Evil Twin NYC • Fifth Hammer • Finback • Five Boroughs • Flagship • Folksbier • Greenpoint Beer • Grimm Artisnal Ales • Gun Hill Brewing • Iconyc • Interboro • Keg & Lantern • KelSo • Kills Boro • KCBC • LICBP • Mikkeller NYC • Non Sequitur • Other Half • Randolph • Rockaway • Singlecut • Sixpoint • Strong Rope • Talea • Threes • Torch & Crown • Transmitter • Wild East
Here's a quick list of our out of town guest breweries (check back for updates!):
New York State: Barrier Brewing • Common Roots Brewing Company • DUBCO • Equilibrium Brewery • Graft Cider • Greenport Harbor Brewing Company • Hudson Valley Brewery • Sand City Brewing Co • Shmaltz Brewing • Thin Man • West Kill Brewing
International: Brewski • Collective Arts
Out of State: Amor Artis Brewing • Banded Brewing Company • Blaze Brewing Company • Bunker Brewing Co. • Burial Beer Co. • Civil Society Brewing • Commonwealth • Dancing Gnome • Fonta Flora • Forest and Main • Half Acre Beer Company • Hop Butcher for the World• Icarus Brewing• Kent Falls Brewing Co.• Lost Nation Brewing • Maine Beer Co. • Modist Brewing • Monday Night Brewing • Mumford Brewing • Oxbow Brewing Co. • Pure Project • Rockwell Beer Co. • Screamin Hill Brewery • Springdale • Stoup Brewing • Twin Elephant • Vitamin Sea Brewing • Widowmaker
Cheers to NYC Beer! Get your tickets NOW. GA ticket prices are scheduled to increase in February.
FAQs:
• This event is 21 and over. No one under 21 will be admitted. Government issued ID must be presented at time of entry.
• No pets allowed. ADA service animals are accepted.
• No cans or bottles may be opened by attendees during the festival per State Liquor Law.
• No coat or bag check will be on site.
• Refunds requests will be honored up to seven (7) days prior to the event. No exceptions will be made. (NYC Brewers Guild is a 501c)
• Brewery list subject to change. (Although, not to worry, we're doing everything humanly possible to ensure your favorites will be there pouring, and ready to see you!)
• Opening Bash is an unlimited sampling beer festival, and although we want everyone to enjoy themselves, anyone who is visibly intoxicated and/or behaving inappropriately will be asked to leave.