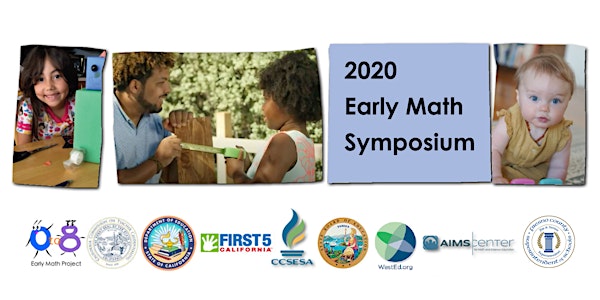 2020 Early Math Symposium - A Free Online Event Open to All
Refund Policy
Contact the organizer to request a refund.
Eventbrite's fee is nonrefundable.
Description
A Free Online Event
There's no stopping us – Math, live in your living room!
Registration for the Virtual Early Math Symposium is open!
This year's virtual Early Math Symposium will focus on fun, creativity, and discovery while supporting the mathematical development of all young children! Please join us online Friday, June 26. This year's Symposium will feature keynotes from:
Dr. Doug Clements, Distinguished University of Denver Professor of Early Childhood Mathematics and STEM education, and

Dr. Julie Sarama, Distinguished Professor at the University of Denver and Researcher of Young Children's Development of Mathematical Concepts

Stuart J. Murphy, Visual Learning Specialist and Award-Winning Children's Author of the MathStart Series which Integrates Reading with Math and STEM, and

Jon Dueck, Teacher Development and STEM Director for the Fresno County Superintendent of Schools

Dr. Rachel Lambert, Faculty Member at the University of California Santa Barbara whose Interests lie in Mathematics Education, Disability Studies, and Social Justice
The symposium will debut film director Les Mayfield III's I'm Ready family engagement math shorts: Sneak Peak here: Fluff and Fold
Get ready for lunch recess with Mobius Mysteries Hands on Fun with the AIMS Center for Math and Science. Please have on hand: paper, scissors, tape, and a pen/pencil.
Join us for these early learning breakout sessions:
Math is Everywhere

Effective Online Professional Learning

Math and Art

Family Math Nights

Early Math for Infants and Toddlers

Talking with Young Children about Math

Bringing Language and Math Instruction Together: How best to support young dual language learners (DLLs) in their mathematical journey

What's the Big Idea? Foundational math for 3- to 6-year olds

STEAM Installations for Home, Care Centers and Classrooms

"More, More, More," Said the Baby: How language and math work together in the thinking of infants and toddlers

Let's Play and Learn Together! Games engage ALL children and families in math thinking

The Math/Literature Connection
---


The Early Math Symposium is a professional development opportunity jointly sponsored by the California Department of Education, the California State Board of Education, the California Commission on Teacher Credentialing, First Five California, WestEd, the California County Superintendents Educational Services Association, the Fresno County Superintendent of Schools, the AIMS Center for Math and Science, and the California Early Math Project.

---
THIS IS A FREE ONLINE EVENT!
Friday, June 26, 2020 from 8:00 AM to 6:00 PM (PDT)
Time Zone of Event?
The event time is set for Pacific Time.
Hawaii Time - 5:00am (HST)
Alaska Time - 7:00am (AKDT)
Pacific Time - 8:00am (PDT)
Mountain Time - 9:00am (MDT)
Central Time - 10:00am (CDT)
Eastern Time - 11:00am (EDT)
https://www.timetemperature.com/time-tools/world_clock.php
Special Book Offer - Ends July 10, 2020
If you would like to receive Stuart J. Murphy MathStart books featured at this year's symposium: (1. Animales a bordo, 2. Animals on Board, 3. El ascensor magico, 4. Elevator Magic, 5. Jacobo el constructor, 6. Jack the Builder, 7. Sabado de super castillos, 8. Super Sand Castle Saturday, 9. Suficientes zanahorias, and 10. Just Enough Carrots) seller is extending an exclusive pre-symposium 10 book bundle price of $41.50! plus FREE SHIPPING when you purchase a minimum of $35 with coupon code MathStart2020. This special offer will be available now through Friday, July 10, 2020.
Please go to: https://www.booksbythebushel.com/SymposiumSpecial
Once you click "Buy Now" it will take you to the set of 10 books specially priced at $41.50.
Make sure to use the coupon code MATHSTART2020 to get free shipping on the order. This can be entered while on the checkout page.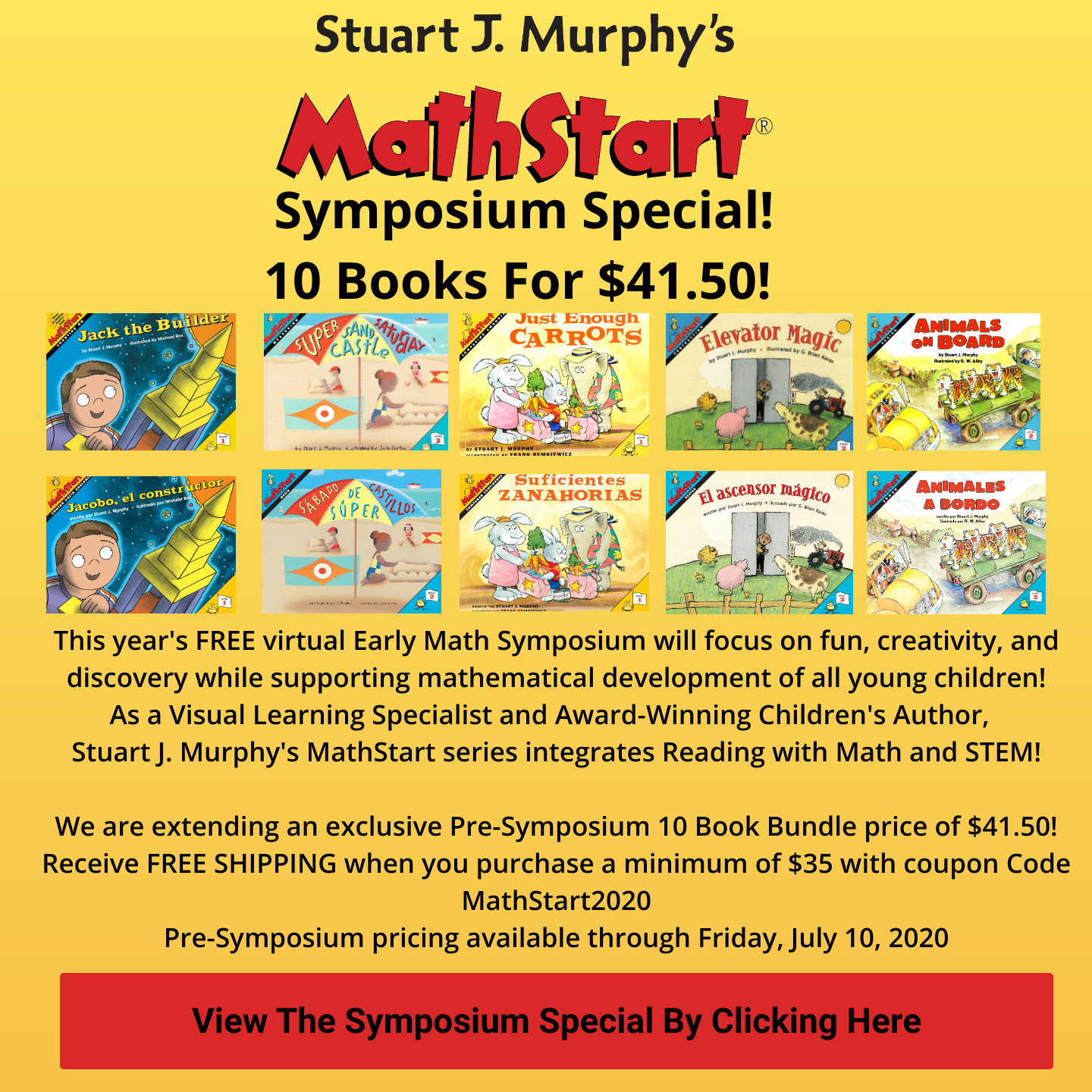 Multiple Attendees/Registering On Behalf of Someone
If purchasing multiple registrations or registering on behalf of someone else, you will be prompted to enter names and emails for each attendee. It is critical that you include the actual attendee's email as this is how they will access the online content. If your school district regularly blocks emails, we highly suggest using a personal email (like Gmail). Again, each attendee's actual email address needs to be entered during registration or they will not be able to access the online conference.
Continuing Education Certificate & Hours
If interested in receiving a certificate for the hours attended upon completing the conference, you will need to mark the appropriate box while completing registration. However, districts and states often have different requirements for hours, and we encourage you to check with your district to ensure this will count towards your professional development hours.
Continuing Education Units
Participants are responsible for applying for CEUs from Fresno Pacific University. Payment is separate from registration to attend the symposium. If you are interested in Continuing Education Units from Fresno Pacific University, please go to:
https://ce.fresno.edu/educator-workshops/open-enrollment-workshops/aims-center-for-math-science-education//mat-1494
Learn about accredited educator workshops taught by FPU. Choose workshops for teachers by category or district. Enrolling is easy - start today! ce.fresno.edu
How Does it Work?
We will send links to attendees to access the symposium closer to the event. Make sure your email does not block our communications.
Archive of Event:
All sessions will be recorded and available at a later date for viewing. If you are registered, you will receive an email when they are available.