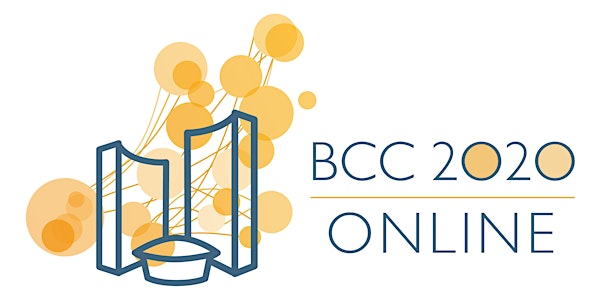 2020 Bioinformatics Community Conference (BCC2020)
A joint gathering of the Bioinformatics Open Source and Galaxy Community conferences. Please join us online, in both the East and West.
Refund Policy
Contact the organizer to request a refund.
Eventbrite's fee is nonrefundable.
About this event
The 2020 Bioinformatics Community Conference (BCC2020) brings together the 2020 Galaxy Community Conference (GCC2020) and Bioinformatics Open Source Conference 2020 (BOSC2020) for a unified event to be held online, July 17-25, 2020.
BCC2020: Online and Around the World
BCC2020 has been moved from an in-person event in Toronto to a worldwide online event:
BCC will be held twice a day, each day, to make it accessible to both hemispheres.
BCC West will start during Toronto's morning and serve most of Africa, Europe, and the Americas.
BCC East will start 12 hours later and will serve most of Oceania, Australia, and Asia.
These two windows ensure that the entire world can participate in BCC2020, and not have to get up in the middle of your night.
Costs
We have drastically reduced registration costs. Pricing tiers and early registration rates are:
Student/academic/non-profit from low and lower-middle income countries
US$3 per training session, $12 for meeting, Free for Cofest
Student/academic/non-profit from other countries
US$9 per training session, $36 for meeting, Free for Cofest
Industry
US$15 per training session, $60 for meeting, Free for Cofest
Our goal is to use this opportunity to make BCC2020 the most accessible BOSC and Galaxy gathering ever.
Early registration ends July 10.
All registration ends July 15, or whenever we sell out, whichever comes first.
Content
We are aiming to make the content presented in both hemispheres be as close as possible to identical, especially the talks. We are exploring ways to make posters, demos, and BoFs accessible to the maximal number of people as well.
Unfortunately, we already know it won't be possible to present certain training topics in both hemispheres. Where possible, we have found alternative training topics for each hemisphere.
Schedule
The main BCC2020 Meeting starts on Sunday, July 19th (West) / Monday, July 20th (East) and features three days of joint and parallel sessions, keynotes (by Abigail Cabunoc Mayes, Prashanth N Suravajhala, and Lincoln Stein), talks, posters and demos, sponsor sessions, birds-of-a-feather gatherings, and lots of opportunities for networking.
The main meeting is preceded by two optional days of Training Starting on Friday, July 17 (West) / Saturday, July 18th (East). The Training days will feature multiple tracks aimed at 1) life science researchers who are new to bioinformatics, and 2) new and experienced bioinformaticians.
The main meeting is followed by four optional days of collaborative working sessions (CollaborationFest). These events bring together software engineers, bioinformaticians, researchers, and trainers to collaborate on and extend open source bioinformatics tools, ecosystems, and communities.
Registration
Use this site to register for BCC West or East. If you are registering for training then you will want to review the training offerings and schedule before you start. You register for training on a session by session basis.
Also please note that the BCC East training schedule is not yet complete. If you are in the east then you are encouraged to register at the end of April when the schedule will be complete.
Other: Conference Platform and Call for BoFs
We will be using Remo.co for our conference platform. Everyone who is registered will recieve an invite to a conference venue Open House held in the days before the event starts.
Finally, Birds of Feather proposals are due Friday July 10!