Description
Hi Farm Lovin Friends!
Save the Date for Wild Hope Farm's annual Pickin' Party! We are super excited to announce that this year's party will be in honor of the South Carolina Nature Conservancy's 50th Anniversary*.

We invite you to join us at the farm for a celebration of all things local! From farm-fresh food and drinks, to a great lineup of guitar pickin' musicians, and a special demonstration from the Nature Conservancy, this is an event you (and your friends/family/kids) do not want to miss! Picnic tables and bales will be set up by our hay-wagon stage overlooking our 10-acre pond. BYO picnic blanket. Dan the Pig Man will serve up deliciously fresh BBQ for purchase and Legal Remedy Brewery will have beers on tap highlighting flavors from the farm. Kids under 10 come for free!
3 - 4 PM Early Bird Activities
Gentle Yoga

Guided Nature Walk & Native Wildflower Restoration Tour with Andy Kane
Farm Tour with Shawn Jadrnicek

Flower Arranging with Southern Blossom Florists (for children of all ages!)
Face Painting
4 - 8 PM Enjoy live music while playing lawn games, sipping beer and enjoy farm fresh eats
Bands include but are not limited to :
See you at the farm!
Best,
Farmer Peanut
SPONSORSHIP OPPORTUNITIES – We are inviting Corporate and Community partners to receive company promotion and recognition, event display space, complimentary tickets. Contact Farmer Peanut at katherine@wildhopefarm.com for more information!
A HUGE thank you to those who are helping to make this event possible!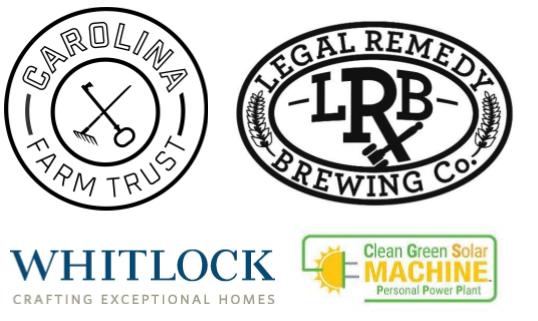 *The Nature Conservancy (TNC) is the leading conservation organization working in all 50 states and more than 70 countries to protect ecologically important lands and waters for nature and people. TNC's mission is to preserve the lands and waters on which all life depends. Since its founding in 1951, we have built a tremendous record of success protecting more than 119 million acres of land and thousands of miles of rivers worldwide, and now operate more than 100 marine conservation projects globally.

The Nature Conservancy has been part of South Carolina's conservation tradition for 50 years, since its first project in 1969 established the Beidler Forest Sanctuary in partnership with the National Audubon Society. Since then, TNC has successfully preserved more than 370,000 acres across the state. In addition to land protection, the South Carolina chapter has programs in river conservation, prescribed fire, land management, invasive species control, and coastal conservation. We provide a multitude of services that protect and restore nature, promote the sustainable use of nature, and expand support for nature, all of which have major implications for people and communities. Visit www.nature.org/sc50 to learn more!