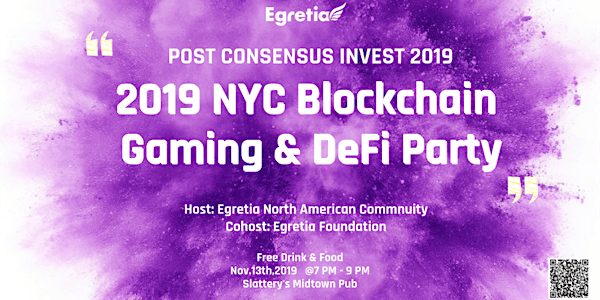 2019 NYC Blockchain Gaming & DeFi Party | Post Consensus Invest
the best gaming and DeFi talk during NYC Blockchain Week 2019
When and where
Location
Slattery's Midtown Pub Main Bar, 2nd Fl. 8 E 36th St new york, NY 10016
About this event
Monetization in the game design is such a complicated but fun problem to solve. With the rising trend of the gaming industry and game development, the monetization for the design became the immediate challenge for most of the Gamer, game designers, and game developers. How emerging tech could help solve industrial problems? What is the new gateway towards the game industry? Join us for this very casual event to learn what is the new approach to better monetize the in-game value by interaction with others.
The 2019 Blockchain Gaming & DeFi Party is dedicated on the topic related to the future of gaming and DeFi during the Consensus Invest, which is the largest digital asset investor outlook Conference and Exhibition held on November 13th in Manhattan, New York. During past Consensus Invest, it attracted more than thousands of industry experts from China, the United States, Europe, and the rest of the world.
Who should join: whenever you have a project to test, new projects to share, improve your current project, designing a better in-game value system, or just want to meet some local game makers! All types of games welcome! Bring your video games, card games, sports, VR games, alt controller games, or just your ideas!
Agenda:
7:00PM - 7:30PM : Check-IN
7:30PM - 7:45PM: 2019 Egretia Global DApp Contest Talk
7:45PM - 8:15PM: Blockchain Game & DeFi
8:15 PM - 9:00PM Networking
Invited Speakers:
Vishakh - Co-Founder of Cryptonomic, Ex VP of J.P. Morgan
Brian Behlendorf | Executive Director, Hyperledger
Laine Nooney - Assistant Professor at NYU Steinhardt
Joel Telpner | Partner, Sullivan & Worcester LLP
Cole Kennelly - Account Manager of Staked.us
Peter Borovykh | Blockchain Solution Architect, Blockchain Driven
Host:
Egretia North America Community (https://www.egretiana.org/)
The 2019 Egretia Global DApp Contest is the first development competition designed for the HTML5 developers build on top of the Egretia platform. The Contest is planned to launch on October 1st 2019 and will be open to global developers applying EGT, Egretia's digital token, for in-game payment in their DApps.
More Info about Egretia Global DApp Contest:
Reuters: The 2019 Egretia Global DApp Contest Will Boost the Blockchain Gaming Market in 2020 https://www.reuters.com/brandfeatures/venture-capital/article?id=159060
UseTheBitcoin(UTB): Egretia Pledges to Bring Blockchain Gaming to the Next Level With a Global DApp Contest https://usethebitcoin.com/egretia-pledges-to-bring-blockchain-gaming-to-the-next-level-with-a-global-dapp-contest/
Market Watch: Egretia is Devoted to Bringing Blockchain Gaming to the Next Level With a Global DApp Contest https://www.marketwatch.com/press-release/egretia-is-devoted-to-bringing-blockchain-gaming-to-the-next-level-with-a-global-dapp-contest-2019-10-02