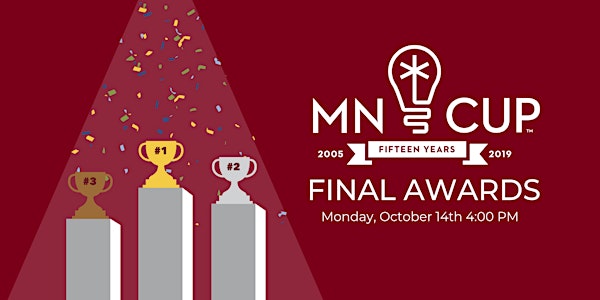 When and where
Location
McNamara Alumni Center 200 Southeast Oak Street Minneapolis, MN 55455
Description
Join us to celebrate the hard work all the 2019 Minnesota Cup competitors! Beginning in March, hundreds of entrepreneurs from across the state submitted an application, and throughout three rounds of judging and countless hours of mentorship, business plan refinement, video creation and pitch rehearsal, we've arrived at the last stage. We'd love to have you with us as we crown our Grand Prize Winner and award over $500,000 in total prize money to an exceptional group of companies.
Agenda
4:00 PM - Registration & Demo Hour Begins - Will include a cash bar and passed hors d'oeuvres
5:00 PM - Program & Awards - Includes short pitches from both our Division Winning and Runner-up teams
6:45 PM - Grand Prize and Runner-Up Prizes Announced
7:00 PM - Event Concludes
Division Winning Teams
Education & Training - Homi
Energy/ Cleantech/ Water - NovoClade
Food/Ag/Beverage - Sanos Nutrition
General - Voyager Campervans
High Tech - Resonant Cavity (Voloco)
Impact Ventures - We Sparkle
LifeScience/ Health IT - Abilitech Medical
Student - ParkPoolr
Youth - See Your Dream
Runner-Up Teams
Education & Training - SparkTraining Solutions
Energy/ Cleantech/ Water - Darcy Solutions
Food/Ag/Beverage - Nutraphagia (The EAT Bar)
General - Guardian Athletics
High Tech - Traive
Impact Ventures - Molly Fuller Design
LifeScience/ Health IT - VivaQuant
Student - Float
Youth - EcoSlurp
We're grateful to the numerous sponsors and grantmaking organizations that make MN Cup's work possible. Lead sponsors of the 2019 MN Cup competition include The Cleveland Family Endowment, Bush Foundation, ECMC Foundation, ECMC Group, Carlson Family Foundation, Wells Fargo, University of Minnesota, General Mills, 3M, Junior Achievement of the Upper Midwest, Inc., UnitedHealthGroup and Minnesota Department of Employment & Economic Development.