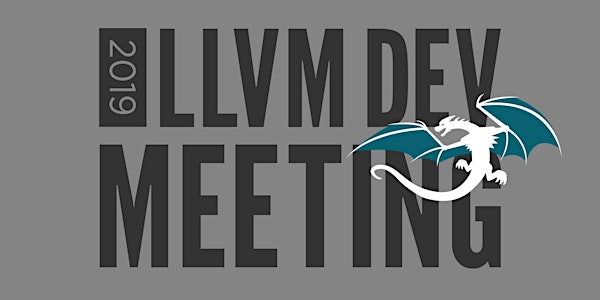 2019 LLVM Developers' Meeting - Bay Area
When and where
Location
San Jose Convention Center 150 W San Carlos St San Jose, CA 95113
Refund Policy
Refunds up to 30 days before event
Description
The LLVM Foundation presents the 13th annual LLVM Developers' Meeting - Bay Area!
This is a 2 day event featuring technical talks, tutorials, panel discussion, birds of a feather sessions, round table discussions, posters, and lightning talks. There will be a reception during the evening of the first night, October 22nd from 6:30-9:30PM.
New this year! We will have a newcomers orientation on October 21, from 5:45-6:30PM. This is a short session for those attending the LLVM Developers' Meeting for the first time or for those who have not attended in awhile. This orientation will provide a conference overview, and useful information on how to participate and get involved during the conference. If you are interested in networking and meeting other new LLVM Developers, then you should attend this event. There is a separate EventBrite page to register.
We will have a Women in Compilers & Tools Workshop the day before on October 21st (12:30-5:30pm). There is a separate EventBrite page for this event (coming soon).
The LLVM Developers' Meeting is a bi-annual 2 day gathering of the entire LLVM Project community. The conference is organized by the LLVM Foundation and many volunteers within the LLVM community. Developers and users of LLVM, Clang, and related subprojects will enjoy attending interesting talks, impromptu discussions, and networking with the many members of our community. Whether you are a new to the LLVM project or a long time member, there is something for each attendee.
FAQs
How can I contact the organizer?
Please use the "Contact" link on this page (see below under Organizer) to contact the organizer for this event.
Is there a student discount?
Yes! Student tickets are $50 for just the 2-day conference and $75 for the 2-day conference and reception. Please use your student email when registering.
Is there a discount for individual contributors?
We would like this event to be accessible to all LLVM developers. If attending the meeting is cost prohibitive for any reason (ie. you do not have an employer who refunds tickets fees, financial hardship, etc), please fill out this request form by September 22. Each request will be considered on a case by case basis.
What is your cancellation policy?
100% refund if cancelled by September 8
50% refund if cancelled by September 22
25% refund if cancelled by Monday, October 6
No refunds after Monday, October 6. Please contact the organizer for a refund.
Is there a discounted hotel rate?
We have reserved a block of rooms at the Fairmont a block away from the San Jose convention center at a $309.00/night rate. Please use this link for your reservation. Guest rooms will be available on a first come, first serve basis until October 1, 2019.
Is there parking at the San Jose Convention Center
Attendees can park in the San Jose Convention Center Garage. The daily parking rate is $20.00 / day.
CODE OF CONDUCT
The LLVM Foundation is dedicated to providing an inclusive and safe experience for everyone. We do not tolerate harassment of LLVM Developers' Meeting participants in any form. By registering for this event, we expect you to have read and agree to the LLVM Code of Conduct.