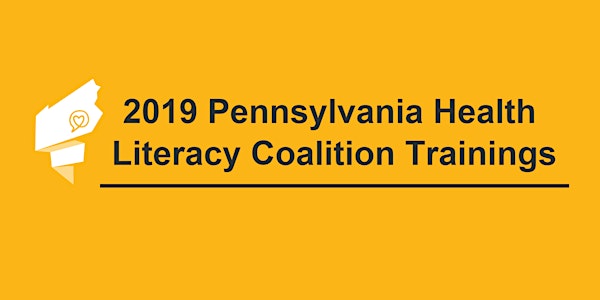 2019 Health Literacy Coalition Training: Advancing Language Access and Work...
Location
Crowne Plaza Harrisburg-Hershey
23 South 2nd Street
Harrisburg, PA 17101
Description
Advancing Language Access and Working with Interpreters (1:00 p.m. - 4:00 p.m.): Learn more about policy requirements for serving populations with limited English proficiency (LEP), working effectively with interpreters, and integrating language access into the workplace workflow.
Target audience: professionals who serve LEP populations, interpreters, and staff responsible for managing language access services.
---
Join the Pennsylvania Health Literacy Coalition for a set of trainings focused on health literacy topics. In addition to the training described above, the following training sessions are available. Participants may selectively attend the training(s) of interest to them.
To view the trainings for 5/14, please use these links:
Communicating to Connect (5/14, 10:00 a.m. - 12:30 p.m.)
Tools for Establishing a Culture of Health Literate Care (5/14, 1:30 p.m. - 3:30 p.m.)
Health Literate Materials Design and Review (5/14, 1:30 p.m. - 4:30 p.m.)
To view the other trainings for 5/15, please use these links:
Annual PAHLC Morning Meeting (5/15, 8:30 a.m. - 12:00 p.m.)
Principles of Motivational Interviewing (5/15, 1:00 p.m. - 4:00 p.m.)
---
The Crowne Plaza Harrisburg-Hershey is offering a limited number of rooms at a conference rate of $116/night for the nights of May 13 and May 14. For reservations, call (717) 234-5021 and use the code Pennsylvania Health Literacy Coalition to receive the conference rate.
These training opportunities were developed by participating institutions of the Pennsylvania Health Literacy Coalition, including the Health Care Improvement Foundation (lead organization of the PA-HLC), in partnership with Thomas Jefferson University and Hospitals and the Healthcare Council of Western Pennsylvania. The Pennsylvania Health Literacy Coalition is made possible through funding provided by the Pennsylvania Department of Health.