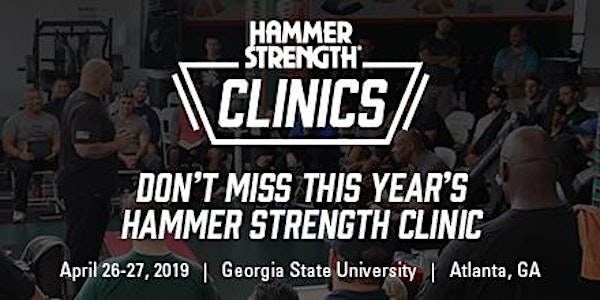 2019 Hammer Strength Clinic
Learn how to build your program from some of the top strength and conditioning coaches in the country.
When and where
Location
Georgia State University Stadium 755 Hank Aaron Dr. Atlanta, GA 30302
About this event
This two-day event features presentations and demonstrations on strength and conditioning, performance and more.
VENUE: Georgia State University Stadium | 755 Hank Aaron Dr., Atlanta, GA
EVENT SCHEDULE | FRIDAY, APRIL 26TH
10:30 AM - 12:00 PM - Registration and Lunch
12:00 PM - 12:10 PM -Introduction
by Shawn Elliott Head Football Coach Georgia State University
12:10 PM - 1:00 PM - University of Georgia In-Season Strength & Conditioning Program
by Scott Sinclair Director of Strength & Conditioning University of Georgia
1:10 PM - 2:00 PM - Methods of Training for the Elite Sportsman
by Jesse Ackerman Head Strength & Conditioning Coach Atlanta Falcons
2:10 PM - 3:00 PM - I Don't Know Spit, "What I've Learned in the last 10 Years"
by Kaz Kazadi Assistant AD For Human Performance Southern Methodist University
3:10 PM - 4:00 PM - Developing the High School Athlete in Large Group Settings
by Brian Clarke Director of Strength & Conditioning Noblesville High School, IN
4:10 PM - 5:00 PM - Preparing Young Athletes
by Paolo Pacione Coordinator of Performance, Club America, MX
5:10 PM - 6:00 PM - Training in the Trenches
by Jeff Pittman Director of Sports Performance Boise State University
7:00 PM - 9:00 PM - Social/Dinner
EVENT SCHEDULE | SATURDAY, APRIL 27TH
8:00 AM - 9:00 AM - Texas Longhorn Football Development
by Yancy McKnight Head Football Strength & Conditioning University of Texas
10:10 AM - 11:00 AM - Principles of Block Zero
by Eric Cash Head Strength Coach Dorman High School, SC
11:10 AM - 12:00 PM - Speed and Agility Training
by Matt Hickman Head Football Strength Coach Middle Tennessee State University
12:00 PM - 1:00 PM - Lunch
1:10 PM - 2:00 PM - Clemson Football Off Season Training
by Joey Batson Director of Football Strength & Conditioning Clemson University
2:10 PM - 3:00 PM - Demo Hour
2:10 PM - 3:00 PM - Field General (QB) Training
by John Sisk Head Strength Coach Georgia State University