2019 Global Accessibility Symposium & Showcase
When and where
Location
Computer History Museum 1401 North Shoreline Boulevard Grand Hall Mountain View, CA 94043
Description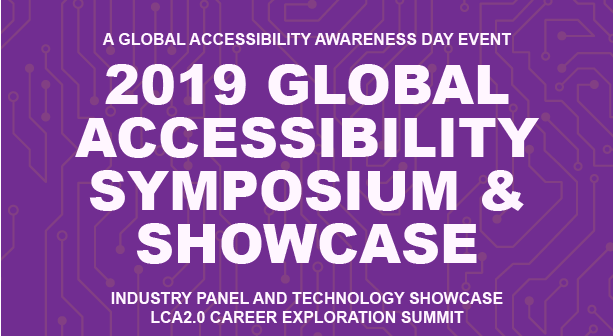 Exploring Employment Opportunities Through the Lights! Camera! Access! Career Exploration Summit.
During a week of events when disability technology accessibility experts will be in town from all over the world, you are invited to join the Mountain View Chamber of Commerce and Disability Media Technology Alliance for The Global Accessibility Awareness Day Symposium.
The Symposium is focused on technology and media career opportunities for people with disabilities, advancing leadership, and showcasing innovations in accessible technology.   
The Summit will be convened at the Computer History Museum in Mountain View, California. The Museum is dedicated to preserving and presenting the stories and artifacts of the information age and exploring the computing revolution and its impact on society. You will hear from and network with, technology leaders, policy leaders, academic leaders, VCs, angels and individuals, gamers and geeks.
The event is focused on:
Creating a Diversity Plan and Leadership Pipeline
An often-overlooked aspect of diversity in the workplace is employment for those with disabilities. Many media and technology companies such as AT&T, Airbnb, Apple, Facebook, Google, HP, IBM, Intuit, LinkedIn, Microsoft, SAP, Verizon and Wells Fargo have recognized the importance of hiring people with disabilities, creating accessible and usable products and services, and developing innovations to attract a lucrative hidden and virtually untapped market segment. The incredible $490-billion purchasing power of working-age people with disabilities represents a market power larger than the coveted teen market and similar to that of other significant market segments. In addition to the spending power of customers with disabilities themselves, people with disabilities are not a solitary market. They are surrounded by family members and friends who also recognize the value in products and services that accommodate all people in society, and this amps up their purchasing power to $3 trillion. A panel will explore how they created these opportunities, continue to drive hiring practices and create an environment that promotes leadership opportunities for people with disabilities.
How to Make it in the Media and Technology Industries
Charting a career path in the media and technology industries can be overwhelming. During this panel you will hear from individuals with disabilities who have succeeded within these industries. They will reveal how they navigated obstacles and took advantage of opportunities along the way.
Using Media and Technology to Change Perceptions of People with Disabilities:
Deaf & Disability Narrative Imperative: Creating & Telling Our Own Stories: Changing perceptions of people with disabilities starts with harnessing the power of an individual to control how their narrative is told, shared, used and monetized. You will hear from an intersectional panel of activists and storytellers who have done just that and have used their media savvy to change the way people with disabilities are viewed while elevating the work of not just themselves but others. It's a panel that will galvanize you to redefine your own narrative
Lights! Camera! Access! (LCA) Career Exploration Summit:
Technology and Media corporate leaders will be joined by selected students with disabilities who aspire to careers in media and technology. The Lights! Camera! Access! (LCA) Career Exploration Summit will harness the potential opportunities from the assembled summit participants through these concurrent activities:
Resume Review, Speed Interviews and Flash Mentoring
Network/Mentoring Workshop
Self-Disclosure: How to Leverage Disability to Sharpen Your Competitive Edge
Meet with accessibility pioneers and learn how they shape the world of technology and media in the workplace, marketplace, from classrooms to boardrooms. Panel discussions will illuminate the unique untapped power of the disability market.
Who Should Attend
CEOs, CTOs, HR and Department Managers, Accessibility Specialists and Developers, policy leaders (city officials, legal experts, policy advocates), academic leaders, VCs, angels and individual gamers and geeks, causing a seismic shift in the global market for the nearly one billion individuals with disabilities world-wide.
You will hear from and network with, technology leaders and media experts.
Access the Symposium's detailed agenda and speaker information: https://dmtalliance.com/agenda/
---
Attend the networking reception and panel discussion with Bay Area Emerging Museum Professionals (BAEMP) for an important discusion on the future of museums and accessibility. To register and for more information, visit HERE. *Networking reception FREE to attendees of the 2019 Global Accessiblity Symposium & Showcase.