Description
Join us for the 4th annual Game Devs of Color Expo - an inclusive games expo and conference creating a new normal in games by putting creators of color at the forefront, showing off their games, building conversations, and pushing games forward as an artform. #GDoCExpo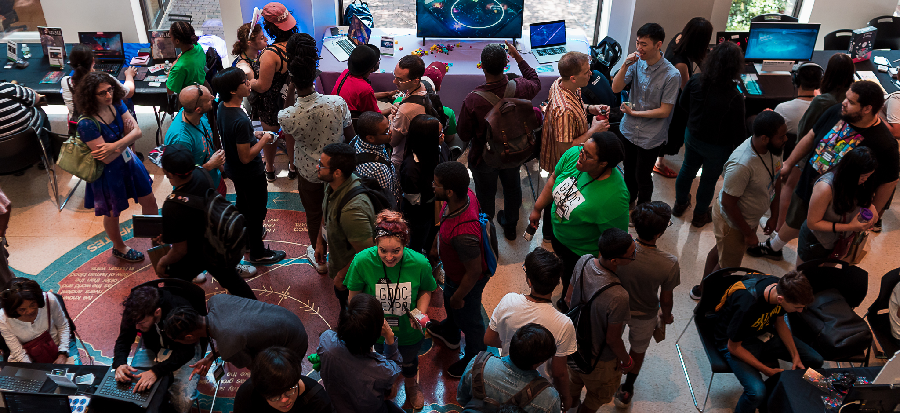 GAMES EXPO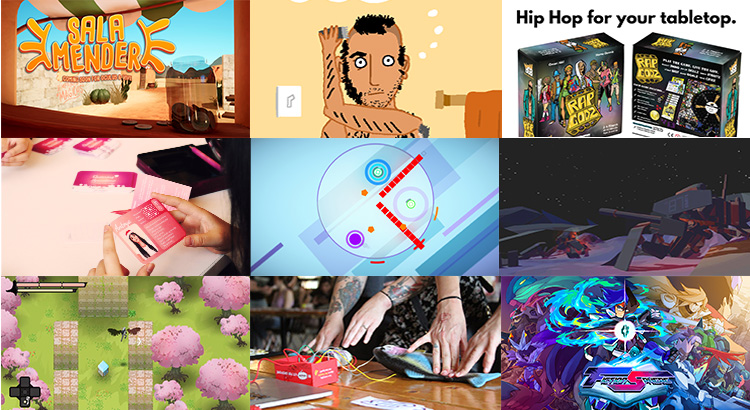 In the expo hall, be prepared to play 20+ titles including the super stylish HyperDot which was just featured as part of the Xbox Experience at E3, Sashimi Slammers, a fish fighting game where the controller is literally a fish (can't make this stuff up,) and Can Androids Pray, a shortform narrative game about angry femme mechs at the end of the world. View our full list of games with descriptions and links on the website.

Can Androids Pray by Xalavier Nelson Jr., Natalie Clayton, & Priscilla Snow
Chaos Tavern by DragonBear Studios
Chrono Ghost by Kelly Thomas Davis
despelote by Julián Cordero & Sebastián Velbuena
Fallen Angel by Matrioshka Games
FictionSphere by Team Einherjar
Half by Emma Kidwell
HyperDot by Charles McGregor // Tribe Games
INTO THE DARK: NARAKAN by Orc Punk
Operation Kanshi by Amanda Siswojo & Emperatriz Ung
Phantom by Temitope Olujobi & Rachel Moeller
Portal Tamers by SkyReach Studio
Pre-Shave by Saam Pahlavan
Queering Spacetime by Joyce Lin
Rap Godz by Omari Akil
Robot Slow Dance by Squinky
Salamender by Izel Moctezuma
Sashimi Slammers by Furious Fish Friends
Saturday Morning Games by Plausible Studio
SHE DREAMS ELSEWHERE by Studio Zevere
Skate & Date by Gensuta
Super Space Club by GrahamOfLegend
SweetXheart by Catt Small
Swimsanity! by Decoy Games
The Lighthouse by Shadow Knights Studio
We Should Talk by Team We Should Talk
World of Ether by Solidity Studios

CONFERENCE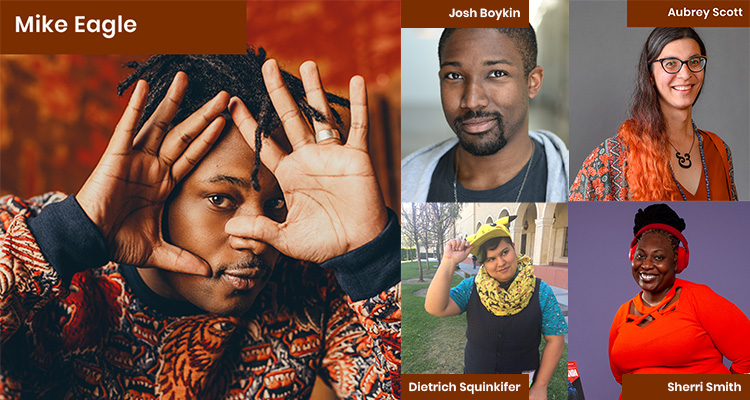 Featuring a full conference track with microtalks and panels, with realtime captioning. One of our marquee panels "Hip Hop and Video Games" features 3 amazing rappers - Open Mike Eagle, co-host of The New Negroes on Comedy Central, Sammus, and Mega Ran, in discussion with 2 game developers, Davionne Gooden and Shawn Alexander Allen. Together, they will explore the complicated relationship between the two art forms over their parallel growth. See the full schedule with descriptions and speaker bios on the website.
11:00AM - Doors open
11:10AM - Opening Message
12:00PM - Microtalks
Reuse Everything - Xalavier Nelson Jr.
Values Driven Game Development in AAA Games - Aubrey Scott
Existential Dread in Action Girlz Racing - Marley Hall
12:40PM - Lunch
1:45PM - Hip Hop and Video Games
Shawn Allen - Moderator

Enongo Lumumba-Kasongo

Raheem J Jarbo

Mike Eagle

Davionne Gooden
2:35PM - Microtalks
The Decoy Games Journey - From Gaming Brothers to Self-Publishing - Khalil and Ahmed Abdullah
Art School Crash Course: 10 visual art tips for gamedevs - Dina "Alex" Croft
Video Games as a Subversive Art - Limpho Moeti
3:25PM - Planning For The Win
Sherri Smith - Moderator

Brandon Dixon

Evva Kraikul

Geneva "Gensuta" Heyward

Kevin Zhang
4:15PM - Forging Your Path In Games
Josh Boykin - Moderator

Andrien Gbinigie

Aziza Brown

Dietrich Squinkifer

Juan Vaca
5:05PM - Microtalks
Unicorn Game Design: Embracing the Experimental and Unlikely - Ashley Christman
Portraying personal experiences through Systems - Ben Wilson
Designing and Building an Emotionally Impactful Web Game - Catt Small
5:35PM - Closing Message
6:00PM - Doors close
7:00PM - 11:00PM - Afterparty at Babycastles (145 W 14th St.)

AFTER PARTY (sponsored by GLITCH)
The official after party is hosted at Babycastles (145 W 14th St.)! Free with your GDoCExpo badge. From 7pm till 11pm. More info here.

AWARDS
We are presenting the first-ever Humble Bundle Game Creators of Color Award! This award includes a $15,000 grant towards working on a game with a publishing deal as a Humble Original.
From a selection of past GDoCExpo exhibitors and speakers, there are 5 nominations:
Tyriq Plummer (Catacomb Kids, UFO 50)
Dina "Alex" Croft (Plushed)
Geneva Heyward (Skate & Date)
Ethan Redd (Blazing Legion, MURDABOYZ)
Marina Kittaka (Anodyne, Even the Ocean, how do you Do it)

One of these nominees will be announced as the award recipient at the event!


---
T-SHIRTS
Wear your love for this event. For the first time ever, we're offering #GDoCExpo shirts! These unisex cotton tees feature custom art by artist Page Branson. You'll be able to purchase them onsite at the event ($25 for one, $40 for two).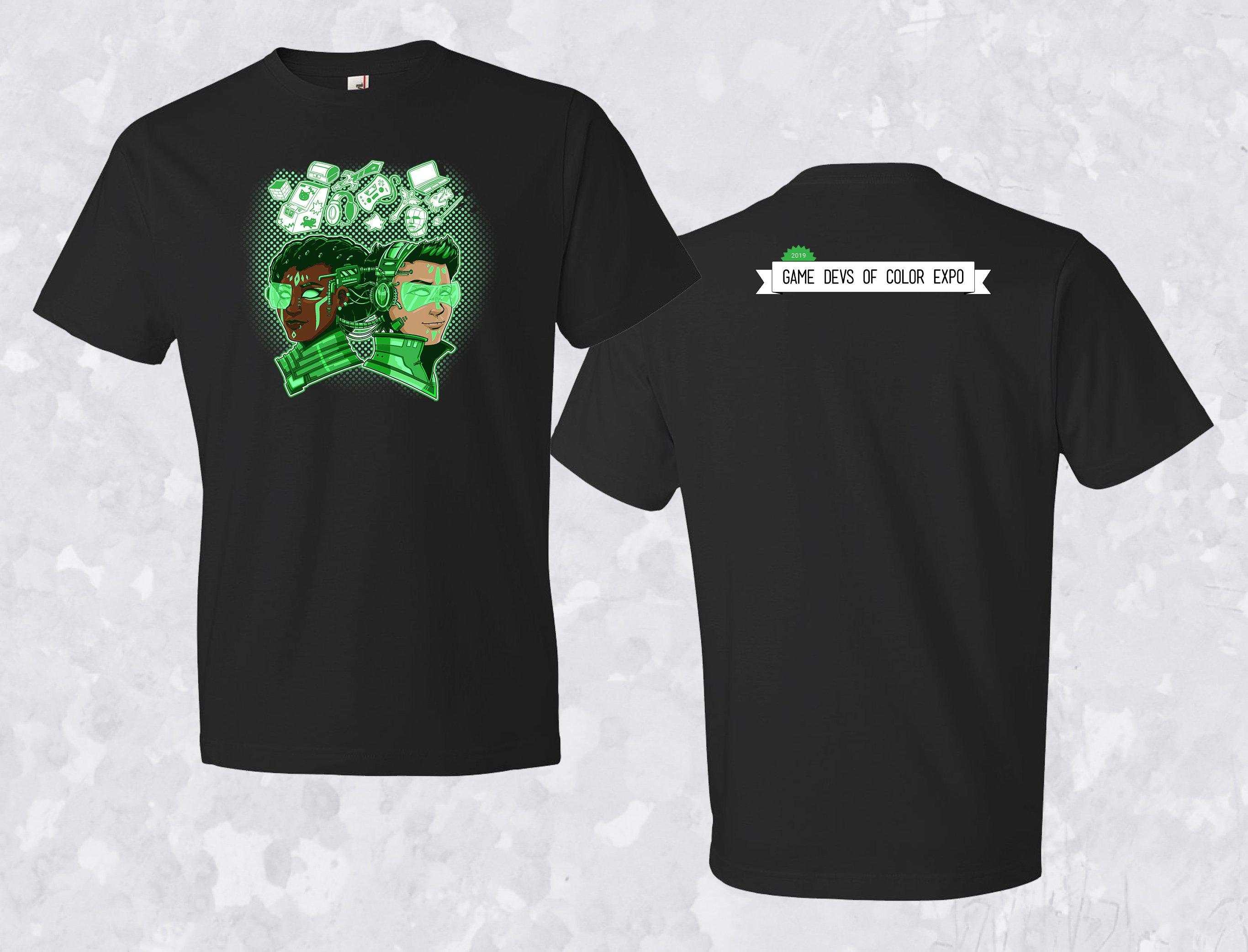 ---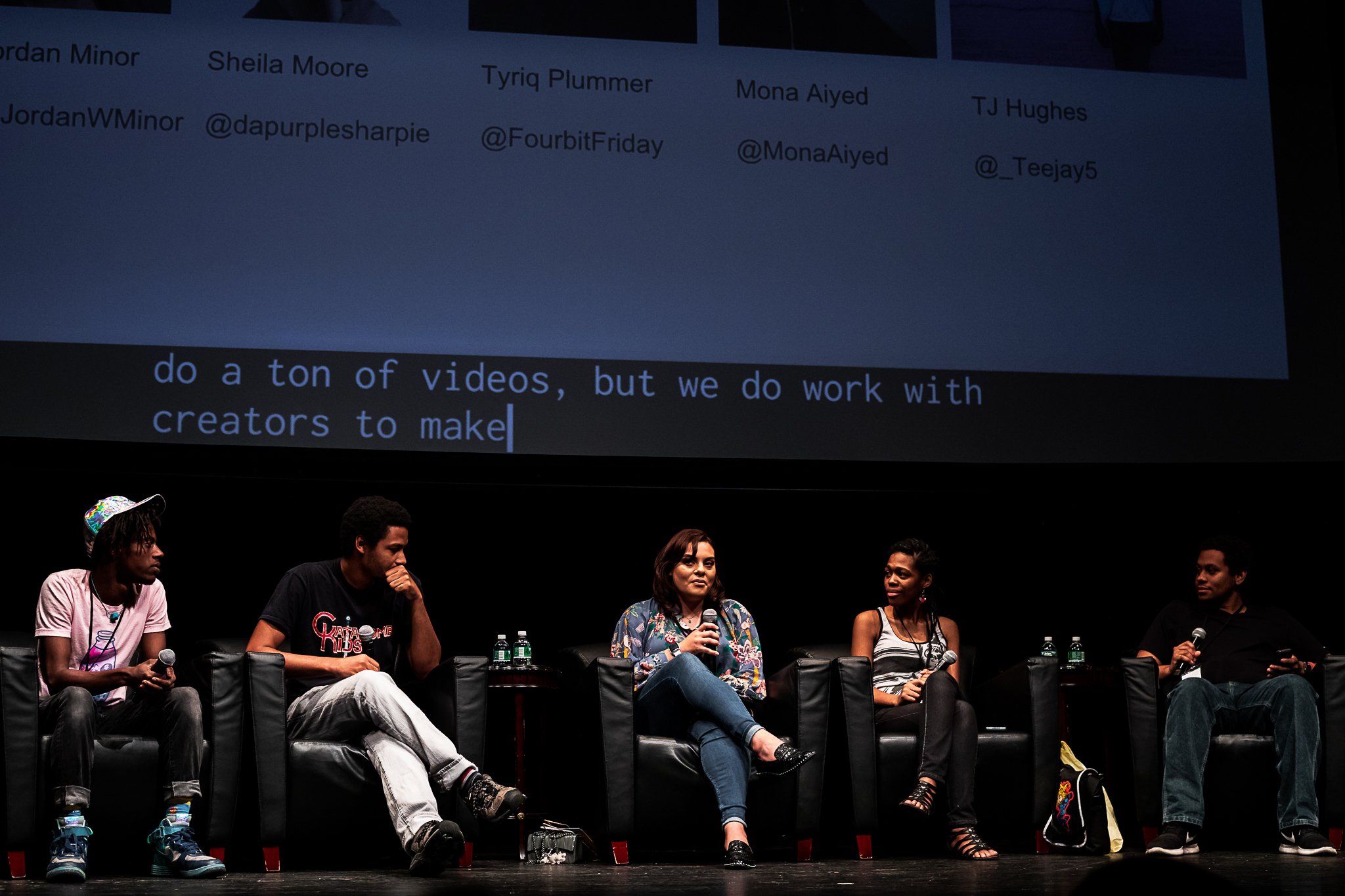 ---
All are welcome.
The 2019 Game Devs of Color Expo is open to people of all genders, races, and sexual orientations. We want this to be a safe space to express yourself. Please let us know if there's anything we can do to make you feel comfortable attending this event. Read the full Code of Conduct on our website.
---
Need-based free tickets
We aim to make this event accessible by offering low-cost tickets. However, we also know some people have low/no income and therefore are unable to afford the ticket price. If this is the case for you, please fill out this form – we will happily help you gain access to this event.
---
Press & Media
Open call for members of the press and content creators on YouTube, Twitch, or other platforms! All press inquiries can be sent to gdocexpo@gmail.com. Professional photography and videography is prohibited on-site without consent from Game Devs of Color Expo and the attendees being recorded.
Press & Media Pass - apply now
---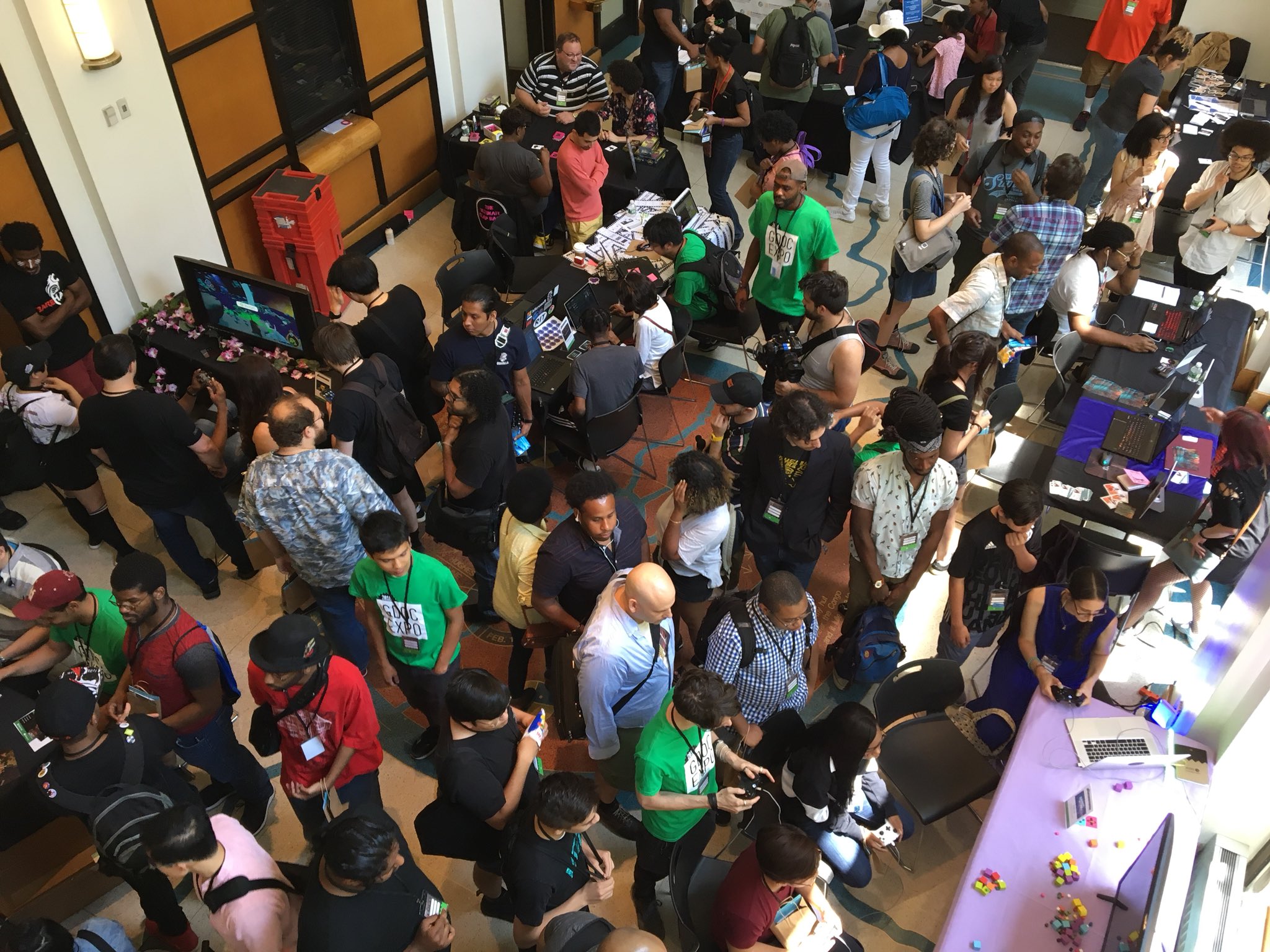 Pricing and Sponsorship
Game Devs of Color Expo is a labor of love, organized by a small handful of volunteers. We can't do it alone. Ticket sales and sponsorship will help make Game Devs of Color Expo 2019 bigger, better, and as momentous as possible.
Want to do more to support the community? Sponsor the event.
Interested in donating? Contact us at gdocexpo@gmail.com, send us direct donations via PayPal (our preferred method), or use the Donation field available under ticket types.
COLLABORATING SPONSORS



Experience a new generation of games and entertainment with Xbox. The best games and entertainment on all of your devices.


Join us in putting smiles on the faces of millions around the world. We're welcoming, approachable and respectful – we're Nintendo. All characters welcome!

Playdate is a brand-new handheld game system, shipping next year. Our small, yellow console-with-a-crank is the perfect platform for indie games of all kinds, made by people of all kinds. Sign up to be a developer today and let us help you tell your story! Learn more at https://play.date/dev
We are the world's leading augmented reality company with an initial focus on augmented reality games. We see a future where our technology paves the way for new entertainment experiences, advanced robotics, and scaled adaptive computing — and games are where we incubate some of our most audacious thinking.


Looking Glass Factory is a team of developers, inventors and artists creating holographic displays for the future. Last Summer, they launched The Looking Glass, an interactive, holographic display for 3D creators. Real 3D in real life, no headgear required. Founded in 2014, the company is headquartered in Brooklyn, New York with an R&D and production lab in Hong Kong.


PREMIUM SPONSORS

Kickstarter helps game developers, artists, musicians, filmmakers, designers, and other creators find the resources and support they need to make their ideas a reality.

MailChimp is an always-on marketing platform for small businesses. We make innovative, beautiful products that empower those businesses to find more customers.

Humble Bundle sells games, ebooks, software, and other digital content. Our mission is to support charity while providing awesome content to customers at great prices.


Twilio powers the future of business communications. Enabling phones, VoIP, and messaging to be embedded into web, desktop, and mobile software.

FRIEND SPONSORS

Eko is the home for choice driven, live-action storytelling.
Mozilla creates people-centric web technologies for everyone. Keep the internet open and accessible to all.Mozilla creates people-centric web technologies for everyone. Keep the internet open and accessible to all.
NYU Game Center: Learn how to make video games at New York University.
Unity: Thank you, GDoCExpo! Unity's success is rooted in our community.
COMMUNITY SPONSORS

Thanks to Adafruit, Brace Yourself Games, Codecademy, Code Liberation, Games for Change, Ilya Zarembsky, Maximum Crash, and Schell Games for supporting the community.

EQUIPMENT SPONSORS
Thanks to astro for providing equipment.
MORE SPONSORS
More sponsors are being added! If you're interested in sponsoring, learn more on our website.
---
EVENT ORGANIZERS
The 2019 Game Devs of Color Expo is produced by a diverse team of game creators and enthusiasts. We believe that games are for everyone and that the only path forward is to actively work to enable more games to be created by people of diverse backgrounds and get those games played by more people.
Chris Algoo - @ChrisAlgoo
Shawn Alexander Allen - @aNuChallenger
Brian Carr - @t3ambrian
Brian S. Chung - @BrianSChung
GJ Lee - @whereisgj
Catt Small - @cattsmall
Very special thanks to our contributors (Reynaldo Vargas, Mattia Sicuro, Kat Thompson, Kirk Musngi, Emperatriz Ung), and the many volunteers who work on bringing the expo to life before, during, and after the day of the event.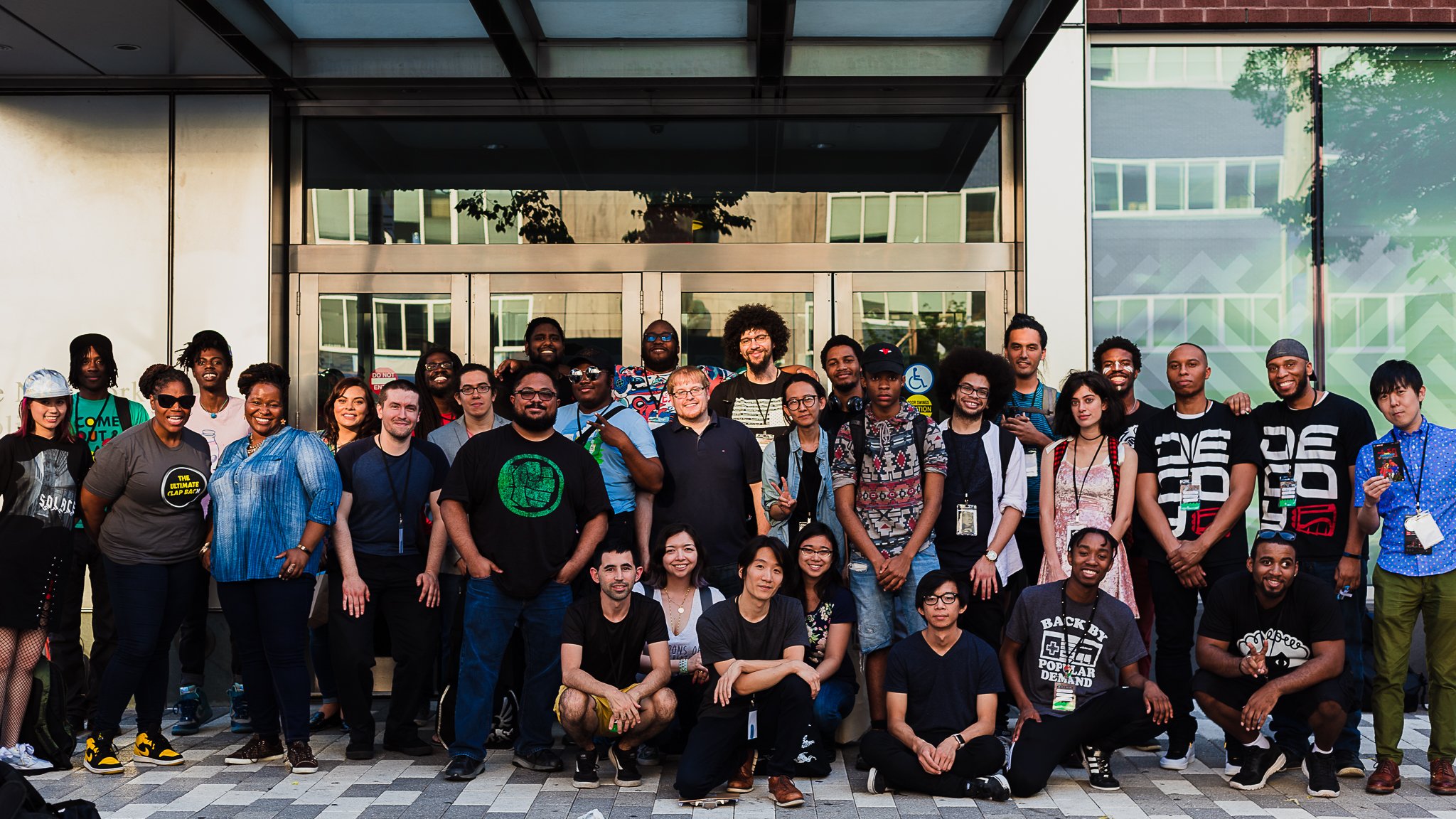 ---
FAQs
I'm not a person of color. Can I attend?
Totally! We welcome all people to this event.
Are there ID or minimum age requirements to enter the event?
We welcome people of all ages! However, we ask that people under 18 attend with their parents, guardian, or a chaperone.
What are my transportation/parking options for getting to and from the event?
We've summarized this on our website here - http://gamedevsofcolorexpo.com/location/