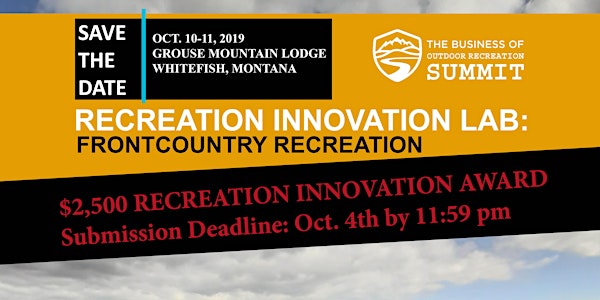 2019 Business of Outdoor Recreation Summit: Recreation Innovation Lab
Location
Grouse Mountain Lodge
2 Fairway Drive
Whitefish, MT 59937
2019 Lab follows 2018 Summit and will dive into nuts and bolts of how to start, grow and maintain quality outdoor recreation experiences.
About this event
2019 Business of Outdoor Recreation Summit: Recreation Innovation Lab
BREAKING: See our speaker line up here.
What: Recreation Innovation Lab addresses on-the-ground challenges and shares innovative community-driven approaches to creating, protecting and enhancing "frontcountry" outdoor recreation access close to home. Attendees will tour three unique projects around Whitefish, MT and reconvene for in-depth workshop with experts.
When: October 10-11, 2019
Where: Grouse Mountain Lodge, Whitefish, Montana and select parks and trails around Whitefish
Hosted by: Montana Office of Outdoor Recreation, Montana Access Project and Crown of the Continent Geotourism Council
Why Important: Access to the outdoors enhances quality of life, health and wellness for 1 million residents and 12.2 million visitors, underlies Montana's $7.1 billion dollar economy and is a competitive advantage for business recruitment and retention. Yet, communities struggle with "how" to provide quality frontcountry recreation access and connectivity to broader public land recreation opportunities.
More detail: The Recreation Innovation Lab will take a "deep dive" into the nuts and bolts of how to start, how to grow and how to maintain quality frontcountry outdoor recreation experiences for residents and visitors alike. Leading experts will share their experience, knowledge, and inspiration in the following areas: Planning, Design and Construction; Public and Private Land Recreation; Operations and Maintenance; Funding; Legal and Risk Management; Economics; Public/Private Partnerships; Community Engagement
Target attendees (max 120): municipal and county officials & staff; state & federal land managers; private landowners, land trusts & land managers; health, conservation, recreation & tourism organizations/user groups; outdoor recreation-based businesses; county, city & private attorneys
How to register:The Lab is filling quickly, so register ASAP! We are encouraging teams of officials and groups from city, county and region, but individuals are absolutely welcome too. To help support teams we are working on scholarships for registration and lodging- IF YOU HAVE A TEAM OF 3 or more including: recreation group, city, and county; contact info@crownofthecontinent.net for scholarship opportunity. *Scholarships are limited and some restrictions may apply.
Lab registration includes:
2019 Recreation Innovation Lab Award by onX: The $2500 onX Award celebrates the frontcountry champions who are creating and sustaining great places for people to access nature every day. A Montana community-based 501(c)(3) organization that has transformed the way residents and visitors enjoy the natural wonders of Montana close to home will receive the award during the Recreation Innovation Lab. Click HERE for more information! Applications must be received by 11:59 pm on October 4, 2019.
After-Lab Activities: "Hike" and "Bike" Tours and onX GPS mapping workshop are available for Lab registrants.
Lodging: Grouse Mountain Lodge is the exclusive summit venue and lodging and will offer attendees special room rates starting at $91.00 USD plus tax per night. (When booking reference "Business of Outdoor Recreation Summit: Recreation Innovation Lab" to receive special rate). Call (406) 862-3000 to book a room.
BREAKING: See our speaker line up here.
Sponsorships: Many thanks to our incredible line-up of sponsors who understand the importance and value of bringing diverse stakeholders to the table to discuss the future of outdoor recreation in the region.
Why Now: Momentum is growing! Outdoor recreation is an economic driver and integral to the economic diversity and wellbeing of communities in the State of Montana and greater transboundary Crown of the Continent region. Knowing now that outdoor recreation is 2.2% of US GDP and is growing at a faster rate than the US economy as a whole, it is important that we take an in-depth look at maximizing this segment of our economies potential while addressing population growth and user pressure. Outdoor recreation, especially on our public lands, is the foundation of our lifestyle, offering opportunity for quality of life that is unsurpassed, thus making our communities attractive places to live, do business, and visit.
Refund: Refunds will not be offered for this event. If you have registered and are not able to attend, we ask that you transfer your registration to someone else from your business or organization that can attend. If you need assistance with transferring registration please contact us.
BREAKING: See our speaker line up here.