Description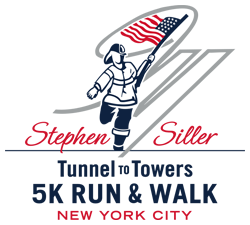 What is a Tunnel to Towers 5K Run & Walk?
The Tunnel to Towers 5K Run & Walk Series was created to retrace the final steps of Stephen Siller, a New York City firefighter (FDNY) who lost his life on September 11, 2001 after strapping on his gear and running through the Hugh L. Carey Tunnel (formerly known as the Brooklyn Battery Tunnel) to the Twin Towers.
The Run & Walk Series pays homage to all first responders and service members who made, and continue to make, extraordinary sacrifices in the line of duty.
When is the Tunnel to Towers 5K Run & Walk NYC?
The Tunnel to Towers 5K Run & Walk NYC is Sunday, September 30, 2018, at 9:30 am.
Where is the Tunnel to Towers 5K Run & Walk NYC located?
The Tunnel to Towers 5K Run & Walk NYC is located in the boroughs of Brooklyn and Manhattan. The Run & Walk starts at Ikea Parking Lot 9, 1 Beard St., Brooklyn, NY 11231 and ends in Manhattan at the corners of West Street and Murray Street
How far is the Tunnel to Towers 5K Run & Walk NYC?
The Tunnel to Towers 5K Run & Walk NYC is slightly longer than a standard 5K course. It is approximately 3.5 miles long, beginning at the Brooklyn portal of the Hugh L. Carey Tunnel and continuing into the streets of Manhattan, before finally finishing at West Street and Murray Street. Click here to see a course map.
How much does Adult Registration cost?
*EARLY BIRD REGISTRATION*
May 15 – May 31: $45 Adult Runner $55 w/chip
June 1 - June 30: $55 Adult Runner $65 w/chip
July 1 – September 24: $65 Adult Runner $75 w/chip *No chips available online after Sept 24
September 25 – September 29: $80 Adult Runner $90 w/ chip*
*No chips available online September 25th – 29th
September 30 (Race Day): $80 Adult Runner – No chips available on race day
Can I purchase a timing chip?
Yes - you may purchase timing chips online until 11:59 pm on Monday, September 24, 2018. From Tuesday, September 25 to Saturday, September 29, timing chips can only be obtained in person at registration sites.
NO TIMING CHIPS WILL BE SOLD ON THE DAY OF THE RUN.
Can I register the day of the run?
Yes - race day registration is held at the IKEA parking lot in Brooklyn, New York. Please note that no timing chips will be provided to those who register on race day.
When does online registration close?
Online registration will remain open until 11:59 pm on September 29, 2018. However, if you wish to receive a timing chip through online registration, this must be done on or before September 24, 2018.
Do I have to wear my bib number?
Yes - please display your bib on the front of your outermost garment. Those running without a bib will be asked to leave the course and will not be allowed to finish.
I am a fast runner, can I get a front line position?
Runners predicting a pace faster than a six-minute mile will be seeded in the front corral. A separate entrance (marked in yellow) will be at the front of the start line.
Is there transportation to and from the event?
Yes – New York Water Taxi service begins at 6:00 am. Water taxis leave from Pier 11/Wall Street terminal. The last vessel leaves for Brooklyn at 7:45 am. You must be on line by 7:30 am to get to the start line on time. If you're returning to Brooklyn after the race and festivities, wearing your bib assures free transportation from Pier 11.
NO FOOD OR DRINK, INCLUDING WATER CAN BE BROUGHT ONTO THE NEW YORK WATER TAXIS.
Is there parking available?
Yes - parking is available by South Street Seaport in Manhattan. There is no parking available in the IKEA lots on the Brooklyn side; only limited street parking. Mass transit is strongly encouraged for the event.
Where can I pick up my runner's packet or volunteer/vendor credentials?
Volunteer and vendor photo identification can be picked up at the locations listed below on the dates provided. Bib numbers/packets and can be picked up at the start of the run at IKEA parking lot in Brooklyn, NY. T-Shirts will be given at the T-Shirt Pick-Up Tent on Vesey Street at the end of the run. We strongly advise picking up your packet prior to the day of the run at the same locations listed below:
Staten Island
St. John's University – Staten Island Campus
**UPDATE** Campus Center - Gymnasium
300 Howard Avenue
Staten Island, NY
Wednesday, September 26, 2018
Thursday, September 27, 2018
2 pm – 7 pm

Manhattan
The Conrad Hotel
102 North End Avenue,
New York City, NY
2nd Floor to East Lobby
Friday, September 28, 2018
Saturday, September 29, 2018
9 am – 4 pm

Will water be available?
Yes - water stations will be located at the start line, finish line and at a station at the end of the tunnel on the Manhattan side. Participants may NOT carry water bottles in the tunnel. DO NOT bring water bottles into the tunnel.
May I run with a stroller, backpack, wheelchair, roller blades, bicycle, bags, water bottles, Scott Air-Paks (FDNY oxygen tanks), child-carrier backpacks and/or and weight vests?
No - the run is restricted to foot traffic only, per the City of New York, for reasons of safety and security. For your safety and security, the MTA and NYPD prohibit any backpacks, strollers and bicycles in the tunnel and on any mode of transportation provided by the Tunnel to Towers Foundation.
Important restriction for firefighters: ABSOLUTELY NO SCOTT AIR-PAKS!
Are refunds permissible? Can I transfer my registration?
ALL SALES ARE FINAL and we do not allow refunds. You may transfer your registration to another participant. For instructions on how to transfer your registration please click here.
Will there be any refreshments available before the event?
Yes, IKEA Brooklyn will be opening their restaurant at 6:30 AM on race day. All items will be available for participants to purchase.
Does the fun end at the finish line?
Of course not! Join us on Vesey Street for free food, drinks and live entertainment at our post-run BBQ and Concert.
FUNDRAISING & INCENTIVES
Where do I sign up to be a fundraiser or join a fundraising team?
You can sign up to become a fundraiser at T2T NYC. Select the event you want to fundraise for, then click CREATE YOUR FUNDRAISING PAGE. Then decide if you want to join a team or start your own fundraiser.
Is there a fundraising minimum?
There is no minimum but we encourage participants to raise funds to support our programs. Registration fees help offset some of the expenses associated with making the Tunnel to Towers 5K Run & Walk NYC one of the country's greatest annual events, but fundraising is essential for us to make a difference in the lives of so many in need. This year we have brand new incentives for reaching $250, $500, $1000, and $1500.
What are the fundraising incentives?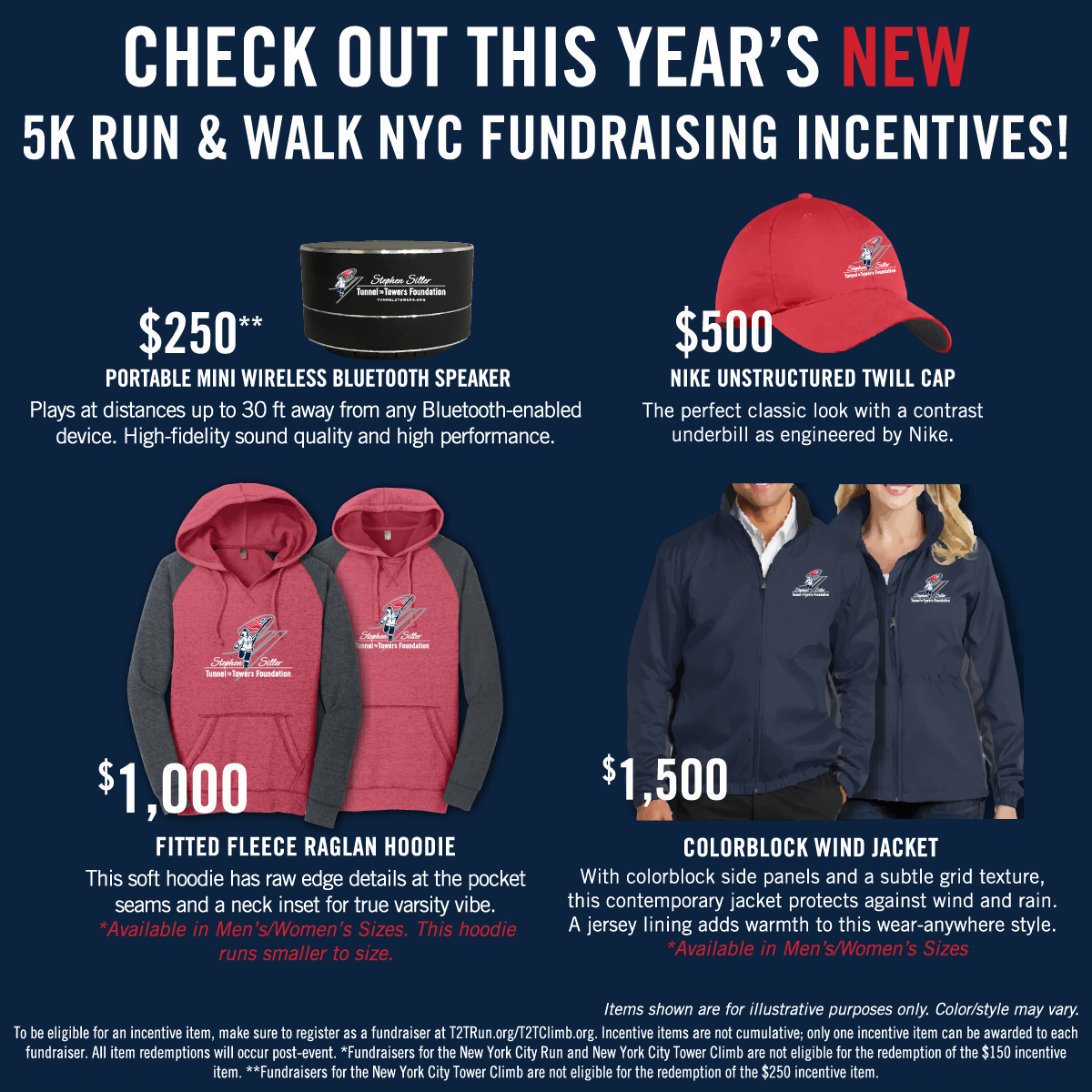 How long do I have to fundraise for incentives?
Fundraising for the 5K Run & Walk NYC will remain open until Sunday, October 14th, 2018.
When will my fundraising incentive arrive?
Your fundraising incentives will arrive by the January following the event.