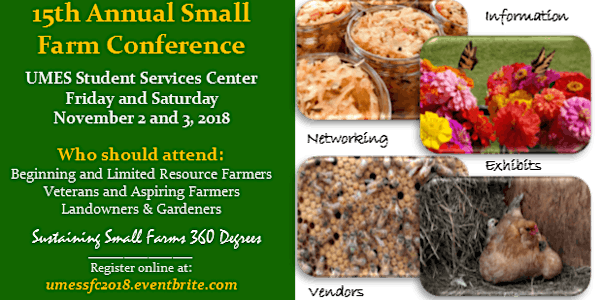 2018 Small Farm Conference
When and where
Location
University of Maryland Eastern Shore 11868 College Backbone Road Princess Anne, MD 21853
Description
Keynote Speakers
Christopher Bradshaw and Violet King of Dreaming Out Loud, Inc.:
rebuilding urban, community-based food systems through social enterprise, helping to increase access to healthy food and to improve community health

developing low-income entrepreneurs and cooperatives

training at-risk adult residents for sustainable, family-supporting wages.
Founded in 2008, the company was created as a response to the educational and economic disparities in underserved, lowe-income communities in Washington, D.C.
Christopher Bradshaw. A social justice entreprneur whose expertise is using social innovation through the food system to grow meaningful community economic development within marginalized sommunities.
Violet King. An urban farmer, educator and herbalist who has been working to bring healthier food options and farming or gardening as well as nutrition education to youth and adults. Her work focuses on teaching how to grow and prepare food using sustainable and agroecological farming practices.
On Site Special Event Farmers Market
Buy local . . . eat local . . . support local businesses during the 15th annual Small Farm Conference. On Friday, November 2, farmers and vendors are invited to sell produce, baked goods, and/or value added products. Reserve your space today. Incentives will be provided to the first 5 farmers or vendors to sign up.
Discount for anyone attending Delmarva Soil Summit on Thursday and Small Farm Conference on Friday and Saturday!
Note: A discounted ticket is reserved for anyone who will attend the Delmarva Soil Summit at UMES on Thursday, November 1, and then the Small Farm Conference on Friday and Saturday, November 2 and 3. See our ticket selections.
More information concerning this year's conference is forthcoming. For more information about the Delmarva Soil Summit, visit:

https://www.eventbrite.com/e/delmarva-soil-summit-tickets-48914847626?aff=ehomecard
https://www.futureharvestcasa.org/field-school/delmarva-soil-summit
Sessions with limited seating:
Sessions with limited seating
Next Level Beekeeping – Limited to first 30 registrants
Ferment Madness: Ginger Beer & Kimchi – Limited to first 15 registrants
What's in Your Soil? – Limited to first 30 registrants; Free Soil test for first 10 registrants

Research Poster Sessions:
Graduate students are encouraged to display research posters during Exhibitor's sessions on Saturday,
November 3. Please contact Patricia King at 410-651-6070 or by email at pjking@umes.edu.
Early Bird tickets on sale until Monday, October 15.
Sustaining Small Farms 360 Degrees