2018 Service-Learning & Civic Engagement Conference: Get Engaged, Be the Ch...
Description
The 11th Annual Service-Learning & Civic Engagement Conference (SLCE) draws together students, faculty, staff, and community partners from the Campus Compact Mid-Atlantic network and beyond for a series of workshops and transformative discussions around civic and community engagement.
Please join us on April 7, 2018, as roughly 200 students, faculty, staff, and community partners gather at the University of Maryland Eastern Shore for this day-long event. This year we celebrate the theme "Get Engaged, Be the Change," exploring ways we can turn our thoughts into actions!
---
CONFERENCE GOALS:
In order to provide opportunities for growth, professional development, and field exploration, the Service-Learning & Civic Engagement Conference will:
Provide opportunities for stakeholders (i.e. students, faculty, staff, and community partners) to collaborate, network, and develop their capacity to lead and engage in transformative service experiences.

Strengthen the capacity of Maryland, Delaware, and Washington, D.C. campuses to create and sustain university-community partnerships.

Celebrate and share the latest thinking about how colleges and universities interpret and advance their civic missions.

Explore ways to include the CCMA P20 CONNECTS initiative in the SLCE Conference for future conferences.
S

chedule of Events:
10:00 am - 10:30 am Registration, Breakfast, & Open Poster Display

10:30 am - 11:30 am Welcome, Keynote, & CCMA Awards

11:30 am - 12:45 pm Morning Workshops
12:45 pm - 1:45 pm Lunch, Discussion Groups, & Open Poster Display

1:45 pm - 2:45 pm Formal Poster Presentations

2:45 pm - 4:00 pm Afternoon Workshops

4:00 pm - 4:30 pm Closing Awards, Networking Reception, & Raffle

---
KEYNOTE: Van Brooks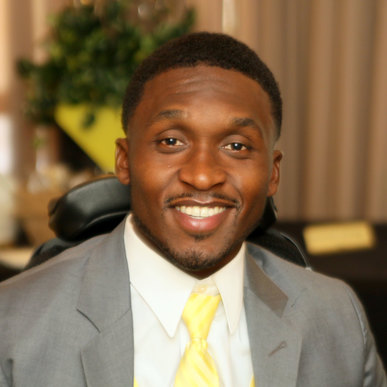 A native of West Baltimore City, Van was a three sport start athlete at Loyola Blakefield high school. In 2004, Van suffered a life altering spinal cord injury at the age of sixteen. Despite that he earned a bachelor's degree in Mass Communications from Towson University, and founded SAFE Alternative Foundation for Education nonprofit and the SAFE Center youth facility in West Baltimore City. His work there has led to him receiving many local and national accolades including the President's Volunteer Service Award. Today, appointed by Governor Larry Hogan, Van serves as the Director of the Governor's Office on Service and Volunteerism.
---
WORKSHOPS
Morning Sessions, 11:30am-12:45pm
Workshop descriptions available soon
Afternoon Sessions, 2:45pm-4:00pm
Workshop descriptions available soon
---
CLOSING NETWORKING RECEPTION:
The closing reception affords you the opportunity to connect with those you have met throughout the day, enjoy being together in community, and reflect on what opportunities lay before you that you once perceived as challenges. It is also a chance to honor our SLCE Award Winners. Dessert will be provided and those in attendance will be entered into a raffle.
AWARDS:
We will take time to recognize those selected for superior service and dedication to this work from the following categories:
Community Partner

Undergraduate Student

Graduate Student

Faculty Member

Staff Member
---
TRANSPORTATION & PARKING
Directions:
Please see the University of Maryland Eastern Shore website for a full list of directions.
Hotels:
University of Maryland Eastern Shore is able to offer hotel rooms at the Richard Henson Center for is $85.00/night. Guests may reserve rooms by calling the front desk at 410-651-8100, and refer to the group name of "Service Learning & Civic Engagement" or the group code of "SLCE". Guests will need a credit card to secure their rooms but the card is not charged until the day of arrival. The rooms are due to be released on March 6, 2018 (30 days prior to the group's arrival).
---
ADDITIONAL INFORMATION:
For more information on the 11th Annual SLCE Conference and Campus Compact Mid-Atlantic, visit: www.ccmidatlantic.org/slce
To determine if you are a member institution and eligible for the member rate, consult this list of members: www.ccmidatlantic.org/about/members.html
For more information, if you have dietary restrictions, or require special accommodations, please contact Clifton Harcum at chharcum@umes.edu or 410-651-8143 at least two weeks prior to the conference.
Please note that there will be photography and videography at this conference.