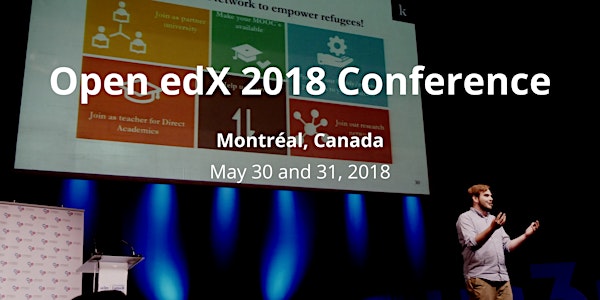 2018 Open edX conference
When and where
Location
HEC Montréal 5255 Decelles Ave Montreal, QC H3T 2B1 Canada
Description
The Annual Meeting of the Open edX Community
The Open edX project is a learning experience platform spawned by edX, a nonprofit online initiative created by founding partners Harvard and MIT and composed of dozens of leading global institutions.
This event is focused on sharing knowledge among members of the global Open edX community. We will discuss innovative uses across higher education, training and lifelong learning, instructional design and course production techniques, and methods for operating, extending and enhancing the Open edX platform.
In previous years, 300 developers, educators, and decision-makers for educational and training initiatives who work with or want to learn more about the Open edX platform gathered to share, learn, and celebrate the platform.
Our keynote speakers this year are:
Anant Agarwal, CEO and founder of edX

Zvi Galil, Dean of Georgia Institute of Technology College of Computing

Fiona Hollands, Associate Director/Senior Researcher, Teachers College, Columbia
Our full schedule is online -- to learn more, dive into each of our tracks on our online schedule:
Additionally, we have 15 in-depth technical workshops and 30+ lightning talks to round out your Open edX education.
All attendees of the Open edX conference must abide by the conference's code of conduct.


Hands-on days
We will have two hands-on days: the day before the main conference and the day after.
Tuesday, May 29: Workshops and Tutorials
The day before the main conference, we are hosting community-driven tutorials and workshops, including some great in-depth content for those who want to deploy Open edX, build courses, and extend the platform.
Friday, June 1: Developer Summit
This marks the first ever Open edX Developer Summit! We'll use this as an opportunity to talk about changes in the Open edX architecture, proposals from core developers, and discussions around what technological developments we plan to focus on in the upcoming year. If you're hankering to get up close and personal with the source code, this is a great opportunity to join our developer community.
To get involved, see the Developer Summit wiki.
Venue, Hotels and Travel
We will be staying at 2 hotels this year. The location of the Conference is about a 20 minute ride from downtown Montréal. It is easy to access by train, bus or car service. We expect that many attendees will be interested in exploring Montréal before and after Conference proceedings. Consequently, we have put aside blocks of rooms at two Montréal hotels with special room rates:
The conference venue itself will be at this location:
HEC Montréal, Pavillon Decelles
5255 Decelles Avenue
Montréal (Quebec) Canada
H3T 2B1
Phone: 514 340-6000


If using the metro, take the Blue Line to the Université de Montréal stop.
For full details, see the conference web site.
Stay in touch
To keep up with the latest updates on Open edX Con 2018, join us on Slack, follow us on Twitter, and follow the #OpenedX2018 hashtag.