2018 KWB EXPANDING BOUNDARIES Virtual Research Summit

Tuesday, August 14, 2018 at 8:30 AM

-

Friday, August 17, 2018 at 2:30 PM (MST)
Event Details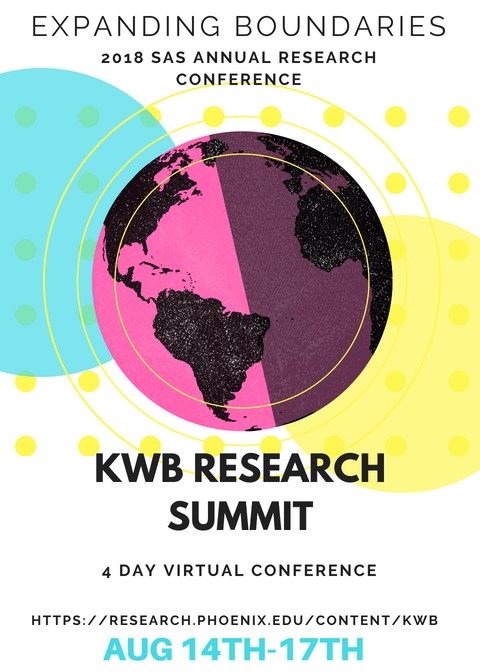 The University of Phoenix and School of Advanced Studies is proud to announce our 
2018 "Expanding the Boundaries" Research Summit 
This is an open invitation for you to join us as our guest to be part of an event that will expand research conference boundaries by delivering a world class, comprehensive research event right to your computer!


 Once again, the School of Advanced Studies seeks to move push the boundaries, which is why this year's event has accurately been themed "Expanding Boundaries." The relevance of this 2018 August event marks an important prospect to engage rapid prototyping that is galvanized to the initiation of a "virtual" event that will allow constituents to break through proximity limitations and interact with more people from around the country through a virtual platform. This platform also allows: the interactive experience of a ground conference, connecting attendees to research, fulfilling research and scholarship objectives, and finally, helps foster our efforts to speak to the University's mission and values inside of innovation and scholarship by offering an experience that connects to a broader collaborative possibility!


 The 2018 KWB Expanding the Boundaries Research Summit invites you to join us from the comfort of your home or workplace for a four-day event where you can pick and choose the workshops and concurrent sessions that most interest you from any of the four days!


 In addition, you will also be able to: listen and watch your colleagues present their research agendas and outcomes, watch key talks by our President and Provost, engage guest corporate affiliates, look for the potentials to network and connect to a research center, engage the Phoenix Scholar publishing staff, interact through a stimulating platform- Shindig- for an "in person" feel, and listen to some of the best in recognized faculty and student research alongside stimulating and thought provoking workshops and concurrent sessions. SAS will also honor and formally recognize through our awards session those individuals who have worked hard to establish themselves in the world of research and dissertations. This is truly an occasion revisioned!


After you have registered, you should visit the Research.Phoenix.Edu Hub>Knowledge Without Boundaries Annual Research Summit homepages and begin getting acquainted with the scope of the Summit over the coming weeks. Since we are in the process of virtually constructing the 2018 plenary right now, by visiting the site you will begin to see items for days 1-4 unfold soon and while there we encourage you to engage any of the blogs or activities to get you primed and excited for the Summit. Additionally, all registrants will also be able to access all presentations for the Summit right there at the Hub!


 Again, this promises to be another exciting opportunity to expand our possibilities and engage each other in a vital and meaningful way. Hope to see you there!


 *Please look for updates over the next few weeks as we prepare for the event. We will have tech staff on standby for technical issues and will have a quick goto early bird training for any faculty who would like get a little hands-on-experience with the virtual platform.

When
Tuesday, August 14, 2018 at 8:30 AM

-

Friday, August 17, 2018 at 2:30 PM (MST)
Add to my calendar