Location
MassBay Community College
50 Oakland Street
Wellesley, MA 02481
Sales Have Ended
Ticket sales have ended
ONLINE REGISTRATION IS NOW CLOSED FOR THIS EVENT. WE WILL ACCEPT WALK-IN REGISTRATIONS AT THE DOOR BEGINNING AT 7:30AM. THE COST IS $45.
Description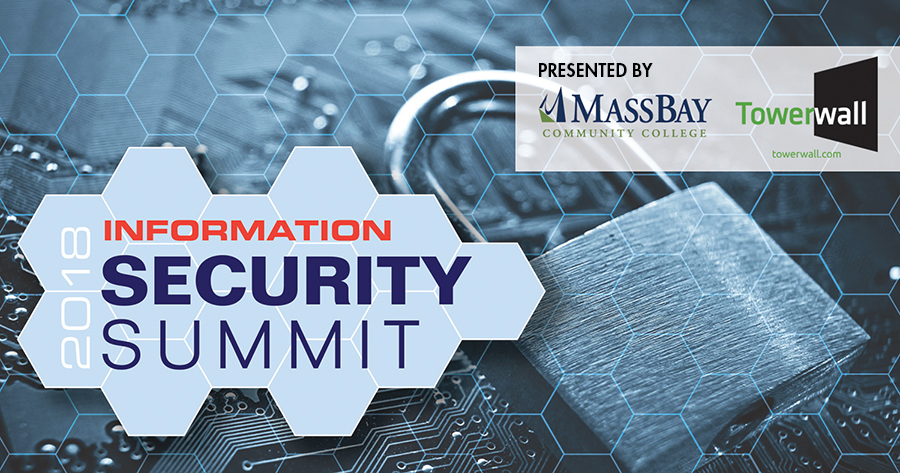 Join us for the 6th Annual Information Security Summit on
Thursday, May 24, 2018.
REGISTER TODAY!
Twitter: #summitbuzz18
The Information Security Summit is a regional event with the goal to give participants from New England an update on the latest development, trends and status in information security.
With growing popularity of disruptive technologies including Mobility and Cloud Computing, Social Networking and Big Data Analytics, the accompanying data security and privacy issues become fundamental concerns. Industry experts will be invited to share their experience and knowledge.
WHO SHOULD ATTEND:
CIOs, CSOs, CISOs, CTOs and their teams

VP IT

Network managers, security executives and directors

IT/IS directors and managers

Enterprise architects

Business continuity and IT disaster recovery managers

Governance, risk and compliance consultants

Finance, audit, legal risk and compliance managers
Attendees of this event will earn 4 CPE credits.
2018 KEYNOTE SPEAKERS!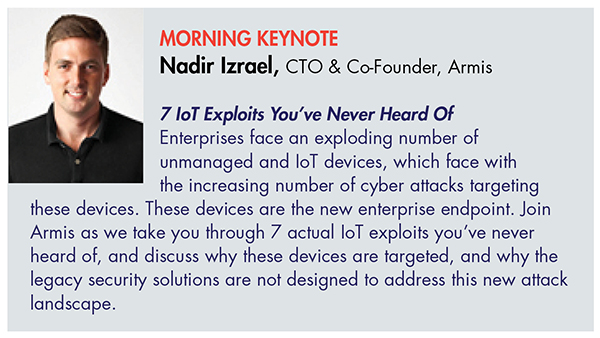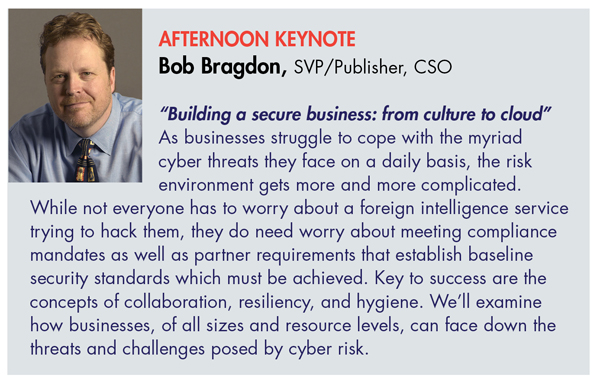 BREAKOUT SESSION I TOPICS:

1. Incident Response Planning/Table Top Exercises
"Crisis Communications" Are you ready?

Does everyone know their roles when an incident occurs?
MODERATOR: Shane Miner, Senior Director of Technology Services - WGBH
PANELISTS:
Ernesto DiGiambattista, CEO & Founder, CYBRIC

David Escalante, Director of Computer Policy & Security, Boston College

Darell Kulesza, Vice President of Technology and CIO, Dean College

Bryant Madden, Director, Levick
2. GDPR-Friendly Best Practices for IT Architects & Implementers
Data governance, breach notification, right to be forgotten – there are so many individual challenges. Where are organizations getting stuck when they attempt to prepare for GDPR enforcement?

MODERATOR: Theodore Augustinos, Partner - Locke Lord LLP
PANELISTS:
Greg Albertyn, Independent Consultant for Privacy Compliance & Cyber Risk

Matthew Fisch, Senior VP Sales, Towerwall

Daniel Joyce, Senior Director, Information Security and Compliance, Sunovion Pharmaceuticals

Thom Shola, RPS (Retirement Plan Services) IT Head of Cyber, Risk & Security, John Hancock

David Wilkinson, Senior Director of IT and Cybersecurity for Financial Institutions, Gartner
3. The Enterprise Immune System: Using Machine Learning for Next-Generation Cyber Defense
PRESENTER: Dan Fein, US Technical Lead - Darktrace
From insiders to sophisticated external attackers, the reality of cyber security today is that the threat is already inside. A fundamentally new approach to cyber defense is needed to detect and investigate these threats that are already inside the network - before they turn into a full-blown crisis.
Based on unsupervised machine learning and probabilistic mathematics developed by specialists from the University of Cambridge, new 'immune system' technologies are capable of learning the 'self' of an organization. By analyzing every network, device, and user, and modeling them as they go about their day-to-day activity, the Enterprise Immune System can establish a highly accurate understanding of normal behavior. It can therefore spot abnormal activity as it emerges, and even take precise, measured actions to automatically curb the threat.

Rules and signatures are not keeping pace with today's rapidly evolving cyber-attacks. The Enterprise Immune System represents a fundamental step-change in automated cyber defense, is relied upon by organizations around the world, and can cover up to millions of devices.
In this session, learn:
How new machine learning and mathematics are automating advanced cyber defense

Why 100% network visibility allows you to detect threats as they happen, or before they happen

How smart prioritization and visualization of threats allows for better resource allocation and lower risk

Real-world examples of unknown threats detected by 'immune system' technology
BREAKOUT SESSION II TOPICS:
1. IoT Security: Challenges & Solutions
One of the key drivers of the IoT is data. The success of the idea of connecting devices to make them more efficient is dependent upon access to and storage & processing of data. For this purpose, companies working on IoT collect data from multiple sources and store it in their cloud network for further processing. This leaves the door wide open for privacy and security dangers and single point vulnerability of multiple systems.

MODERATOR: Greg Neville, Head of IT & Security, Cogito Corporation
PANELISTS:
Benjamin Boudreau, Towerwall Intern & Resident IoT Expert, MassBay/Towerwall

Chris Dumais, Systems Engineer, Fortinet

Nadir Izrael, CTO & Co-Founder, Armis

Alex Jablenski, Product Security Officer, Philips Lifeline
2. Develop & Maintain a Real-world Security Awareness Program
28% of employees, and 46% of those at entry-level positions, don't know if their companies have a cybersecurity policy.

63% of employees don't know whether the number of IT security threats their companies face will increase or decrease in the next year.

Employees identify "physical theft of company property" as the primary threat to company security, over IT services vulnerabilities like unauthorized data sharing or email phishing.
MODERATOR: Sherry Horeanopoulos, Information Security Officer - Fitchburg State University
PANELISTS:
Maryann Conway, Senior Security and Compliance Consultant, Towerwall

Janet Levesque, Senior Vice President, Systems, Risk and Security, Mimecast

Patty Patria, Vice President for Information Technology & CIO, Worcester Polytechnic Institute

Herb Weaver, Regional Sales Engineer, East, Sophos
3. Turtles, Trust, and the Future of Cybersecurity
PRESENTER: Matt Radolec, Security Architect Manager - Varonis
Faith in our institutions is collapsing, and GDPR is at the door. What would cybersecurity look like if we started from scratch, right now, in our hybrid, interdependent world? It would focus relentlessly on data. Learn how a data-centric security approach can reduce risk, increase efficiency and re-engineer trust in a society where faith has been shaken by unstoppable breaches.
Click here to see how the Information Security Summit is helping the greater community!
Help us spread the word! Tweet - #summitbuzz18
2018 Twitter contest: The attendee who has the most tweets (must use the hashtag: #summitbuzz18) the day of the event will win a Bose wireless speaker!