Description
Tired of the same old recycled training?
Continuing Education Training Institute features the industry's top experts
CETI brings together national leaders in continuing education with business experts to explore workforce trends that impact your students and your programs.
The old way of job training is over. Today's focus should be on certifications and stackable skills to prepare students for real jobs in the workforce. Come to CETI and find out the top trends and techniques for programming, marketing, and operations.
At the end of the event, you'll come home with new skills you can use on your first day back. Plus, you'll receive a digital badge as recognition of your new competencies.
CLICK HERE TO DOWNLOAD THE BROCHURE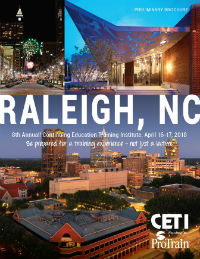 To register, click the "tickets" link on the upper right side of this page. Click here to make your hotel reservation.