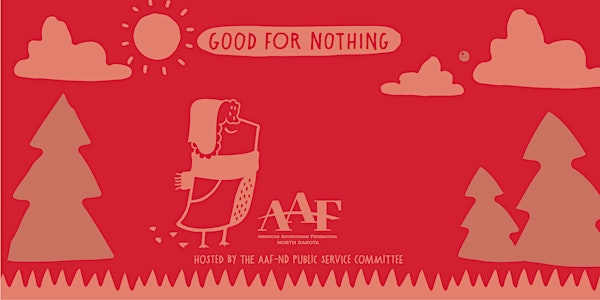 2018 24-Hour Good for Nothing Gig hosted by AAF-ND
When and where
Location
Prairie Den 122 1/2 N Broadway Dr, Fargo, ND 58102 Fargo, ND 58102
Description
Get ready to make new friends, collaborate with other talented professionals and actually do some Good for Nothing!
Almost forgot, there's also speakers! limited edition swag from Office Sign Company! music! free food! free coffee! and last but not least some free beer! generously provided by Drekker! and much more!
(But that's not why we do it. ;) )
Good for Nothing is about bringing together professionals in marketing, advertising, design, web development, social media, project management, and other creative-minded fields to combine forces and provide a huge benefit to a few lucky non-profit organizations, all in a single 24 hour event. The Good for Nothing team has selected FIVE such amazing organizations that can really use some help.
So what are you waiting for?
Sign up for one of the available slots and come ready to volunteer and make a real difference. Whether it's a new logo or a detailed social media plan, there will be opportunities for everyone to help organizations that can't otherwise get it.
Not sure where you fit in? Click the Eventbright link above to see if you have what we're looking for!
But...hey it's not all work, we have fun too! We're providing all meals and coffee for free (as well as beer provided by Drekker). There's also a kickoff party Friday night along with a couple speakers to inspire you while volunteering your otherwise expensive skills to make a real difference.
Spots are limited! So sign up now!
Join the fun, and get ready to do some Good for Nothing!
This event is hosted by the Public Service committee of AAF-ND.
---
FAQs
---
Will I get paid for my time?

Nope. But, that's kinda the point. You're donating your talents to local non-profit organizations that don't have the resources necessary to create the kind of work they'd like to. We will however be feeding you and providing entertainment and comraderie for 24 hours. Your time is valued by the organizations you assist and the AAF-ND Public Service committee.

Do I have to work the whole time?
No, but the idea is that you're using this time to help the organizations the most. Be prepared to work most of the time spent in the Prairie Den, but manage your time well. We won't be overseeing individual's progress. We're all professionals so we should be able to manage our time fairly well.
What are the organizations we're helping?
Those will be revealed at the kickoff on Friday night. There are five organizations so if you don't support one of the organizations there should be one that does. Just remember, this isn't about the work you want to do, it's about assisting those that need our help.
Are there ID requirements or an age limit to enter the event?
Yes, because we're also supplying some liquid inspiration, this event is 21+ ONLY. We will check ID's at the door.
What can/can't I bring to the event?
You can (and should) bring a laptop, mobile device, and or tablet. Whatever you use to complete your work, please bring that. Some paper, pens, and limited materials will be provided, but feel free to bring whatever makes you work comfortably. Be sure to bring phone and computer charging cords.

You can't bring hard liquor into the Prairie Den space. We will kick you out of the gig if we know you're sneaking in liquor. We will have drinks available to those participating.
Can I leave during the event?

Sure! If you'd like to get up, take a break, get coffee, get food, nap for a bit, feel free. Once we begin, it's up to you to manage your time helping out. Ideally, you've signed up to work, but we're not going to babysit anyone. The Good for Nothing team will interupt with announcements, meals, etc from time to time so if you're gone be aware you might miss something.
What are my transport/parking options getting to the event?
Street parking is available on Friday after 5pm and all day Saturday.
Where can I contact the organizer with any questions?
Email questions to fargo@goodfornothing.com