Description
*Registration OPEN until Tuesday, April 18, 2017*
---
Businesses & Partners:
You are invited to MATC's IT Recruitment Showcase. Please join us if you are looking to:
Fill your current IT openings,

Fill your internship postions

Source experienced IT talent
Also, join us if you would simply like to check-out this innovate hiring event first-hand.

Unlike the "traditional" job fair, this format fosters direct candidate engagement and offers a more in-depth look at candidates' essential skills and qualifications. In a conference-like setting, the showcase rotates between two areas: presentations and exposition.
You will find IT candidates:
From several IT specialties such as: IT Support, Networking, Development or Security



What you can expect at this conference style hiring event:
Presenation Area - Candidates pitching their top IT talents, essential skills and accomplishments

Exposition Area - An opportunity to network and interact directly with candidates at their exposition booth



*Because of the innovative format of this event, please leave your display booth at the office. Your display booth will thank you.
---
Here's what recruiters had to say about last year's IT Recruitment Showcase:
~ What attracted me was the concept of this event. It's a different way to recruit and see this as a great opportunity to make better connections with candidates." - US Cellular— Manager, Talent Attraction Programs - Campus
~ "Appreciated the change up to the format of the career fair where there were presentations and the employers spoke to the students." - Milwaukee Area Hospital— Human Resources Representative
~"The non-traditional format was very nice. Probably took some of the stress off the candidates and you could move around to each one and discuss a bit more casually(…) Those were a great way to see how the comfortable and prepared the candidate was." - Human Resources Representative from a technology company."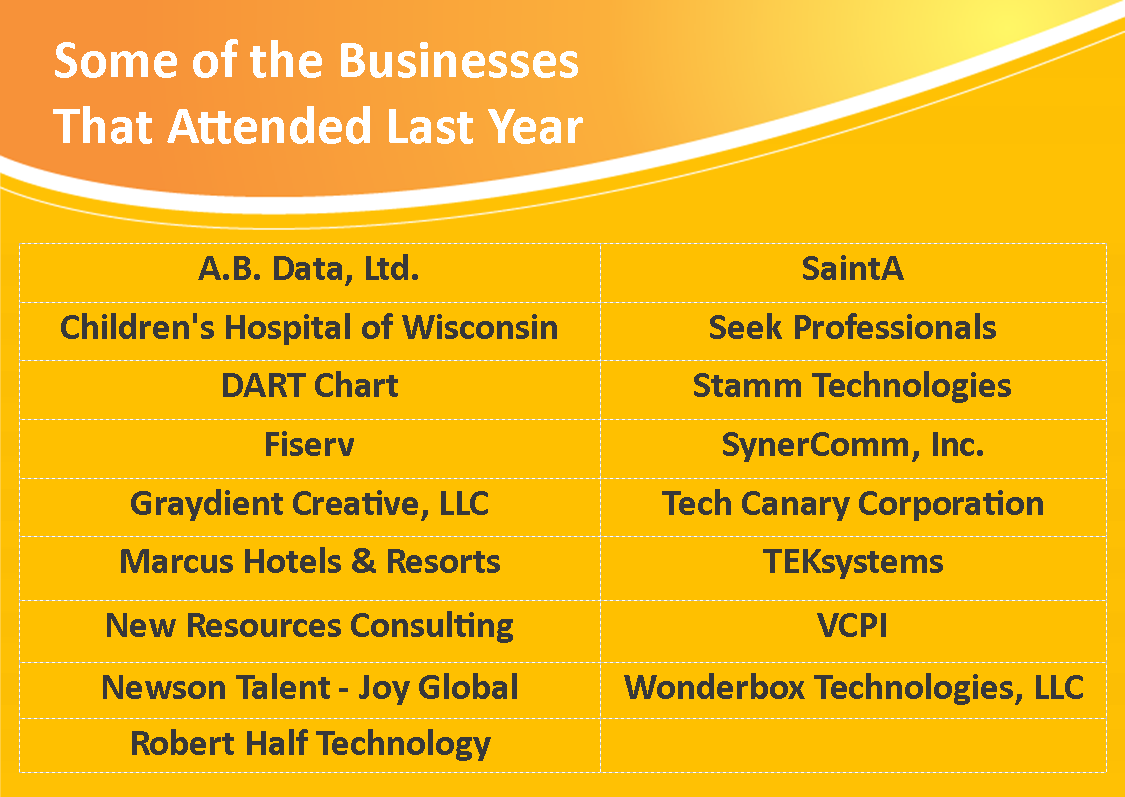 We look forward to seeing you at this event.
---