Description

DirtQuake is an alternative motorcycling festival that encourages a diverse blend of bike fans, dirt racers, grease monkeys, celebrities, custom shop designers, speed freaks and weekend warriors to celebrate their shared love of motorbikes.
Irreverent racing is at the heart of DirtQuake. The action takes place on high-adrenaline, loose-surface oval circuits without the hassle, rules and costs usually associated with

professional

motorsport. Dirt Quake is inclusive - giving riders, enthusiasts and even pro-racers a unique chance to take on all-comers.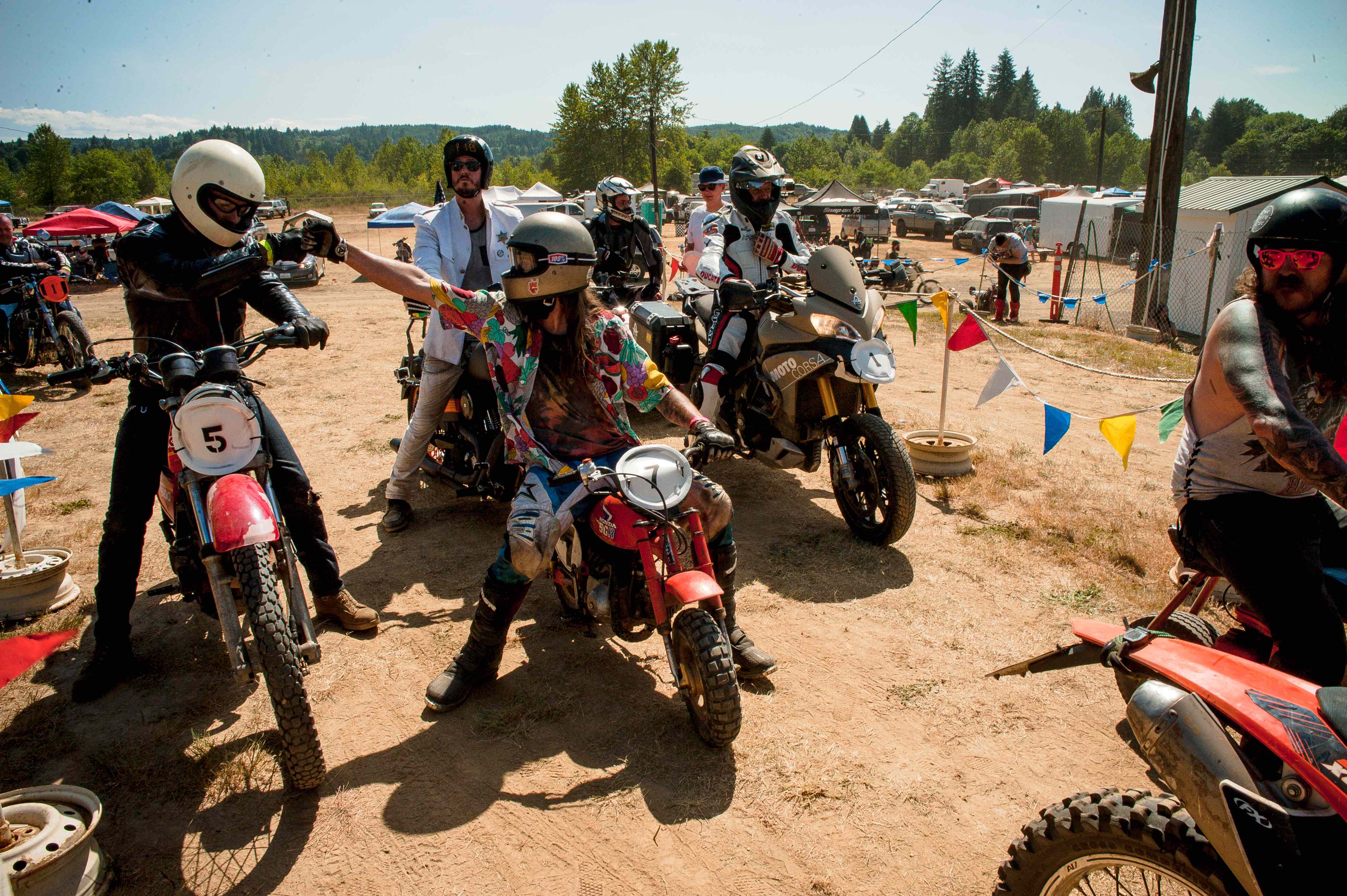 Yo-Ess-Ay! Yo-Ess-Ay!
Yep, Dirt Quake USA. The track's booked, the bands are lined up, the hooligan racers are itching to bang bars.
Schedule.
July 21 Friday

Night - Gates open at 1:00 pm.
Sign up from 3:30-5:00pm
Practice at 5:30pm
Racing at 7:00pm -11:00pm
Friday Classes Include.
Pro, Am and Hooligan flat track.
July 22 Saturday

- Dirt Quake USA
9:00am - 11:00am - Coffee and Swap Meet.
12:00noon - 1:00 Custom Quake Bike Show. free to enter. prizes and more Winner gets free entry to race DQ usa
1:15pm - 2:45 Mini Quake - Bikes provided. $10 to enter (at race). Head to head, team races & relay.
3:00 - 4:00pm Jump off style competiton. (Jimmy Hill vs. Rusty Butcher)
4:30 - 5:15pm Dirt Quake check in, saftey check, riders meeting at 5:00
5:30pm Dirt Quake Practice - race order posted.
7:00pm National anthem & parade laps
7:30pm Heat races.
8:30pm Half Time (mexican wrestling)
9:00pm Main Events
11:30 Awards and after party with live bands. (dont miss out)
2:00am Bed time and camping.
Sunday Load up and out. Please clean up after yourself.
Weekend tickets: $30
Camping: $20 per vehicle
Race entries: $75
HOW TO ENTER: Send a photo of your bike and which class you want to enter to dirt@sideburnmagazine.com with the subject Dirt Quake USA Entry.
Once your bike is approved you'll be sent a link to pay. Entry fee is $75 (includes gate entry).
First come, first served.
No entries on the day.
CLASSES
Dirt Quake is for the kind of bikes that don't usually get a chance to race anywhere else.
Dirt Quake race day is Saturday.
One rider per bike.
One class per rider.
CHOPPER: For choppers! Not factory customs or baggers, just choppers.
STREET TRACKER/STREET SCRAMBLER: Road legal street trackers and scramblers NOT race bikes or modern enduros.
INAPPROPRIATE ROAD BIKE: Harley Fat Boys, Trail 90s, Ducati Panigales, virtually any road bike. If it shouldn't be on a dirt track, it's in.
LADY: Women racers on any of the above bikes (not real race bikes please). Women can enter any other class if they prefer.
TRIPOD: Three-wheelers (and snowmobiles, of course)
MINIBIKE: Pull-start Taco-style and 3-speed autos only.
HOOLIGAN: 750-plus cc multi-cylinder beasts.

Details on how and when to enter to follow, and what classes to follow in the near future. Please don't send your entries till the opening date is announced.