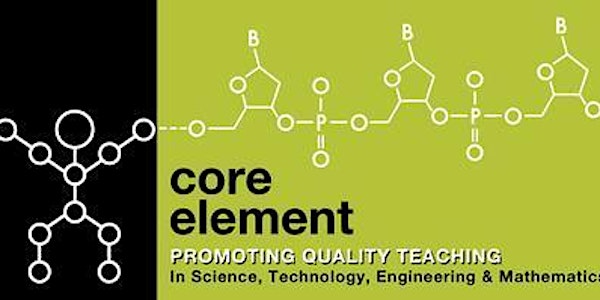 2017 Core Element Summer STEM Institute
By Greater New Orleans STEM Initiative
Location
University of New Orleans TRAC Center New Orleans, LA 70148
Description
Core Element Summer STEM workshops are no cost to teachers in the Greater New Orleans Region. Teachers from schools outside of the region may attend for a nominal charge (please email andrea.walker@gnostem.org for information).
Participants must sign up for individual workshop sessions. Please select the workshop(s) that best fits your grade level and curriculum. A $25 deposit (payable online at registration) is required to hold your place in each workshop. At your completion of each workshop, your deposit will be returned to you.
---
NEW Sessions Added!
Exploring the New Louisiana Science Standards (Filled- Use the Waiting List Option)
June 26, 27, 28, 2017
8:30am-3:30 pm
18 Contact Hours - 3 day workshop
Cathie Smith, Charlene Byrd, Melissa Grzych
Attendees will take a deep dive into the new Louisiana Student Science Standards through the development of hands-on learning activities to address the student Performance Expectations. Standards will be deconstructed to better understand the Crosscutting Concepts, Science and Engineering Practices, and Disciplinary Core Ideas, which are an integral part of each standard. Attendees will leave with activities ready to bring to their classrooms!
Two sessions offered:
K-5 Standards Exploration

6-8 Standards Exploration
---
Introduction to Coding for Teachers--POSTPONED DUE TO WEATHER EVENT
June 22, 2017 Rescheduled for July 27,2017
8:30am-3:30 pm
6 Contact Hours
Vicky Jacobsen
Code.org
This is a free Code.org Computer Science Fundamentals Workshop for Elementary and Middle
School teachers, librarians, and administrators. Please bring a laptop, iPad or Chrome book. We will have a great time learning how to teach computer science and coding to our students. Attendees receive a workbook of unplugged (no computer necessary) lessons as well as a goody bag. Two to three weeks after the workshop, supplies to teach two lessons are sent to you too. We will have
an hour break for lunch. Plan to have fun and know you will be ready to teach computer science and coding that afternoon (if you had to!)

---
LIGO Presents: Physical Science and Inquiry Classroom Activities
June 29 AND 30, 2017
8:30am-3:30 pm
12 Contact Hours
LIGO Staff
LIGO's (The Laser Interferometer Gravitational-Wave Observatory (LIGO)) Science Education Center will offer teacher workshops to K-12 science teachers. LIGO teacher workshops concentrate on inquiry, interactives and the physical sciences. LIGO-Science Education Center staff includes three former teachers who have been trained by the San Francisco's Exploratorium on Inquiry methods and science education. Completion of this workshop will qualify you for financial support for transporting your students to the Livingston, LA Science Center for an extraordinary hands-on science fieldtrip experience. Day 2 of the workshop is a field trip to the LIGO Science Education Center in Livingston. Their interactive displays are wonderfully designed to teach and motivate students!! Not to be missed!
---
LEGO® EV3 Robotics: Grades 4-8
July 6 and 7, 2017 (2 days)
8:30am-3:30pm
12 Contact Hours
Drs. Annette Oertling and Michelle Sanchez
Learn how to build and program robots using LEGO bricks and a simple icon-based, drag-and-drop software. This session is specifically designed to introduce a hands-on approach to science, math, technology, and literacy to young learners. Participants will get instruction and hands-on practice with activities that will show them how to build and program robots using LEGO bricks and the LEGO® MINDSTORMS® Education Software.
Engage your student teams to research a challenge topic's obstacles and then suggest ways to improve to solve a challenge. Teams build, test, and program an autonomous robot using LEGO MINDSTORMS® software and the EV3 robot.
Participants will:
Design, build, and program a robot using the LEGO® EV3® robots.

Explore and see how robotics can be used to promote student interest in STEM subjects.

Find available on-line resources to use robotics in classroom and other alternative learning environments.

Gain information that will help start or advance an existing FLL Robotics team.

Get information, tips and ideas on how to start a robotics team at their school and how to enhance their FLL team competition experiences
---
Modeling Method of Instruction for Biology
July 10-21, 2017 (10 days)
8:30am-3:30 pm
60 Contact Hours
Julie Maimes
The Modeling Method was developed by Arizona State University to correct many weaknesses of the traditional lecture-demonstration method, including the fragmentation of knowledge, student passivity, and the persistence of naive beliefs about the physical world.
What is Modeling Instruction?
Modeling Instruction is organized into modeling cycles which move students through all phases of model development, evaluation and application in concrete situations promoting an integrated understanding of modeling processes and acquisition of coordinated modeling skills. The teacher sets the stage for student activities, typically with a demonstration and class discussion to establish common understanding of a question to be asked of nature. Then, in small groups, students collaborate in planning and conducting experiments to answer or clarify the question.
Learn more about ASU Modeling Curriculum at www.modeling.asu.edu. Teachers will receive copies of the ASU
---
Ecosystem Education Grades K-8
July 10, 2017
8:30 am-3:30 pm
6 Contact Hours
K-8
Jean May-Brett, LATM, LSTA
Project Learning Tree, Project WILD, and Project WET provide the foundation for a conservation education program for educators and their students. Through the use of balanced integrated curriculum materials the teacher guidebooks help teachers address the need to develop responsible science literate citizens by developing awareness, knowledge, skills, and commitment. Activities will be selected to align with the new LA State Science Standards for elementary students.
At the conclusion of the workshop participants will received copies of all three project guidebooks.
Limit 20 Participants
---
Exploratorium Institute Physical Science Activities for Elementary/Middle Classrooms Cancelled
July 12, 2017
8:30am-3:30pm
6 Contact Hours
Eileen Hite
Come join us to explore hands-on, inquiry-rich experiences from the Exploratorium-developed classroom activities that encourage both teachers and students to build hands-on investigations of science. These inquiry activities are designed to demonstrate unexpected phenomena, spark curiosity, generate questions, and serve as the starting points for deeper classroom explorations.
Limit 20 Participants
---
Earth Science Activities for Elementary/Middle Classrooms
July 13, 2017
8:30am-3:30pm
6 Contact Hours
Janice Catledge, Eileen Hite
Teachers will receive earth science activities from the Knowledge Box Curriculum which is correlated to new State and National Standards. Sample activities include those designed to encourage problem solving; math integration, unit conversions, and inquiry. Activity topics will include: natural resources, rock layers, drilling, rock cycle, cycling of earth materials, geologic events, contour mapping, and microfossils. Eligible local teachers who attend this session will be able to reserve the Playing with Petroleum Kit or the Knowledge Box for a period up to 10 days for their classroom use by attending a this workshop. Activities presented can be performed in the classroom with existing or low cost materials if you are not able to or do not wish to reserve the kits.
Limit 20 Participants
About the organizer
Greater New Orleans STEM is a regional collaborative between K-12, higher education, economic development, and business and industry institutions that are committed to improve the caliber of math and science education in our schools. 
Greater New Orleans STEM provides:
Essential professional development training for K-12 science and math teachers,

Proven education curriculum and activities that encourage hands-on learning experiences in the classroom for students,

Support for out-of-classroom enrichment activities such as science fairs and robotics competitions.