Event Information
Location
Utah Valley Convention Center
220 Center St
Provo, UT 84601
Description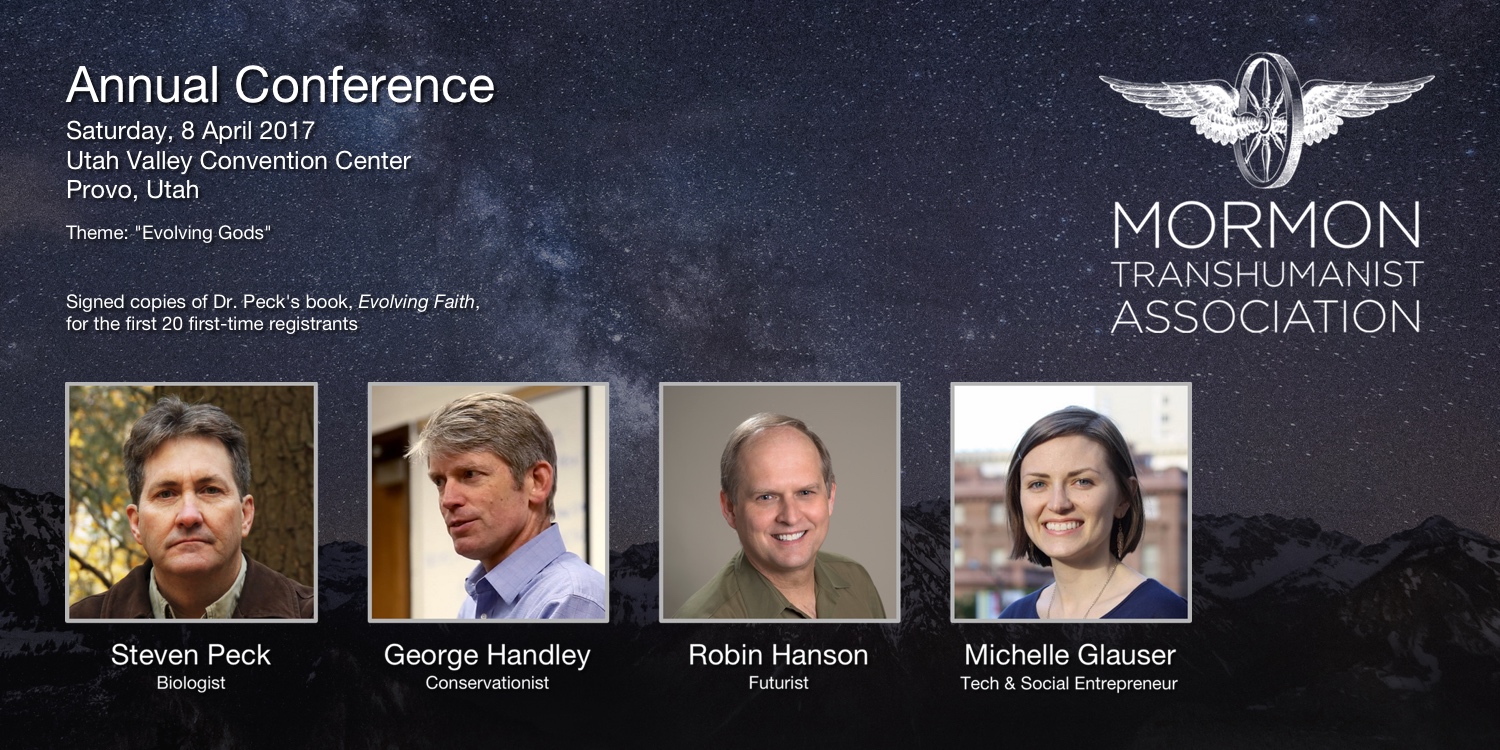 The first 20 first-time registrants will win a free signed copy of Steven Peck's book, Evolving Faith.* Register now!
The 2017 conference of the Mormon Transhumanist Association will be held on Saturday 8 April 2017 from 9:00am to 9:00pm in Provo, Utah, at the Utah Valley Convention Center. Previous conferences sponsored by the Mormon Transhumanist Association include the 2016, 2015, 2014, 2013, and 2012 conferences of the Mormon Transhumanist Association, the 2010 Transhumanism and Spirituality conference, and the 2009 Mormonism and Engineering conference. The conference is open to the public.
The theme of the conference is "Evolving Gods." From its earliest beginnings, humanity has looked beyond itself, seeing in various deities its characteristics embodied to a superlative degree. Human conceptions of the divine have undergone dramatic shifts, from polytheistic contention for dominance between tribal deities, to notions of a god more powerful than all these, and eventually to the consigning of these tribal deities to oblivion as monotheism became predominant. Early Christians, Eastern Orthodox, and subsequent restorationist movements, like Mormonism, emphasized human divine potential through the process of theosis, deification, or divinization. Eastern religions taught the possibility of achieving unity with the divine community of enlightened beings.
In our present era of rapidly accelerating technological advancement, we are achieving tremendous improvements in physical and mental health, rejuvenation, and communal well-being. We are seeing declines in violence and suffering that bring us closer to the just society envisioned by many religions. At the same time, many traditional religions are in decline, while fundamentalist and secularist movements gain momentum. We also face numerous existential risks, including environmental degradation, technological obsolescence and political upheaval.
This theme raises questions about how our conception of the divine and of morality has changed over time and how it continues to change in our transhuman age; about the function of religion and the new shapes it is taking; and about how we humans should approach our increasingly godlike powers, and what kinds of gods we will choose to resemble, for good or ill.
Paper Submissions
The deadline for paper submissions is 28 February 2016. Please submit your papers soon! More details can be found on our call for papers.
Keynote Speakers
Steven Peck is a professor of biology at Brigham Young University, where he teaches courses including "The History and Philosophy of Biology"and "Bioethics." His research in theoretical mathematical ecology and insect populations has been recognized by the National Academy of Sciences and the United Nations for helping to fight insect-borne illness. His published works include over forty scientific articles in prominent publications like American Naturalist, Newsweek, and Zygon; a volume of philosophical and religious essays titled Evolving Faith; fictional works like The Scholar of Moab and A Short Stay in Hell, which is being made into a feature film; and a number of poems and short stories. He blogs at sciencebysteve.net.
Robin Hanson is associate professor of economics at George Mason University, and research associate at the Future of Humanity Institute of Oxford University. Oxford University Press published his book The Age of Em: Work, Love and Life When Robots Rule the Earth in June 2016, and will publish The Elephant in the Brain, co-authored with Kevin Simler, in September 2017. He has pioneered prediction markets, also known as information markets and idea futures, since 1988. He was the first to write in detail about creating and subsidizing markets to gain better estimates on a wide variety of important topics. He was a principal architect of the first internal corporate markets, at Xanadu in 1990, of the first web markets, the Foresight Exchange since 1994, of DARPA's Policy Analysis Market, from 2001 to 2003, and of IARPA's combinatorial markets DAGGRE and SCICAST from 2010 to 2015. He developed new technologies for conditional, combinatorial, and intermediated trading, and studied insider trading, manipulation, and other foul play. He has written and spoken widely on the application of idea futures to business and policy, and has advised many ventures. Hanson has diverse research interests, with papers on spatial product competition, health incentive contracts, group insurance, product bans, evolutionary psychology and bioethics of health care, voter information incentives, incentives to fake expertise, Bayesian classification, agreeing to disagree, self-deception in disagreement, probability elicitation, wiretaps, image reconstruction, the history of science prizes, reversible computation, the origin of life, the survival of humanity, very long term economic growth, growth given machine intelligence, and interstellar colonization.
Other Speakers
Ben Blair holds a PhD in Philosophy and Education from Teachers College, Columbia University, and is a Co-Founder of Teachur.co, a platform to de-institutionalize education. He and his wife, Gabrielle Blair, are the parents of six children, and live in Oakland, CA. He currently serves as Chief Special Projects Officer of the Mormon Transhumanist Association.
Bryce Haymond is an industrial designer, philosopher, technologist, and entrepreneur and works as Product Development & Design Director at HandStands in Salt Lake City, Utah, leading the design, development, and manufacture of technology accessory products. He's been granted ten patents, with seven more pending. He is owner of Blackpool Creative, a design consultancy. He received a BFA in Industrial Design and a minor in Ballroom Dance from Brigham Young University ('07). He blogged at TempleStudy.com from 2008-2014, and he'll be announcing a new website during the conference. He is currently writing a book titled Thy Mind, O Man: The Mystical Core of Mormonism. He and his wife, Raven, have four children and live in West Valley City.
Blaire Ostler is one of the leading voices on the intersections of Mormonism, feminism, and transhumanism. She currently serves as CEO and director of the Mormon Transhumanist Association. Blaire holds a BFA in Design from the International Academy of Design and Technology-Seattle. She is pursuing a second bachelor's degree in philosophy with an emphasis in gender studies. She is passionate about esthetics, religion, human sexuality, queer theory, social philosophy, and art. She and husband Drew reside in Utah with their three children.
Caleb Jones lives in the Pacific Northwest is a husband, father, engineer, and a practicing member of the LDS Church. He has a Computer Science degree from BYU and works as a Systems Architect at Disney focusing on large-scale data. He is passionate about science & religion particularly in areas such as astronomy, network science, emergentism, religious cosmology, and transhumanism. His introduction to transhumanism came from the writings of Freeman Dyson and has developed through associations with the MTA. In addition to blogging on the MTA blog transfigurist.org, Caleb also blogs about network science analysis and visualization on allthingsgraphed.com and co-authors the blog navigatingdiscipleship.com with his wife. He serves as Chief Marketing Officer of the Mormon Transhumanist Association.
Carl Youngblood has been an avid technology enthusiast since early childhood, and has been earning a living as a software engineer since 1997. He was a Mormon missionary for two years in Brazil, where his newfound aptitude for language led him to eventually get a degree in Portuguese from Brigham Young University, and later a masters in Computer Science from the University of Washington. Carl's struggle to apply his faith meaningfully in today's rapidly-changing world led him to co-found The Mormon Transhumanist Association in 2006. Carl is passionate about science, technology, religion, philosophy and the performing arts. Carl is Vice President, director, and co-founder of the Mormon Transhumanist Association.
Chris Bradford was born in Utah, but soon moved to Washington, D.C. and then overseas for his father's employment. He has lived in Egypt, Germany, Jordan, Pakistan and Italy, where he served an LDS mission. A self-taught programmer, he is currently VP of Engineering at Ancestry.com. He has a degree from Brigham Young University in linguistics. Chris and wife Lucy have five sons and three daughters. Chris is passionate about science, technology, religion, philosophy, and the performing arts. Chris is President and a co-founder of the Mormon Transhumanist Association.
George Handley is associate dean and professor of Interdisciplinary Humanities at Brigham Young University, where he focuses on the relationship between religion, literature, and the environment. His book Home Waters: A Year of Recompenses on the Provo River (U of U Press) is a work of creative non-fiction that includes nature writing, personal and environmental history, and reflections on ecotheology. His novel, American Fork, is forthcoming this next year. He is currently working on a book, From Chaos to Cosmos: Literature as Ecotheology and a collection of essays on Mormonism and the environment. He serves on the board of LDS Earth Stewardship as well as on the boards of The Nature Conservancy and Utah Humanities. He and his wife, Amy, have four children and live in Provo.
Jacob Baker is a PhD student in Philosophy of Religion and Theology at Claremont Graduate University. He is working on a doctoral dissertation that explores the inherent unthinkability of the problem of evil in philosophy and theology as central to its status as a "problem."
Jared Anderson is a chaplain and the president and founder of the Olam Institute, a religious non-profit that nurtures constructive approaches to religion and religious education. He is working to establish Religious Humanism, first online and then in physical communities. Jared has taught religion courses over the past ten years at Westminster College, the University of Utah, and the University of North Carolina at Chapel Hill, where he is currently completing his PhD.
Jordan Roberts is a passionate humanist and a lover of life and science (in that order), who has been called to the profession of medicine from early childhood and is completing his training in primary care at St. Mark's Hospital in Salt Lake City, where he lives with his high school sweetheart and two young children. A religious transhumanist with both Mormon and Jewish heritage, Jordan attends the Unitarian Universalist Society where he is able to express his authentic, hybrid self.
Lincoln Cannon is a technologist and philosopher, and leading advocate of technological evolution and postsecular religion. He is a founder, board member, and former president of the Mormon Transhumanist Association. He is a founder and board member of the Christian Transhumanist Association. And he formulated the New God Argument, a logical argument for faith in God that is popular among religious Transhumanists. Lincoln is CEO at Thrivous, a human enhancement company. He is married with Dorothée Vankrieckenge, and they have three children.

Michaelann Bradley is a nonprofit nerd and community organizer. Since 2012 she has run marketing and fundraising projects for United Way of Utah County around childhood literacy, Sub for Santa, homelessness, and more. In her private life, she enjoys volunteering as board chair for LDS Earth Stewardship. She is married to Mormon historian and researcher Don Bradley.
Michelle Glauser has worked as a software engineer since 2012, and has been passionate about helping underrepresented people join, feel comfortable in, and stay in the software industry. She leads PyLadiesSF and created the #ILookLikeAnEngineer ad campaign in 2015. In 2016, Michelle founded Techtonica, a tuition-free tech training and job placement program for women and non-binary adults in need. That same year, she was chosen by LinkedIn as one of the top 10 professionals in software for their first "Next Wave" list. When not doing techie or community things, she enjoys baking (and consuming the goods), burying herself in a book, going on hikes, and dog-watching.
Schedule
9:00 AM The Future of the MTA, Chris Bradford
9:20 AM MTA Goals & Initiatives, Blaire Ostler
9:40 AM Responding Prophetically to Technological Disruption, Carl Youngblood
10:00 AM A Meditation on the Cross and on the Bread, Michaelann Bradley
10:20 AM Caring for Creation: an LDS Perspective, George Handley
10:40 AM Break
11:00 AM The Evolution of Novelty in an Open Universe: Requiem for Laplace's Demon, Steven Peck
12:00 PM Lunch with entertainment
1:00 PM A Brief History of the Mormon Transhumanist Association, Lincoln Cannon
1:20 PM Rethinking Postgenderism: Liberation from Homogenization, Blaire Ostler
1:40 PM The Key and Promise of Transhumanism for a Skeptic, Jacob Baker
2:00 PM The Evolution of Zion, Jordan Roberts
2:20 PM Emergent Mormon Perspectives on Kurzweilian Epochs of Evolution, Caleb Jones
2:40 PM Break
3:00 PM The Mystical Core of Mormonism: An Introduction, Bryce Haymond
3:20 PM The God of Transcending Narratives, Ben Blair
3:40 PM Empowering Underrepresented Groups with Technology, Michelle Glauser
4:00 PM Christianity as Transcendent Humanism: Humanity's Infinite Reach, Micah Redding
4:20 PM The Past, Present, and Future of Religion, Jared Anderson
4:40 PM Break
5:00 PM The Age of Em: Work, Love and Life when Robots Rule the Earth, Robin Hanson
6:00 PM Panel discussion with keynote speakers led by Blaire Ostler
6:30 PM Dinner
Registration Discount
If you are a voting member of the association, a speaker at the conference, or a sponsor of the conference, your registration is free and the association will give your guest a discount. Also, if you represent a media outlet and would like to report on the conference, your registration is free. If any of these cases apply to you, please contact an association officer or email admin@transfigurism.org for your access code before registering.
If you are a student, unemployed or resident of a less-developed country, discounts are available at registration time. Conference organizers will ask you to provide evidence of your student, unemployment, or residency status when you check in at the conference.

Special Offer
The first 20 first-time conference registrants will win a free signed copy of Steven Peck's book, Evolving Faith. Additionally, there will be a raffle of five copies of the same book to voting members.
Travel Assistance
The association may cover up to 50% of your travel costs to attend the conference if you meet the following criteria:
1) You must be a voting member of the association.
2) You must present at the conference.
3) You must live at least 300 miles from Provo, UT.
If you meet the above criteria, you may request assistance by contacting an association officer or emailing admin@transfigurism.org.
Food
Lunch on the day of the conference is included in the reservation price. A dinner will also be held at the conference venue. Please purchase tickets with the dinner option if you wish to stay for dinner.
Lodging
The association cannot directly cover lodging expenses. However, association members living in Provo and nearby areas may be able to help. We encourage members willing to provide lodging in their homes and members seeking lodging to communicate on the association Google group and Facebook group.
After-Conference Activities
Our monthly Sunday evening meetup will be held the day after the conference. We invite conference attendees who are still in town to attend this event at 8pm the following day. If there is sufficient interest, we will also organize a day-time tour of the area that day. If you would like to participate, please indicate your interest during registration, so that we may make appropriate arrangements.
*Limit one signed copy of Evolving Faith per household
Date and time
Location
Utah Valley Convention Center
220 Center St
Provo, UT 84601