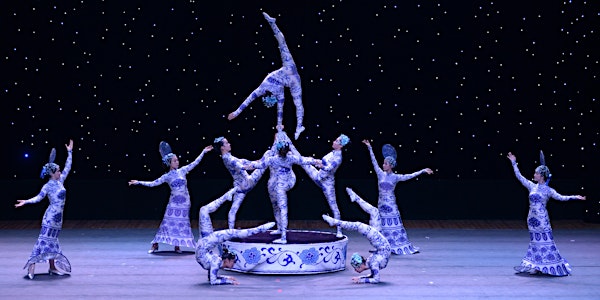 2017 Chinese New Year Performance
When and where
Location
The Buell Theatre at Denver Performing Arts Complex 1350 Curtis Street Denver, CO 80202
Refund Policy
Contact the organizer to request a refund.
Description
The performing arts troupe from Jiangxi province, China will present traditional Chinese dance and acrobatics to celebrate 2017 Chinese New Year.
Doors open at 6:00pm
Show website with gallery: http://embracechina.net
Free street parking available.
Free admission for children under age of 3.
Show Programs:
1. Opening Dance: Joyous Celebration of the New Year
Performers:Jiangxi Performing Arts Troupe
2 .Acrobatic Performance: Garden Full of Spring Flowers
Performers:Jiangxi Performing Arts Troupe
3. Dance: Praying for Good Fortunes in the New Year
Performers:Jiangxi Performing Arts Troupe
4. Dance: Dreaming of Spring Colors in Jiangxi
Performers:Jiangxi Performing Arts Troupe
5. Folk Music and Acrobatic Performance: Whispers of Chinese Porcelain
Performers:Jiangxi Performing Arts Troupe
6. Dance and Acrobatics: Blue and White Porcelain
Performers:Jiangxi Performing Arts Troupe
7. Female Solo: Unforgettable Jasmine Flower
Performer:Xi Wenjing
8. Joyful Denver
Performers:Denver Chinese School Jasmine Flower Dance Academy,Bo Hua Chinese School,Ni Shang Dance Academy,Joyous Chinese Cultural Center,Great Wall Chinese Academy
9. Acrobatic Performance: Idyllic Lake Water
Performers:Jiangxi Performing Arts Troupe
10. Male Solo: The Clouds of My Homeland
Performer:Du Huan
11. Dance: The Blossoming Purple and Red
Performers:Jiangxi Performing Arts Troupe
12. Folk Music: Ode to the New Herdsmen & Songs of the Skylark
Performers:Cai Zhen & Shi Qing
13. Bamboos under the Moonlight
Performers Cai, Zheng,Shen Manli,Song Yilin
14. Dance and Acrobatics: A Lane in the Rain
Performers:Jiangxi Performing Arts Troupe
15. Female Solo: My Home Country & In the Field of Hope
Performer:Wu Chengxiang
About ticket: This is a non-commericial show. We kindly ask for $15 donation for each ticket to offset the operating cost such as facility rental, advertisement fee. We Chinese American Association Rocky Mountain Region is a non-profit organization to promote culture communications between China and America. http://www.caarm.org/?page_id=13