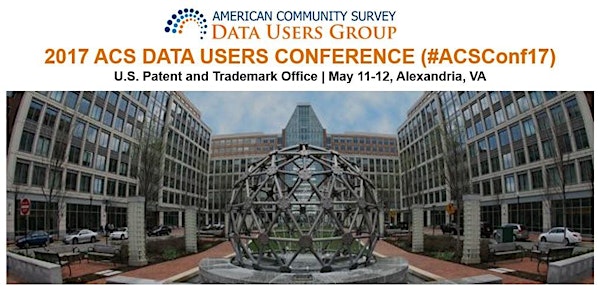 2017 ACS Data Users Conference (#ACSConf17)
When and where
Location
U.S. Patent and Trademark Office Madison Building 600 Dulany Street Alexandria, VA 22314
Description
Attention all ACS data users!
Registration is now open for the 2017 American Community Survey (ACS) Data Users Conference, to be held on May 11-12, 2017 at the U.S. Patent and Trademark Office (USPTO) Madison Building located at 600 Dulany Street in Alexandria, Virginia (a five-minute walk from the King Street Metro station). Space at the conference is limited and registration is on a first come/first served basis. There is no registration fee for the conference but participants are responsible for covering their own expenses, including travel, hotel, and meals. The deadline for registration is Friday, May 5th.
The Population Reference Bureau (PRB) is organizing the conference in partnership with the U.S. Census Bureau and with guidance from an ACS Data Users Group Steering Committee. We have put together an exciting program that brings together more than 50 contributed presentations by ACS data users, invited sessions with Census Bureau staff, informal roundtable discussions, and opportunities for networking. The conference will begin at 8:30 a.m. on Thursday May 11 with presentations by several Census Bureau senior executives, including John H. Thompson, Director of the Census Bureau; and Victoria A. Velkoff, Chief of the American Community Survey Office. The conference will end at 4:15 p.m. on Friday, May 12.
Session topics will include:
Assessing Health Insurance Estimates with ACS Data
Producing ACS Data Profiles for States and Local Communities
Preliminary Results from the 2016 ACS Content Test
Using the ACS for Model-Based Estimates
Comparing or Combining ACS Data with Other Data Sources
Using the ACS to Monitor Public Health
Impact of ACS Methods/Design on Data Quality
Best Practices for Mapping ACS Data
Case Studies: Data Visualization Tools
Using ACS Data in the Classroom
ACS Data for Tribal Areas and Rural Communities
Tools (Novice and Advanced)
Applications of ACS Data for Estimates and Forecasts
Applications of ACS/CTPP Data for Transportation and Planning
We have blocked a limited number of rooms at the nearby Residence Inn Alexandria Old Town South at Carlyle at a special conference rate of $242. Please call Loubna Ahiri (Sales Coordinator) at 703-310-1175 and request the "PRB Conference at USPTO" room block.
If you have any special needs related to your hotel reservation, please contact Loubna Ahiri at 703-310-1175 or loubna.ahiri@marriott.com. The Residence Inn is located at 2345 Mill Rd, Alexandria VA and is a five-minute walk from the USPTO Madison Building and a 10-minute walk from the King Street Metro station. The Residence Inn offers complimentary WiFi and breakfast for all guests.
Questions? Please contact Marissa Slowey (mslowey@prb.org) at PRB.
---
Privacy Act Statement
The collection of your personal information for the 2017 ACS Data Users Conference Registration form is authorized under 5 U.S.C. 301 and 44 U.S.C. § 3101 and is collected by the Population Reference Bureau on behalf of the Census Bureau.
The purpose of gathering this information is to collect registration information for this U.S. Census Bureau-sponsored conference. Personally identifiable information such as name, job title, organization, address of organization, email address, and emergency contact name and phone number may be collected. Your name and organizational affiliation information may be included on the conference attendee list with your permission.
Disclosure of this information is permitted under the Privacy Act of 1974 (5 U.S.C. § 552a) to be shared among Population Reference Bureau staff for work-related purposes. Disclosure of this information is also subject to all of the published routine uses as identified in the Privacy Act System of Records Notice COMMERCE/DEPT-23, Information Collected Electronically in Connection with Department of Commerce Activities, Events, and Programs.
Providing this information is voluntary. Failure to provide this information may affect the Census Bureau's ability to register you for the conference.