2016 UNMC Technology Demo Day

Wednesday, October 5, 2016 from 4:00 PM to 6:00 PM (CDT)
Event Details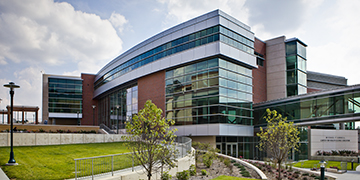 The UNMC Technology Demo Day features quick presentations about exciting new startups and technologies invented and developed at the University of Nebraska Medical Center. Presentaions will be held in the in the Michael F. Sorrell Center amphitheater (MSC 3001) at 4 p.m. on Wednesday, Oct. 5, and will conclude with a short reception at about 6 p.m. in the Jim Linder Reading Room. UNeMed, the event sponsor and host, will provide food, wine and other refreshments.
Register today to help us plan a better event, and order enough food and refreshments for everyone. Also, by registering here and then attending Demo Day, all UNMC faculty, students and staff are automatically entered to win a free 3D printer! (The 3D printer drawing will be held during the Innovation Awards ceremony and you must be present to win.)
The following is the current list of planned topics:
Orion Bioscience: Founded in 2012, Orion BioScience is developing two platforms to treat autoimmune diseases and autoimmune associated inflammation.
Sympathetic Vasomotion: Platform technology that non-invasively measures the neural signals that regulate blood flow has applications related to high blood pressure, blood loss and neurodegenerative disease.
Avert: Ground-breaking concussion detection platform from labs of UNO's world-class biomechanics facility.
Prommune Inc.: Prommune has developed novel immune stimulating peptides that are derived from a naturally-occurring protein component of the immune system. Prommune recently secured federal funds to collaborate with UNO researchers on a project aimed at preventing toxoplasmosa Gondii parasite infections.

Cyborg Beast: An opensource prosthetic and cybernitcs organization, Cyborg Beast uses 3D printing technology to bring low-cost or free prosthetic limbs to children around the world. Founder Jorge Zuniga, Ph.D., who leads an innovative team at UNO's Biomechanics Research Facility, will be among the presenters.
Chrysalis Medical:

A new device invented at UNMC solves the problems associated with the fibrous buildup that often occurs on catheters used by hemodialysis patients. The new catheter eliminates the need—and the potentially harmful side-effects—of replacing catheters, as the current standard of care.




Other Innovation Week activities:
Kick-off (Monday, Oct. 3, 9-11 a.m., DRC I) — An open house of freebies, including T-shirts, coffee and more.
"3D Printing and Healthcare" (Tuesday, Oct. 4, noon-1 p.m., DRC Aud.) — Expert panelists will discuss 3D printing and all the biomedical applications that are possible today, and all that might be possible tomorrow.
iExcel Expo (Thursday, Oct. 6, 11:30 a.m.-noon, MSC 1012) — Enter the advanced world of cutting edge medical training, education and simulation. Touch, feel and experience the future with an open house that gets your hands on the most advanced and sophisticated medical training tools in the world.
Innovation Awards Ceremony (Thursday, Oct. 6, 4-6 p.m., DRC Aud.) — Culmination of Innovation Week, recognizing UNMC faculty, staff and students who disclosed a new invention, received a patent or licensed a technology. Special honors will also be presented to the "Most Promising New Invention" and the "Innovator of the Year." And one lucky guest will receive a free 3D printer! Learn more or register to attend the Innovation Awards here (link coming soon).


FAQs
Are there ID requirements or an age limit to enter the event?
No ID is required, but those drinking alcholic beverages at the reception may need to provide some form of identification that proves they are at least 21-years-old. UNMC students, faculty and staff should bring their UNMC ID for no-hassle entry in the 3D printer giveaway, but it isn't required.
Where can I contact the organizer with any questions?
Direct any questions to charles.litton@unmc.edu or call 402-559-2468
Do I have to bring my printed ticket to the event? What if I forget it?

No problem. The ticket isn't necessary, but registration acts as an RSVP that helps us prepare and plan the event so please take a few moments to register. The registration also adds another chance for you to win a free iPad.
The name on the registration/ticket doesn't match the attendee. Is that okay?
No problem. The ticket isn't necessary, but registration acts as an RSVP that helps us prepare and plan the event so please take a few moments to register. The registration also adds another chance for you to win a free iPad.
When & Where

Michael F. Sorrell Center (3001)
619 South 42nd Street
Omaha, NE 68198


Wednesday, October 5, 2016 from 4:00 PM to 6:00 PM (CDT)
Add to my calendar
Organizer
UNeMed Corporation is the technology transfer and commercialization office for the University of Nebraska Medical Center in Omaha.