Sales Have Ended
Ticket sales have ended
Thank you for registering for the South Atlantic Hops Conference. If you have any questions, please contact Jeanine_Davis@ncsu.edu and include "hops conference" in the subject line.
Sales Have Ended
Ticket sales have ended
Thank you for registering for the South Atlantic Hops Conference. If you have any questions, please contact Jeanine_Davis@ncsu.edu and include "hops conference" in the subject line.
Description
This event is over. Links to the conference videos will be posted once the editing process is completed.

---
FINAL AGENDA
Friday, March 4

9:00-12:45 Registration: to facilitiate a quick lunch, attendees can purchase tickets in the morning for an Italian buffet lunch to be served by the hotel restaurant, Nacho Mama's. Purchase tickets at the restaurant anytime in the morning. The buffet plus a drink is $15. Lunch will be served starting at about 11:00 am. This is not part of your registration; we are just trying to make something quick available to you because of tight schedules.
10:00-12:00 Industry Roundtable Discussion: Invited speakers will be at the table for a moderated discussion, but all registered attendees are invited to listen in. Devon Kistler, Huguenot Hops, moderator. The purpose of the roundtable is to provide an opportunity for various interested partners within the industries to share information, challenges, successes, progress, and future direction of the hops industry in Virginia, Maryland, North Carolina and surrounding states. Each industry segment will be allowed 20 minutes to present information and an additional 5 minutes of Q&A after each group has spoken. the invited participants and topics for discussion are: Brewers-Brain Nelson, Hardywood Park and Dave Warwick, Three Notch'd Brewery talking about quality, cost, quantity, & variety of local hops and processing & packaging capabilities. Growers-David Good, Piedmont Hops, Stan Driver, Hoot-n-Holler Hops,Nat Ables, Chairman ODHC, and James Altwies, Gorst Valley Hops talking about hop yields in South Atlantic region,plant nutrition data, pests, fungus, & weed control, and marketing to brewers. Educators/Researchers/Extension Agents-Jeanine Davis, NC State,Holly Scoggins, Virginia Tech,Laura Siegle, Amelia Extension Agent,Ken Hurley, Virginia Tech, and Laban Rutto, Virginia State talking about funding, data collection, dissemination of information, and hop yard trials. State Regulators-Cassidy Rasnick, Office of the Governor talking on economic impact, plant controls/clean plant propagation,tax incentives (brewers/growers), and industry regulations on hops processing. Buyers/Distributers-John Bryce, The Lupulin Exchange talking on craft beer hop trends, wet, dried, pelletized demand, and distribution channels.
12:45-1:00 Board the buses for the hopyard and brewery tour: the tour part of the event is sold out. Because of space limitations at the hopyards, only the people with "Friday" on their nametags will be permitted to board the buses and enter the hopyards. Please do not drive yourself. Buses leave at 1:00 sharp.
1:00-5:00 Hopyard Tour: Piedmont Hops, Huguenot Hops, and Shadow Lawn Farm. there are restrooms on the buses and there are port-a-potties at the second stop. We will have bottled water available. Please dress to be outside in the elements. The hopyard tour will end at the first brewery.

5:00-10:00 Richmond Brewery Tour: Hardywood Park Craft Brewery, Ardent Craft Ales, and Strangeways Brewing. There will be behnid the scene brewery tours for Friday registered guesta at two of the breweries. Hardywood will lead 25 people at a time in 5 minute intervals starting at 5:30. Strangeways will host tours starting at 7:30. You can purchase food for dinner at the breweries. A shuttel bus will make a continuous loop among the three breweries and the hotel. You can take the shuttle back to the hotel to freshen up and then get back on to go to the breweries.

5:00-10:00 Visiting the Breweries for Everyone: A shuttle bus will run from the hotel to the three breweries. All conference attendees are welcome to ride the bus. In addition, there will be maps with the brewery locaitons available at the hotel if you want to drive yourself.
7:00-9:00 Exhibitor Early Set-up
Saturday, March 5
7:00-8:00 Exhibitor Set-up

8:00-9:00 Registration
9:00-10:00 Keynote Presentation: Growing Hops in Non-traditional Areas: James Altwies, Gorst Valley Hops
10:00-10:30 Break
10:30-11:10 Concurrent Sessions (Tracks A and B):
A: The Status of the Industry: Ann George, Executive Director, Washington Hop

Commission, Hop Growers of America, US Hop Industry Plant Protection
Committee, and Hop Growers of Washington
B: Small-scale Hop Yard Constructio: David Goode, Piedmont Hops

11:20-12:00 Concurrent Sessions:
A: Harvesting Hops and Quality Issues: James Altweis, Gorst Valley Hops
B: Growing and Marketing Hops on a Diversified Farm: Dan Gridley, Farm Boy Farms

12:00-1:00 Lunch and Sponsor Presentations
1:00-1:40 Concurrent Sessions
A: Hops and Beer Chemistry in the South Atlantic: Ken Hurley, Virginia Tech
B: All About Starter Plants-Panel of Speakers

Holly Scoggins, Virginia Tech, moderator
James Altwies, Gorst Valley Hops
Larry Nichols, VA Dept. of Agric. & Consumer Services Plant Inspection Division
Laura Siegel, Virginia Cooperative Extension
Kelly Gaskill, North Carolina State University
1:50-2:30 Concurrent Sessions
A: Managing Downy Mildew on Hops in the South: Lina Quesada-Ocampo, NCSU

B: What Brewers Want and Experiences with Local Hops-Panel of Brewers
Brian Nelson, Head Brewer Hardywood Park Craft Brewery.
Dave Warwick, Brewmaster Three Notch'd Brewing Co.
2:30-3:00 Break and Informal Brewer and Grower Meet and Greet

3:00-3:40 Concurrent Sessions:
A: Processing Hops: James Altwies, Gorst Valley Hops
B: New Opportunities, Best Practices Self-Certification Program,
and IPM Field Guides: Ann George, Hop Growers of America

3:50-4:30 Updates from University Research, Extension and OId Dominion Hops Cooperative
4:40-5:30 Questions and Answer Period with All Presenters, Raffle, and Closing

TICKETS
Click on the green "Get Tickets" button in the upper right to get more information on tickets and to order tickets for attending the event or for being an exhibitor or sponsor. Tickets are transferrable but non-refundable (more info below). We plan to hold the conference regardless of weather conditions, so please plan accordingly. We reserve the right to make modifications to the program to accommodate adverse weather and other unforeseeable situations (e.g., speaker illness).
SPONSORS
We welcome sponsors for our event. Sponsorships give you the opportunity to showcase your business and allow us to make this a special conference for everyone. Sponsorships include an exhibit table, one registration for Friday and Saturday, your logo on all our promotions, and more depending on your level of sponsorship. Details are included on the sponsorship ticket descriptions in the "get tickets" link above. After you buy your ticket, please email Holly Scoggins at hopyard@vt.edu and she will work with you to get your logo and talk to you about your needs as a sponsor. TO BE RECOGNIZED IN THE PRINTED PROGRAM, WE MUST HAVE YOUR SPONSORSHIP BY 11:59 PM ON FEBRUARY 28.

EXHIBITORS
There is ample space at this conference for exhibitors. Exhibitors can purchase a table and registration (sold separately) or sign up as a sponsor (table and registration included). Register under ticket sales (green button at upper right). After you buy your ticket, please email Holly Scoggins at hopyard@vt.edu and she will work with you to make sure you have everything you need as an exhibitor. Exhibitors MUST PURCHASE a separate Saturday conference registration in addition to the exhibit ticket. EXHIBITOR TICKET SALES ENDED ON 2/25

POSTER AREA (no boards or easels will be provided)
There will be a poster area available for you to exhibit posters on research and extension activities related to hops and brewing. This is targeted towards students, researchers, extension specialists and agents, and growers involved in on-farm research. This is not for promoting products or services and those will not be allowed (please reserve a commercial exhibit space for those). If you want to bring a poster, please email Holly Scoggins at hopyard@vt.edu and let her know. We will not have poster boards to hang on, so please bring your poster mounted on a board and an easel to set it on.
HOTEL ROOMS
We have reserved a block of rooms for our group at the Clarion. To get our group rate, you must call 804-359-9441 and speak with an associate at the front desk and ask for the Southeast Regional Hops Conference rate of $79 per night for a single or a double (plus 13% taxes). The special group rate is available for the nights of March 3, 4, and 5. You can cancel your reservation by 4 PM on the day of arrival to avoid a cancellation fee. You cannot make a reservation for the group rate by calling Choice's 800 number or through the internet. The group rate cannot be combined with any other discounts, so if you make a reservation though a third party site like Expedia or Hotels.com, you will not be eligible for the group rate and those reservations cannot be modified. The hotel website is Clarion, but you must make a phone call to get the special group rate. This block of rooms will be held for us until 15 days prior to your arrival date. After that, you can book rooms at the group rate but it will be based on availability.
Using the group rate is not necessarily the least expensive way to reserve a room. If you do an advance purchase and book at least 7 days in advance, you might get a better rate, but it is not refundable. To do that, go to Clarion Richmond Central.
VIDEOS
The conference will be professionally videotaped by Marty Dougherty of B Chord Brewing Co. He videotaped our 2015 conference which was held in Winston-Salem, NC to a sold out crowd. That entire 2015 conference, including the Beginning Hop Grower Workshop, can be viewed on YouTube by clicking on this link which takes you to a pdf file with descriptions and links to the conference videos: VIDEOS FROM 2015 HOP CONFERENCE .

A LITTLE MORE ABOUT THE HOP YARD TOURS ON FRIDAY
The hop yard tour will depart from the Clarion hotel at 1:00 pm. Transportation will be provided by motor coach. The tour will take place regardless of weather, so dress accordingly! The hop yard tour will end at the first brewery. During the evening, a mini-coach will run constantly between the breweries and the hotel giving you an opportunity to stay as long as you want or to return to the hotel and get back on the tour.
Huguenot Hops has a 2.5 acre hop yard with five production varieties, and a tall trellis (21') with grid suspension system. They also have a Wolf 140, and processing space with a pelletizer, hammer mill, and packager.
Piedmont Hops has two hop yards at their location in Virginia (they also have a yard in NC). The smaller yard has cedar poles harvested from their property and has a winch system to lower rows for hand harvesting. The larger yard is a more standard grid system. They grow plants for resale and are working on a clean plant process.

Shadow Lawn Farm uses a standard short trellis system and is about 1/3 acre size hop yard.
LUNCH AVAILABILITY ON FRIDAY
Lunch on Friday is not provided as part of the registration. We realize, however, that people attending the Roundtable in the morning and some people driving in for the hop yard tour might appreciate easy access to lunch on Friday. We are working with the restaurant at the hotel to have a buffet style lunch (Italian food and salad with gluten-free and vegetarian options) available for purchase. To help with their planning, about a week before the conference, we will email you to find out if you are interested in buying lunch. When you arrive, you can pay for your meal early ($15 which includes a drink) so you can "eat and go" at lunch time.
OUR SPONSORS TO DATE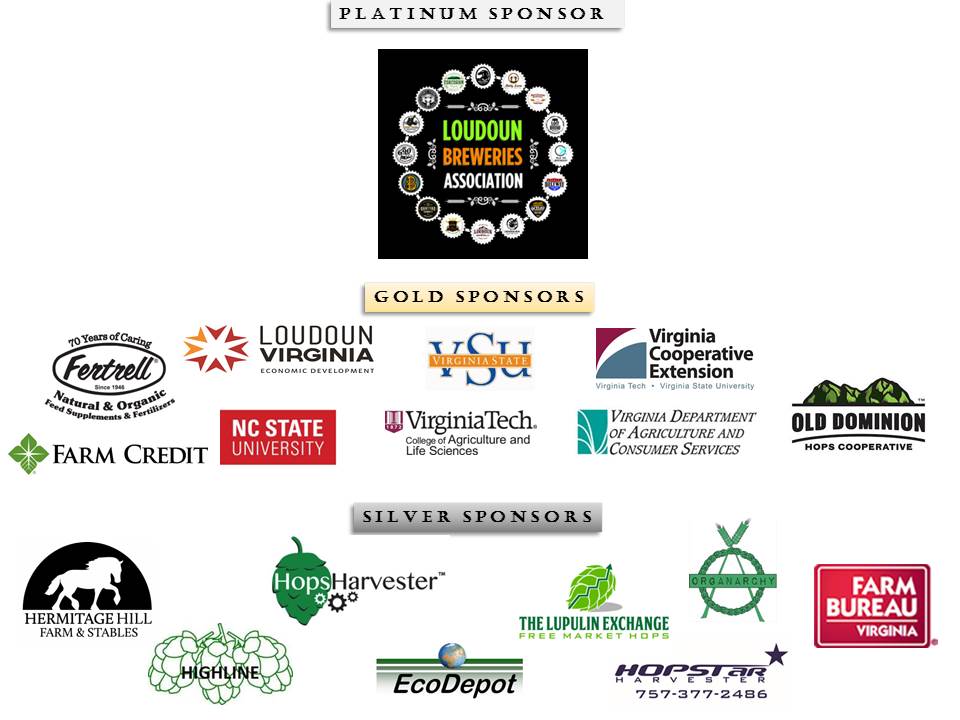 FREQUENTLY ASKED QUESTIONS
Where can I contact the organizer with any questions? Contact Jeanine_Davis@ncsu.edu and include "hops conference" in the subject line. You will get a return email from Jeanine or one of her assistants, Kelly Gaskill or Margaret Bloomquist.

Is my registration/ticket refundable or transferrable? Tickets are not refundable but they are transferrable. If you don't want to transfer your tickets, the purchase price can be donated to the hops research and education programs at one of the three universities involved with this conference.

What are the fees included in my registration? The fees pay for the Eventbrite service. They allow us to take your payments on-line, provide us with an easy and efficient way to handle registration, print name tags, and most importantly, communicate with you before and after the conference. So do not ignore emails from Eventbrite, please!
Where is my receipt? Eventbrite sends out your receipt right after you register on-line. If it is not in your inbox, please check your spam and junk folders.
EQUAL EMPLOYMENT OPPORTUNITY AND ADA ACCOMMODATION STATEMENTS
North Carolina State University and North Carolina A&T State University commit themselves to positive action to secure equal opportunity regardless of race, color, creed, national origin, religion, sex, age, veteran status or disability. In addition, the two Universities welcome all persons without regard to sexual orientation.
Virginia Cooperative Extension programs and employment are open to all, regardless of age, color, disability, gender, gender identity, gender expression, national origin, political affiliation, race, religion, sexual orientation, genetic information, veteran status, or any other basis protected by law. An equal opportunity/affirmative action employer. Issued in furtherance of Cooperative Extension work, Virginia Polytechnic Institute and State University, Virginia State University, and the U.S. Department of Agriculture cooperating. Edwin J. Jones, Director, Virginia Cooperative Extension, Virginia Tech, Blacksburg; M. Ray McKinnie, Interim Administrator, 1890 Extension Program, Virginia State University, Petersburg.
If you are a person with a disability and desire any assistive devices, services or other accommodations to participate in this activity, please contact Laura Siegle at the Amelia Extension Office at (804) 561-2481/TDD*) during business hours of 8 a.m. and 4:30 p.m. to discuss accommodations 5 days prior to the event.
*TDD number is (800) 828-1120