2016 Scaling Up Business Growth Workshop (Mastering The Rockefeller Habits...
Location
Catapult Systems
1221 South MoPac Expressway
Three Barton Skyway, Suite 350
Austin, TX 78746
Description

2016 SCALING UP Business Growth Workshop
Bring YOUR LEADERSHIP TEAM for an information-packed day where you will create a roadmap to confidently scale your business growth in 2016.
Gain the Rockefeller Habits 2.0 tools and strategies you need to:
ALIGN
Get faster results with less effort by developing organizational clarity and accountability.
ACCELERATE
Develop a strategic advantage over your competitors and position your brand as a market leader.
ADVANCE
See your company's reputation and revenues soar as employees fulfill 100% of all promises.
Prepare to make the most of the four critical decisions facing every business leader:
Attract and keep the right PEOPLE
Become a magnet for A Players who are dedicated to your goals

Increase accountability and results

Create a truly differentiated STRATEGY
Clarify your core values

Discover your SWOTs and trends

Determine your 3-5 year key strategies to catapult your growth

Drive flawless EXECUTION
Learn and apply the Rockefeller Habits 2.0

Create a culture of accountability

Fine-tune processes to run without drama



Have plenty of CASH to weather the storms
Accelerate cash flow to fuel your evolution

Improve your sales cycle and make sure you are never short on cash

Learn how to accelerate profitable GROWTH using the Rockefeller Habits™.
The Four Decisions™refer to the critical decisions that growth companies must get right to maximize their revenue, profit and time. This workshop will teach you tools for making the right decisions to drive business growth in the areas of People, Strategy, Execution, and Cash.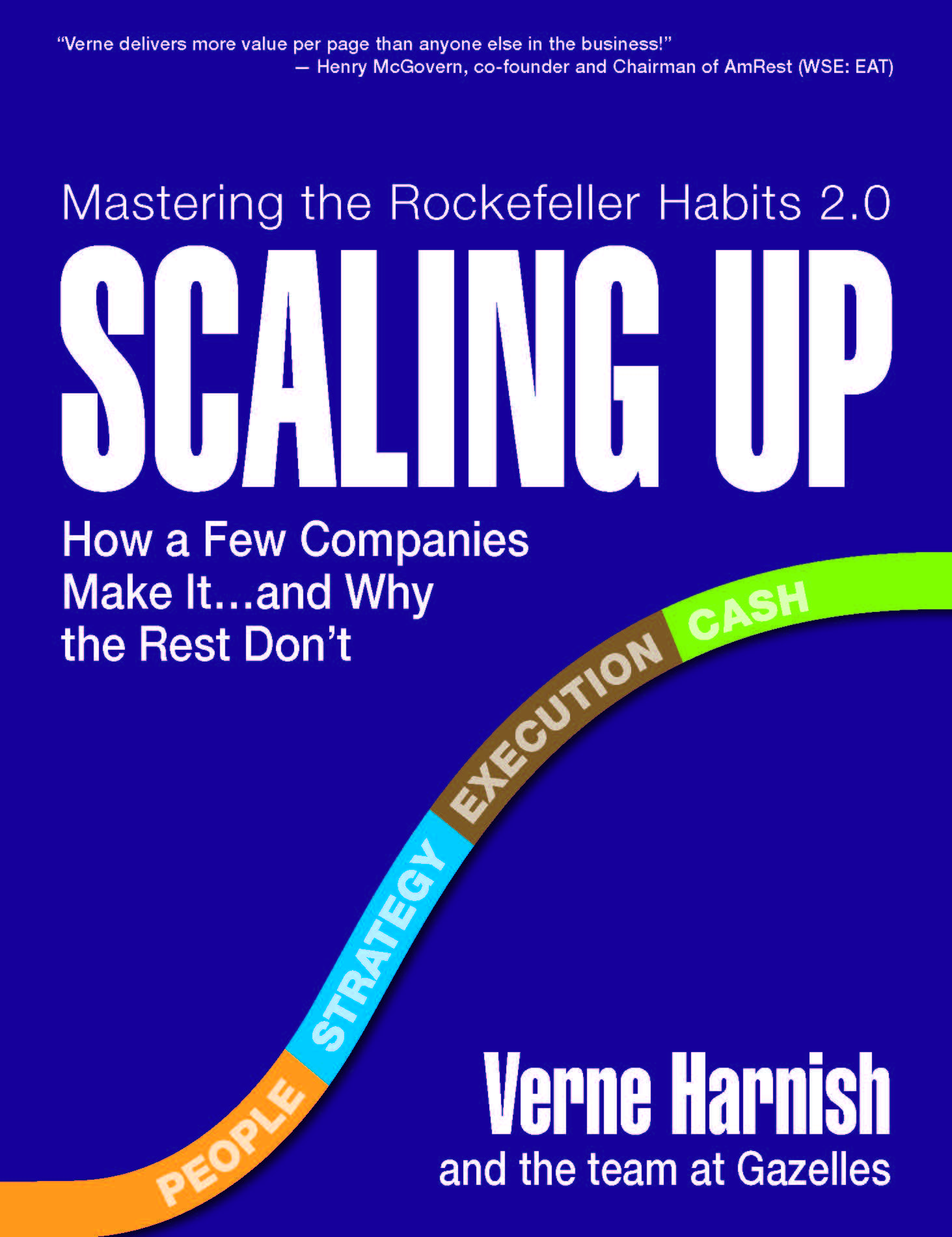 All participants will receive a FREE copy of
SCALING UP: How a Few Companies Make It... and Why the Rest Don't by Verne Harnish

Gazelles International is Your Partner in Growth
Gazelles International is the premier coaching association serving companies poised for exponential growth. Our certified business coaches empower organizations around the globe to fulfill their unique success trajectories.

Your Investment
Team of 4 Business Attendees: $1580 (each additional team member $395)
3 Business Attendees: $495 per person
1-2 Business Attendees: $595 per person

Here's what our CEO Alumni have to say:
"We wanted to raise our leadership game by implementing an agile planning and accountability program across the entire company. We met Rob and he showed us how to do it step by step. Our effectiveness has doubled over the past 12 months. I highly recommend taking the plunge with Rob."
Bo Holland, Founder and CEO at AllClear ID, Austin TX

"I hired Rob in January 2013 to lead my management team through the Gazelles planning process, and he has worked with us ever since. His real-world experience as a 4-time CEO has proven invaluable. It's one thing to master the concepts of strategic planning and team dynamics but it's another thing entirely to understand their real-world application and the messiness that goes along with it. He has done both. I highly recommend Rob and the service he provides. The ROI is immediate and profound."
Charlie Wood, Founder and former CEO at Spanning (acquired by EMC in November 2014), Austin TX

Workshop Cancellation policy:
Cancellations made 30 days or more prior to event will receive a full refund. Cancellations between 8 and 30 days of the event will receive a refund for the paid amount, less a $100 per person cancellation fee. If your cancellation is made with less than 8 days before the event, we are happy to transfer your registration to another team member in your company. There will be no refund for cancellations less than 8 days before the event.