Description

In 2015, the Cheung Kong Graduate School of Business New York Office launched the CKGSB Knowledge Series with much success, hosting monthly knowledge, insight and networking sessions on key and current topics about China and/or Asia.
We welcomed many new friends, building a strong community of high-level academics and senior business executives.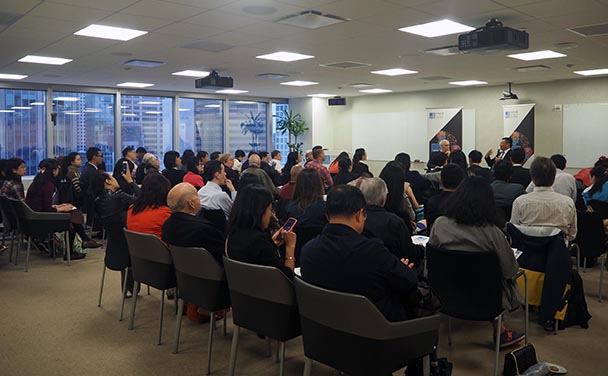 An audience crowded CKGSB's New York Office in May to hear CKGSB Dean Xiang Bing and China scholar Dr. Orville Schell engage in a deep discussion on the past, present and future of China's economy as part of a CKGSB Knowledge Series event in partnership with The Center on U.S.-China Relations at the Asia Society.
For 2016, we are excited to continue spreading cutting-edge knowledge and perspectives related to China through the Knowledge Series. Moving forward we will be collecting a fee of $30 per attendee for each event.
We would like to extend a special offer to you now to become a 2016 CKGSB Knowledge Series Member at one of three unique levels, with the guarantee that we will host a minimum of 10 high-level events in the year ahead.
1. 2016 CKGSB Knowledge Series Member – Young Professional
For a fee of $100, Young Professionals (30 years old and under) will gain access to the entire year's selection of Knowledge Series events and the subscription of CKGSB Knowledge Magazine. You will also be permitted to bring 1 free guest for select events. In addition, Young Professional Members will receive free entry to attend an exclusive annual networking reception.
Through April 2016, use the EARLYBIRD promotional code at checkout to receive 20% off this membership fee. At $80, this membership will help you broaden your horizons globally while building your network as an up-and-coming professional.
2. 2016 CKGSB Knowledge Series Member – VIP
For a fee of $200, VIPs (ages 31 and up) will receive the same benefits included as a Young Professional plus:
a 1-time 30-minute consultation with CKGSB Senior Management Team;
additional discounts for select events; and,
an invitation to participate in exclusive invite-only meetings with Chinese and US executives and/or distinguished scholars.
Through April 2016, use the EARLYBIRD promotional code at checkout to receive 20% off this membership fee. At $160, your VIP membership will carry you far in navigating the US-China business landscape.
3. 2016 CKGSB Knowledge Series Member – Corporate
For a fee of $1,000, you and your company will receive the benefits included at the VIP level plus:
5 seats at all 2016 CKGSB Knowledge Series events;
the opportunity to collaborate with CKGSB for Knowledge Series events; and,
a 10% company discount for CKGSB Executive Education Programs.
Through April 2016, use the EARLYBIRD promotional code at checkout to receive 20% off this membership fee. At $800, you will position your company as a leader at the forefront of US-China business.
Whatever your selection, we hope you'll join us for another impactful year.
TERMS & CONDITIONS
Young Professional Membership is only available for those who are up to 30 years old.
Pricing does not include Eventbrite's surcharge.
Members will be notified if 1 free guest will be permitted at the time of an event's announcement.
20% discount pricing available only through April 30, 2016.

CKGSB KNOWLEDGE SERIES:
Disseminating deep ideas for China success

Ideas are the currency of our age. And in an age when China's global significance is growing, CKGSB Americas' Knowledge Series is the U.S. and Americas executive's go-to source for a stream of provocative notions that can beneficially affect the way he or she thinks about building and expanding a China business.

Held in our state-of-the-art New York learning center in the heart of one of the world's great financial hubs, our Knowledge Series lectures and discussions are an opportunity to learn from the world's brightest minds as they focus on the topics and trends that are most pertinent to your specific China business goals.

Among other themes, Knowledge Series events have examined China's financial turbulence and what it means for investors; business to business buying: how it has changed, and how we need to change with it; solar power's future in the U.S. and China; new consumption trends in China and their implication for companies in China's global supplier network; doing business with a changing China; and where China is and where it is headed.

Regardless of your China interest, Knowledge Series events are your gateway to acquiring critical insight on macro trends, emerging opportunities, collaboration and competition with Chinese companies, cross-cultural competencies and how to best position China within your own organization.

In an era when ideas matter, the CKGSB Americas Knowledge Series is the authoritative generator of China ideas.
QUESTIONS OR MORE INFO PLEASE CONTACT:
Julie Zhu
Program Manager
Cheung Kong Graduate School of Business
C | K | G | S | B
Tel: +1 646-627-7729
Email: juliezhu@ckgsb.edu.cn
Date and Time
Location
CKGSB New York Office
601 Lexington Avenue
Floor 26, Suite 2640
New York, NY 10022