20 YEARS OF STRATEGY AND STRUGGLE TO DISMANTLE THE PRISON INDUSTRIAL COMPLEX

Sunday, December 9, 2018 from 5:00 PM to 10:00 PM (PST)
Event Details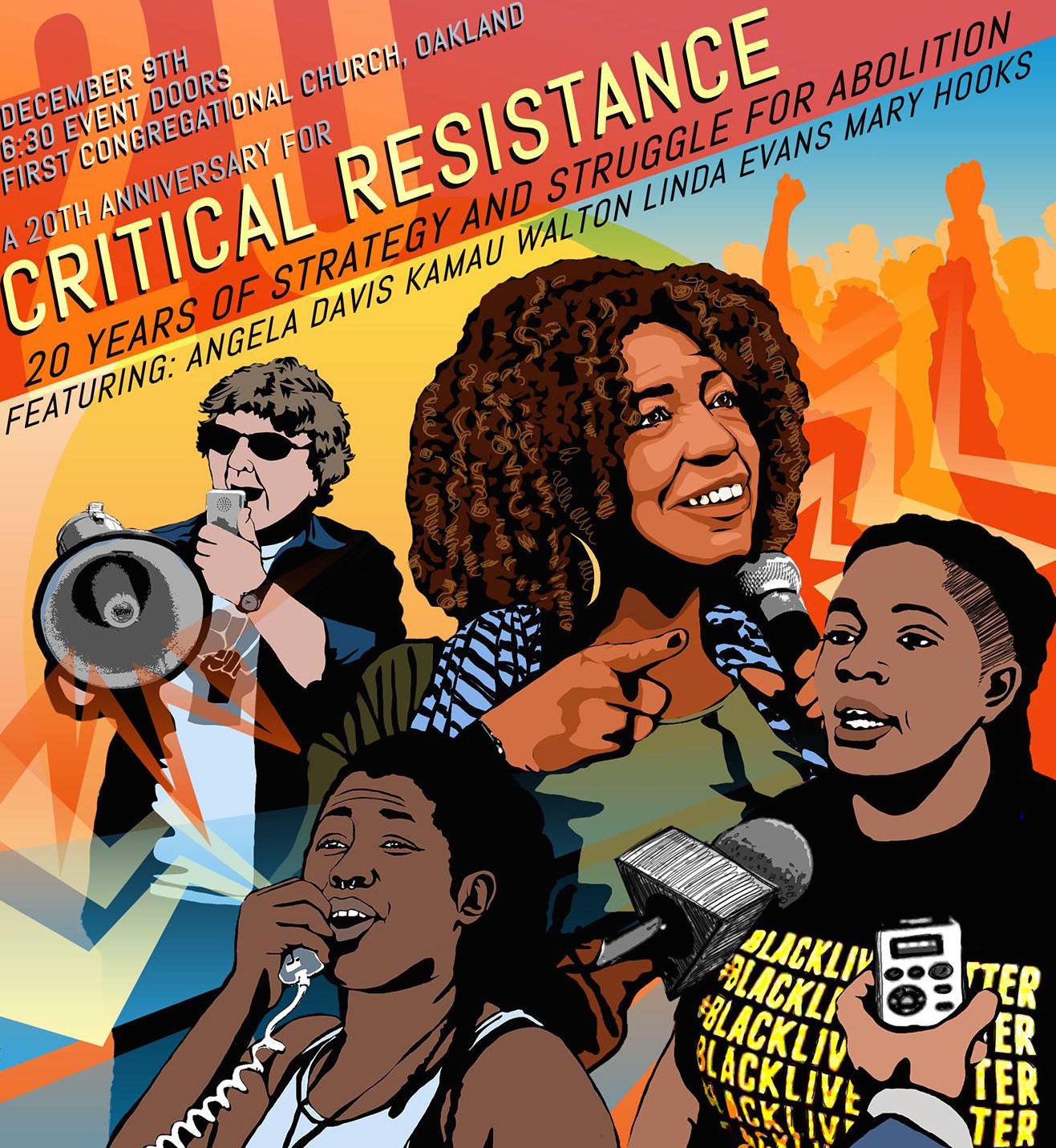 Critical Resistance (CR) invites you to join us for Critical Resistance: 20 Years of Strategy and Struggle for Abolition, a community celebration highlighting 20 years of dismantling the prison industrial complex and building for the world we need. We are excited to host the incomparable author, educator and activist Angela Y. Davis in conversation with Black liberationist organizer Kamau Walton (Critical Resistance), anti-imperialist organizer and former political prisoner Linda Evans (All of Us or None), and firebrand Southern freedom fighter Mary Hooks (SONG, Southerners on New Ground).
PROGRAM
5:00 pm - Movement Dinner and Reception
6:30 pm - Doors Open
7:00 pm - Program Begins
10:00 pm - Event Close
TICKETS
Whether you're purchasing your tickets to attend or sponsoring a ticket for a community member, make sure to save your space to celebrate our history with us and build for our collective abolitionist future.
Community ticket: $15
General admission ticket: $25
Sponsor a ticket: $25
Tickets for two: $45
General admission + sponsor a ticket: $45 
LOCATION
First Congregational Church is located at 2501 Harrison Ave, Oakland, CA 94612.
HOST COMMITTEE
Carlton Edwards 
Danni West
Marc Lamont Hill
Mariame Kaba
Charlene Khoo
Jay Donahue
Jess Heaney
Rehana Lerandeau
SPONSORS
Helps subsidize tickets for formerly imprisoned people, youth, and low-income communities;

ensures that event participation truly representative of the movement we are building;

helps to advance strategic grassroots organizing and cultural work against jail expansion and the violence of policing in the Bay Area, Los Angeles, CA, Portland, OR, New York, NY, and nationally;




demonstrates community support for creative movement-building and rigorous, Left 

analysis in these hopeful yet troubling times.
The Abolitionist Future - $5,000
The Movement Builder - $2,500
The Present Struggle - $1,000
The History of Resistance - $500
DONATE
Can't make the event but still want to support our work? We invite you to join us in celebrating the gains we have made together, to feed our minds and our spirits, and to prepare for the pitched battle of the next 20 years. 
Donate here. All proceeds will benefit Critical Resistance to ensure that our work is funded now and into a future free from cages, the violence of policing, the dangers of borders and social control. Every donation will amplify the vision of liberated communities and the fierce, joyful will of our people to fight to win.
OUR HISTORY. OUR IMPACT.
Through advancing a critical understanding of prison industrial complex and abolition, CR has consistently inspired individuals, organizations and communities to take creative and practical steps to build this liberated future. We have achieved many victories from successfully stopping the construction of new jails in New York to Los Angeles to ending the use of racist gang injunctions in Oakland and stopping California's 20-year prison building boom. Our campaigns, vision and strategies have been shared and used blue-prints across the US and internationally.
TRANSLATION AND CHILDCARE
Childcare and Spanish translation provided. Please RSVP to jess@criticalresistance.org
CONTACT
If you need more information or would like to get involved please visit www.criticalresistance.org/Dec9 or contact Jess Heany at jess@criticalresistance.org // 510.444.0484
When & Where

First Congregational Church of Oakland
2501 Harrison Street
Oakland, CA 94612


Sunday, December 9, 2018 from 5:00 PM to 10:00 PM (PST)
Add to my calendar
Organizer
Critical Resistance (CR) is a grassroots organization building a movement to end the reliance on the interlocking systems of imprisonment, surveillance, and policing—what we call the prison industrial complex (PIC)—as a response to political, social, and economic problems.  Our approach combines organizing and advocacy to dismantle current structures of imprisonment and policing, changing how communities and decision-makers understand punishment and safety, and building new institutions and practices to transform and prevent interpersonal, communal, and social harm.
Critical Resistance has a chapter in New York City. Read more about our work in NYC here: http://criticalresistance.org/chapters/cr-new-york-city/our-work/