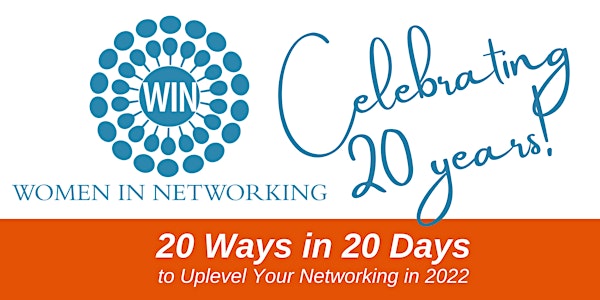 20 Ways in 20 Days to Uplevel Your Networking in 2022!
Women in Networking (WIN) turns 20 in January and we have a gift for YOU! Celebrate with WIN through this fun and free daily activity.
Refund Policy
Contact the organizer to request a refund.
Eventbrite's fee is nonrefundable.
About this event
Take your networking to the next level in 2022 !
Wherever you are at with your networking skills (seasoned to beginner), you will be prompted to take your skills to the next level in a way that works best for YOU and your specific networking goals.
By the end of the month, you will have completed 20 simple actions steps to have better results and confidence with your networking this year. Each daily step takes about 20 minutes to complete.
This is what you can expect:
• Each day you'll receive an action step with a conversation prompt and connection suggestion for 20 days—weekends off!
• In that time, you will have made or strengthened 20 (or more) connections that move you forward on your goals.
• You can repeat the process whenever you'd like (each month, quarterly or when your networking goals shift).
• You will be able to practice the steps wherever you network, online, in-person or a mix of both.
This event is 100% virtual so you can participate from wherever you are and when it works for you! You will receive 20 daily email prompts each with an action step and connection suggestion to bring your networking to the next level.
~ ~ ~
20 Ways in 20 Days to Uplevel Your Networking in 2022 is being offered for free during the month of January for anyone who would like to participate. It's our way of celebrating 20 years of WIN while introducing you to the other programs for joy and connection offered through Win Win Connects.
WIN (Women in Networking) fosters networking experiences for women to:
1. Participate and learn through facilitated networking activities with other women in business.
2. Build and deepen your network with meaningful and mutually beneficial connections.
3. Feel energized and supported!
Women in Networking (WIN) is a community of connection offered under the umbrella brand Win Win Connects: connecting people, possibilities and purpose.
Meet Our Guide
Teresa Thomas is a networking expert and author of Win/Win Networking: Your Guidebook for Confident and Effective Connections and 50 Fun Things: Enjoy the Small Things. As the founder of Win Win Connects, she catalyzes meaningful connections for people, possibilities and purpose to lead fulfilling lives, personally and professionally. With over 25 years experience as a Connector, Teresa has facilitated hundreds of networking events, presented for countless groups, and helped thousands to connect and grow. Teresa has led WIN (Women in Networking) since 2007.