Description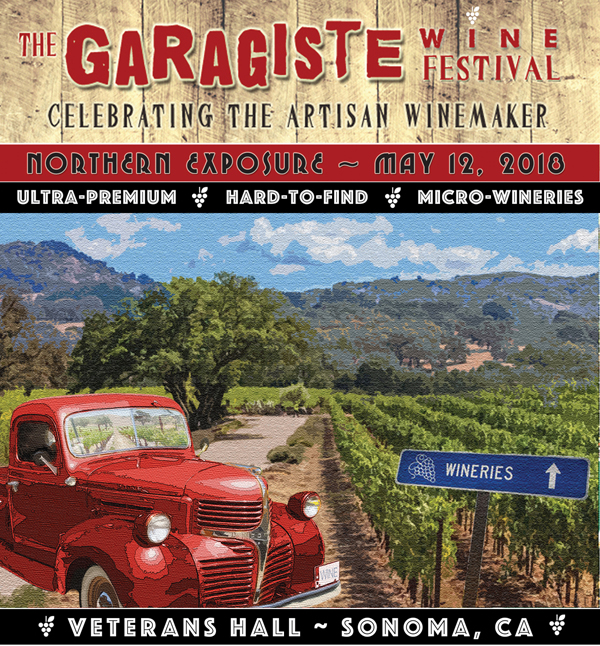 The Garagiste Wine Festival features excellent, undiscovered 'garagiste' micro-wineries who are making some of the best, most exciting, handcrafted small-lot wines in the world.
The popularity of our unique micro-winery events is skyrocketing, and it's time to bring the show to Sonoma wine country. The first Garagiste Northern Exposure Festival will showcase 40 excellent but hard-to-find wineries from Napa, Sonoma, Livermore, Lodi and Mendocino. It's Mother's Day weekend, and what better way to treat moms than with a day of wine tasting? You can't drink flowers, and wine is more fun!Plus memories last longer.:)

Over 90% of Northern Exposure participants do not have a tasting room - 90% percent! - so this is truly a singular chance to discover and meet the next great winemakers and get the opportunity to taste their amazing micro-production wines. Your appointment to try these wines is all in one room, right here! You won't be able to duplicate this tasting experience at any other wine event.
Meet the winemakers, taste their passion!
WINERIES SCHEDULED TO PARTICIPATE INCLUDE:
Betwixt Wines, Brooks Note, Burning Bench, Calstar Cellars, Camlow Cellars, Chenoweth Wines, Crux Winery, Cutruzzola Vineyards, Enoteca Five, Fallon Place Wine, Fields Family Wines, Gordenker Wines, Gregory James Wines, Halcon Vineyards, Kendric Vineyards, La Pitchoune Winery, Lightning Wines, Magna Vita Cellars, Mastro Scheidt, Merisi Wines, Montagne Russe, Montemaggiore, Murder Ridge, Nicolette Christopher, Nowell-Smith Wines, Parmeson Wines, People's Wine Revolution, Piezo Winery, Powicana Farm, Sosie Wines, St. Romedius Wines, T. Berkley Wines, The Larsen Projekt, Theopolis Vineyards, Trojak-Knier Winery, Tulocay Winery, Two Shepherds, Von Holt Cellars and Weatherborne Wine Co.
_______________________________________________________________________________
Saturday, May 12th
The day begins with one of the most popular features of the Garagiste Festivals - our fun, engaging, educational, and unique winemaker panel and tasting seminar.
SATURDAY VIP TASTING & SEMINAR: 11:30am-12:30pm
"The Garagiste Variety Show: Exploring the Diversity of Small-Production Winemaking"
No, it's not about singing and dancing, it's about the amazing range of wines being produced by Garagiste winemakers. These micro-wineries are crafting wines from grapes they are passionate about - the wines they want to drink! - rather than producing what's found on supermarket shelves everywhere. This seminar (and tasting) will explore why these garagiste winemakers are focusing on grapes considered under-the-radar in Northern California. The resulting cornucopia of styles and varieties will showcase how this growing diversity might change the landscape and expectations of what this world-famous wine region brings to the bottle. Moderated by Stewart McLennan.
- Panelists include: Paul Gordon, Halcon Vineyards; Randy Hester, Lightning Wines and William Allen, Two Shepherds.
This seminar is only available as part of the VIP ALL-DAY TICKET, which also includes a Wine Country Box Lunch - prepared by local favorite

The Girl and The Fig

- and (1) hour early access to the Grand Tasting.
EARLY ACCESS TASTING: 1:00-2:00pm - Limited tickets available to get an extra hour of tasting with a smaller group of attendees.
GRAND TASTING: 2:00-5:00pm
Showcasing 40 winemakers pouring 150+ wines and 15+ unique varietals. All tickets include unlimited tastes, cheese & charcuterie, gourmet food samples and a souvenir Stolzle crystal wine glass.
Sign up for our newsletter to receive all the news first, along with special ticket discounts only available to our mailing list members.