Honor champions of innovation in education of local San Diego county schools all to support a unique and impactful organization
About this event
Join us on Thursday, September 23, 2021 at 4:00pm PT at SeaWorld San Diego
This event will have a limited number of attendees due to COVID-19 CDC guidelines. We will continue to update our page as we get closer to the event. We encourage you to become vaccinated.
Dress Attire: Casual Business - (wear comfortable shoes for walking in the park )
Please register early to secure your reservation.
FINAL DAY TO RSVP IS SEPTEMBER 10
SEAWORLD SAN DIEGO
500 Sea World Drive, San Diego, CA 92109
Parking is free
Event Schedule:
3:45pm - Registration Opens
4:00pm - Welcome Reception
6:00pm - Program
* Scholarship Awards, Innovation in Education Awards, Special Awards
7:30pm - Dessert Reception
Menu at Welcome Reception: 4pm to 5:45pm
Food Stations SEAStreet –A SeaWorld Street Food Experience
Kahlua Pulled Pork Slider - Cilantro Cabbage Slaw, House Made Hawaiian Rolls
Yakisoba Stir Fry* - Cabbage, Carrot, Egg, Scallion, Soy Ginger Sauce
Loaded Kettle Chips - Jack Cheddar Cheese, Guacamole, Pico de Gallo, Chipotle Aioli
Elote en Vasso - Roasted Corn Kernels, Tahin Crema, Micro Cilantro
California Roll in a Bowl - Rice, Krab Salad, Avocado, Cucumber, Wakame, Furikake
Little Gem Cobb Salad - Diced Chicken, Hard-Boiled Egg, Bacon, Tomato, Avocado, Red Onion, Blue Cheese Crumbles
Menu at Dessert Reception: 7:30pm
Mini S'more Cup Graham - Cracker, Marshmallow
Strawberry Marscapone Cannoli - Chocolate Drizzle
Assorted Mousse
Freshly Brewed Coffee, Decaffeinated Coffee & Tea Assortment
Please note: Food at Welcome Reception will stop serving at 5:45pm
Please register each person with the name they would like on their name badge. Name badges are printed from the registration list. Your name badge is your ticket to the event. Do not register multiple people in your name as your guests will not be registered for the event.
You will receive an email with an Eventbrite ticket - you may bring your Eventbrite ticket to the event for verification but it is not necessary.
If you purchased a ticket you may cancel and receive a refund (minus Eventbrite fees) by September 11.
If you are an awardee or sponsor please email Jane Schlosberg at jane@classroomofthefuture.org for registration.
Special Award Winners:
2021 Todd W. Gutschow Visionary & Outstanding Leadership Award
Malin Burnham, President
The Burnham Foundation
2021 Innovative Superintendent Award
Dr. Leighangela Brady, Superintendent
National School District
2021 Innovative Educator Award
Dr. Rob Nye, Assistant Superintendent, Instructional Services
Carlsbad Unified School District
2021 Innovative Principal Award
Eric Frandsen, Principal
Surfside Educational Academy
2021 College & Career Pathways Educator of the Year Award
Laura Gardiner, Culinary Teacher
Kristi Sovacool, Bakery Teacher
Kara Walker, Hospitality IA
Orange Glen High School, Escondido Union High School District
SDCUE Innovative Teacher of the Year Award
Sarah Kesty, Sweetwater Union High School District
SDCUE Innovative TOSA of the Year Award
Lauren Leathers, San Diego Unified School District
INNOVATION AWARDS
Impact Award
Adobe Bluff's Mandarin Programs
Adobe Bluffs Elementary School (ABES)
Poway Unified School District
Achieve Award
CyberAegis TeamPoway Unified School District
Innovate Award
GUHSD Growing Readers through Gamification
Summer Reading ProgramGrossmont Union High School District
Inspire Award
Creating our Future Design Jam
Juvenile Court and Community Schools
San Diego County Office of Education
Honorable Mention Impact Award
Instructional Technology - COVID First Responders
Instructional Technology Department
San Diego Unified School District
Honorable Mention Achieve Award
Collaborations
National Elementary School District
Honorable Mention Innovate Award
CVESD Innovation LIVE!
Chula Vista Elementary School District
Innovation and Instruction Department
Honorable Mention Inspire AwardSci Phy Program
San Ysidro Elementary School District
Please register early to save your place as space will be limited.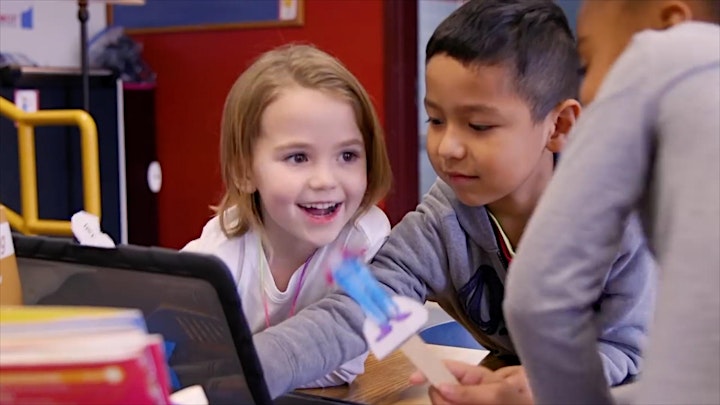 Organizer of 18th Annual Innovation in Education Awards Program