Sales Have Ended
Ticket sales have ended
Ticket sales are closed for the 2021 Tour de Nash. Due to our dispersed route starting this year, there will be no in-person registration the morning of the ride.
Sales Have Ended
Ticket sales have ended
Ticket sales are closed for the 2021 Tour de Nash. Due to our dispersed route starting this year, there will be no in-person registration the morning of the ride.
Nashville's Largest Urban Bike Ride - routes for all abilities, non- competitive
About this event
Visit https://www.walkbikenashville.org/tourdenash for most up-to-date info.
The 17th annual Tour de Nash is Nashville's largest urban bike ride. Take on the City Tour (9mi), Local Tour (25 mi), or Grand Tour (45mi) to suit your riding style.
This year's ride will be a distanced format in accordance with Metro Health's COVID-19 safety guidelines.
Each registered rider will select a start window time and location for their ride. Start locations are at different points on the looped route. All riders will complete the same route but at staggered intervals.
Each rider is REQUIRED TO BRING A MASK and must wear them at start lines and rest areas, as well as in the SAG van should you need a ride.
All rest areas will be distanced, and staffed by masked and gloved volunteers - there will be single-serve food and water handed out by volunteers
There will be no mass start, or finish line festival, or post-ride meal
NO day-of registration will be available
Highlights:
9, 25, and 45-mile ride options suitable for bicyclists of all skill levels.
Scenic routes highlighting Nashville's neighborhoods, bikeways, and greenways.
Rest stops featuring refreshments, bathroom facilities, and basic bicycle maintenance equipment available every 10-15 miles.
Bikes of all styles welcome! (including e-bikes)
Discounts available for military, and active students!
New this year! We are designing a 2021 Tour de Nash Bicycle Jersey. These jerseys are pre-order only from now until April 7th! You can order here at our online store! 
Route Maps:
** All routes subject to change until the day of the ride.
Frequently Asked Questions:
Where does the ride start and end? 
To maximize safety, each route will have multiple start locations. You selected a start location when you purchased your new ticket. You will begin and end the ride from that location. All start locations will double as rest stops. This year's start locations/rest stops are:
When does the ride start? 
There are 1-hour start windows from 6:00am - 10:00am, you will select one of these start windows with your registration. We recommend those riding in the Grand Tour (45-mile) start before 9am to ensure enough time to complete the ride. Because of the Mayor's Executive Orders, we will be limiting the number of people starting in one group. You will arrive at the starting location on your ticket and begin the ride any time in the start window for which you registered.
What is included with my ticket? 
We will provide a marked route, signage and cue sheet to help you navigate the route on the event day. You will also receive a rider packet that includes your ride number, t-shirt. Lastly, there will still be rest stops along the way with food, water, and a bike mechanic if you need one. 
Will there be route security? 
There will be no security officers at intersections this year due to the dispersed nature of the ride. You must follow all rules of the road and behave as a vehicle in accordance with the law. 
Do I need to wear a mask? 
Masks are required at start locations and all rest stops.
Will there be food? 
Single-serving snacks will be provided at rest stops, but there will be no post-ride meal this year. 
Will there be water? 
Water refills will be provided at all rest stops, but come with at least two bottles for yourself.
Will there be restrooms at the rest stops? 
Portable restrooms will be available at MOST rest stops. 
How do I navigate the route? 
Markings for the route will be on the ground, but you can also print out a cue sheet if you wish or download the GPS file from our website.  Because of the dispersed nature of the ride, you will be responsible for navigating the route and being self-sufficient with directions.
What if I need financial assistance in purchasing a ticket?
We want the Tour de Nash to be accessible for everyone! We have a free City Tour (9-mile) ride in which you can register. However, if you'd like to ride the Local Tour (25-mile) or the Grand Tour (45-mile), we have a Scholarship Form in which you can complete to get financial assistance for ticket costs. Please complete this form and a Walk Bike Nashville staff member will be in touch with you.
Want some Walk Bike Nashville gear for the Tour de Nash?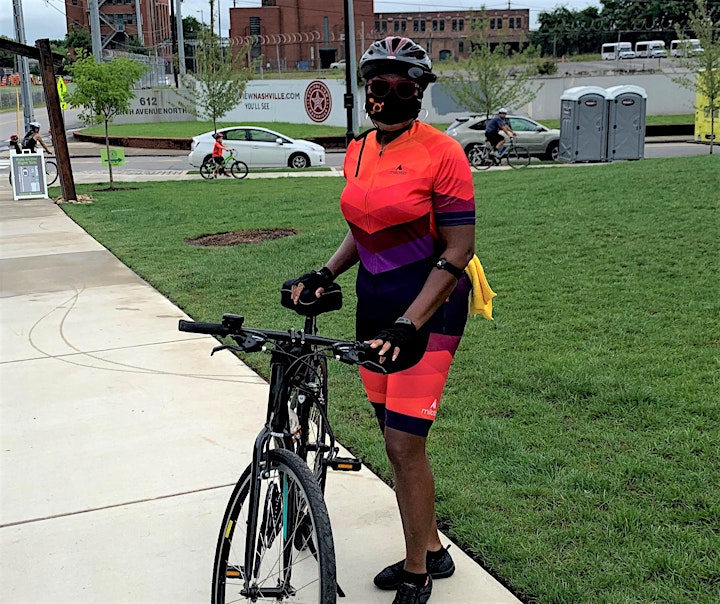 Organizer of 17th Annual Tour de Nash, presented by LDA Engineering
Since 1998, Walk Bike Nashville has sought to make active transportation an option for Nashvillians, no matter where they live or where they're trying to go. We want our sidewalks and bikeways to support active living, additional commuting options, and recreational opportunities. We use a mix of educational programs focused on safety and skills and membership outreach focused on advocacy to pursue our goals.