NewBo Bash returns, this year with even more incredible experiences and new ways to support the Market's mission!
About this event
On Saturday, November 6, join us for a celebration of NewBo City Market at the fourth annual NewBo Bash! After cancelling the 2020 event, we invite the community to enjoy a special evening at the Market, as we celebrate the accomplishments made this past year in the obstacle of overwhelming challenges.
At NewBo Bash, guests will enjoy appetizers, sip on signature cocktails and savor the talents of our Shopkeepers that comprise the heart of the Market. Local musician Blake Shaw and company will be providing smooth tunes throughout the night.
New in 2021, the Market will auction off special experiences from our Shopkeepers. More details to come!
If you are unable to attend the in-person event, we invite you to purchase a NewBo Bash at-home package, featuring vouchers for Market Shopkeepers and custom glassware.
Proceeds from NewBo Bash benefit NewBo City Market's mission to support local entrepreneurs as they grow new food and retail businesses and to provide a place for arts, culture and entertainment for the entire community to enjoy.
NewBo Bash is presented by Transamerica and Aegon Asset Management.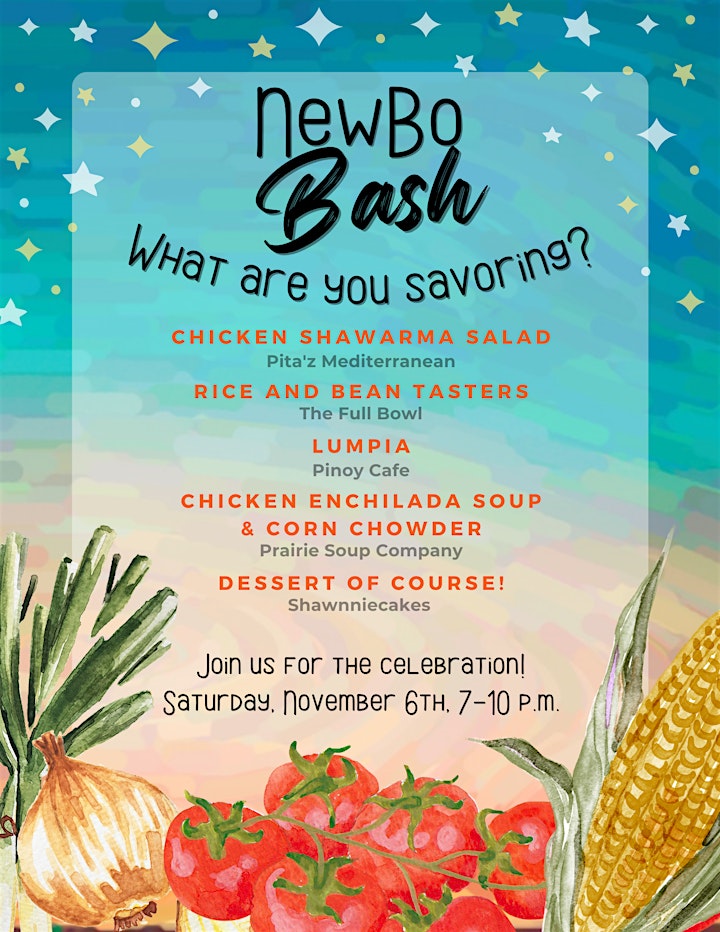 Organizer of 2021 NewBo Bash: a night to sip & savor the Market!
NewBo City Market is a nonprofit organization showcasing our homegrown assets, inspiration, and potential by cultivating new business and entrepreneurship and by supporting local artists and artisans. To find our more about NewBo City Markets, and our Shopkeepers, visit newbocitymarket.org