Join Greg Mullen, founder of Exploring the Core LLC, in exploring fifteen elements of his Self-Directed Schooling framework.
About this Event
What are the 15 Elements?
Each week, Greg Mullen will speak about a specific element of his Self-Directed Schooling (SD) framework. The sessions will follow the following order:
The first five elements focus on topics related to Competency-Based Learning, including:
Learning Strategies
Standards & Instruction
Competency-Based Assessment
Standards-Based Grading
Curricula, Materials and Resources
The next five elements focus on topics related to Meta-Cognitive Development, including:
Metacognition Knowledge
Cognitive Strategies
Formative Self-Assessment
Communication Skills (SEL)
Feedback Loops/Routines
The final five elements focus on topics related to Environment and Management, including:
Active Learning
Class Design and Time Management
Student-Led Learning
Re-Assessment and Feedback
Inquiry-Based Learning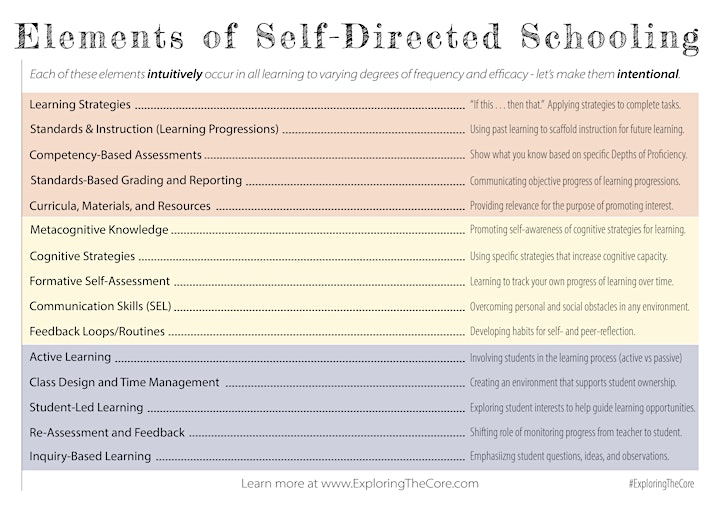 Is this a Lecture or Discussion?
Each session follows this structure:
30-minute lecture
30-minute focused discussion
30-minute chat session.
The first part of each session will be a presentation of a specific element of the framework. Once the presentation is complete, an opportunity to engage in specific questions ("focused discussion") about the presented element will begin. When the focused discussion is either exhausted or reaches a thirty-minute mark, the conversation will open up to other questions and conversation about topics related to the SDS framework.
Is this for teachers, parents, students?
These sessions are intended for adults interested in a self-directed learning philosophy, including:
parents who feel traditional school is missing a certain something,
teachers interested in adapting a self-directed philosophy into their classroom,
administrators curious how a self-directed philosophy connects with a school setting,
students interested in how a self-directed approach can benefit their education.
Please note: the whole is greater than the sum of its parts. This means that the value of each element by itself is strengthened when applied in concert with all other elements. Exploring a single element may benefit an individual's immediate interest, but the core of this framework is explored once all elements are connected.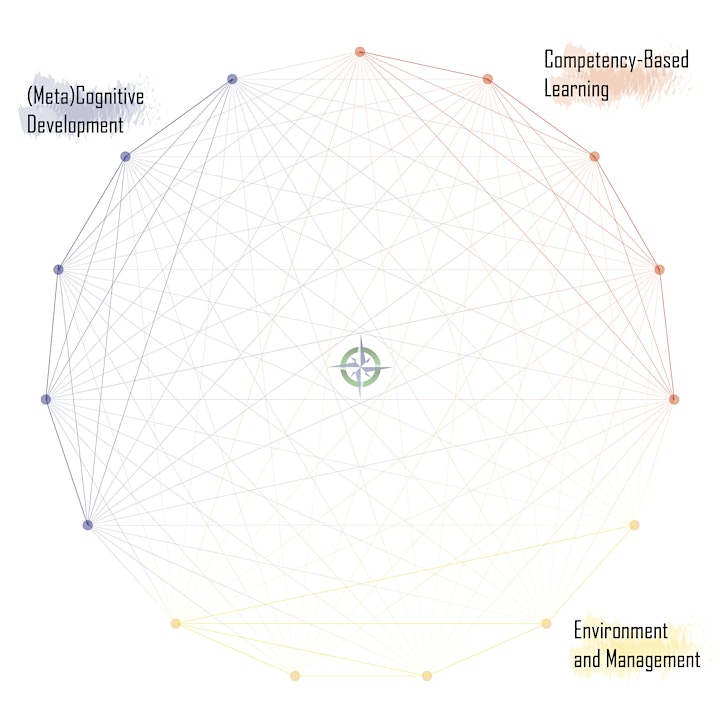 The secret to this framework is not in the mastery of each element but in the way our understanding of each element connects to create an adaptable core in which we can individually explore in context of our particular situation.
Exploring the core of this framework is what allows each individual to best meet their own needs and/or the needs of their students in context of creating a self-directed learning environment.