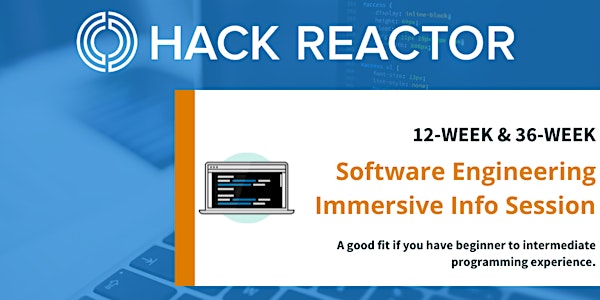 12 Week Software Engineering Immersive Info Session
What can I expect from 12 Week Hack Reactor's Software Engineering Bootcamp?
About this event
Galvanize is proud to offer Hack Reactor's industry-tested Software Engineering Immersive program. Our software engineering bootcamp offers the most up-to-date coursework, optimized for academic rigor and efficiency. Over the course of 12 weeks, we'll teach you how to build and maintain a series of web applications using modern technologies and industry best practices. Our unique setting in the Galvanize community of startups and tech companies is the perfect place to learn, expand your network, and build your career in tech!
Join us for a discussion with the team and learn how to start a career in software engineering.
You'll leave this event with a clear perspective and structured options for beginning your career in this quickly-growing field. Need preparation resources? This session is for you!
Target Audience:
All levels of technical expertise are welcome!
What You Will Learn:
Hack Reactor Overview
Hack Reactor Structure and Curriculum
Admissions Process
Prep Options
Timeline
Ask us anything!
How to Prepare:
- Have the Zoom Client for Video Meetings installed well before the webinar begins: https://zoom.us/download
- Link to join the workshop will be provided to you once you RSVP
Connect Before and After The Event
Want to connect with other women in tech before the event? Join us in the Galvanize Tech Community Slack to discuss topics in the industry, meet other coders ranging from rookies to veterans of their industry, cheer each other on while learning how to code, and more. Use the hashtag #StartAConversation to get the topics flowing!
About Hack Reactor:
Founded in 2012, Hack Reactor is an immersive coding school providing software engineering education, career placement services, and a network of professional peers. Hack Reactor's mission is to empower students to succeed in new careers in Software Engineering through our accelerated, best-in-class programs and our strong, caring community with over 7,000 alumni worldwide.
Led by passionate and experienced teachers, engineering leaders, and former hiring managers, we produce software engineers the best teams want to hire. We offer a full-time 12-week immersive program, a part-time 36-week program, and a new full-time 19-week immersive program for coding beginners.
To learn more about Hack Reactor, visit https://www.hackreactor.com/