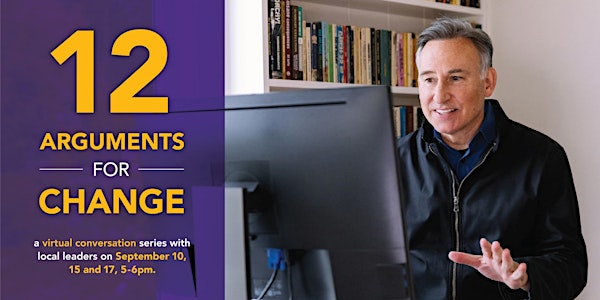 12 Arguments for Change | Shaping King County's Post-COVID Future
A three-part series exploring one burning question: How can we make our region's post-COVID future more equitable and more sustainable?
About this event
As we recover from the COVID-19 pandemic, King County is going through a period of huge forced change. But that can be a good thing.
In this series of three panels, King County Executive Dow Constantine will be joined by twelve local leaders to explore the challenges our region faces, and what we can do during this period of upheaval to address issues including economic inequality, racism, access to healthcare, climate change, unemployment, small business recovery, education, housing, childcare, food access, and transportation.
Join us on Zoom as we prepare to make our region's post-COVID future better than our pre-COVID past.
Session 1, Thursday, September 10, 5-6 PM | Framing the Problem
Identifying and agreeing on the gaps our region needs to focus on in recovering from the COVID-19 pandemic, featuring:
Dr. Benjamin S. Danielson | Clinic Chief, Seattle Children's Odessa Brown Children's Clinic
Estela Ortega | Executive Director, El Centro de la Raza
Harpreet Dha | Owner, Punjab Sweets
Gordon McHenry Jr. | President & CEO, United Way of King County
Session 2, Tuesday, September 15, 5-6 PM | Unlocking Solutions
Brainstorming solutions to the gaps identified in Session 1 to create the change that King County needs to come back from COVID-19 stronger than ever, featuring:
Alyssa Macy | CEO, Washington Environmental Council/Washington Conservation Voters
Steven Severin | Operations & Booking, Neumos, Barboza & Life on Mars
Nicole Grant | Executive Secretary-Treasurer, MLK Labor
Sakara Remmu | Emeritus Chair of Black Lives Matter Seattle-King County
Session 3, Thursday, September 17, 5-6 PM | Making It Happen
Identify the roles of government, corporations, and citizens in turning the solutions identified in Session 2 into action, featuring:
Lisa Daugaard | Director, Public Defender Association
April Sims | Secretary Treasurer, Washington State Labor Council
Brian Carter | Executive Director, 4Culture
Ana Mari Cauce | President, University of Washington