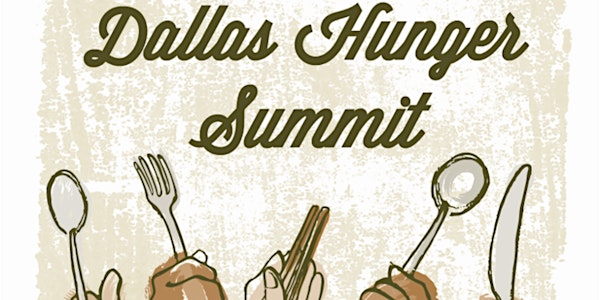 10th Dallas Hunger Summit: "Top Ten Hunger Solutions" A Holistic Approach
10th Annual Dallas Hunger Summit
About this event
Join us for the 10th Annual Dallas Hunger Summit of the Dallas Coalition for Hunger Solutions, chaired by U.S. Rep. Eddie Bernice Johnson. The focus of the 2021 Dallas Hunger Summit is on our "Top 10 Hunger Solutions" - A Holistic Approach for creating equitable, thriving communities. Speakers from across multiple community sectors will discuss a holistic view of how to solve hunger and impact community health in an all-inclusive way. Applying an equity lens, they will discuss how to create a more food secure and just food environment for everyone. We will explore the innovative, collaborative steps underway in communities, and the policies that can assure access to healthy, nutritious food and optimal health for all.
WHERE: A Virtual Event
WHEN: 10:00 AM –12:00 PM (CDT)
SEPT. 17th - "Ending Hunger in America: A Holistic Approach" will feature a panel discussion that includes insights and lessons learned from the COVID-19 pandemic. Where do we go from here ? How do we go forward together? Panelists include
Dr. Philip Huang, Director, Dallas County Health & Human Services
Trisha Cunningham, CEO, North Texas Food Bank
Gloria Smith, Associate Vice Chancellor, Dallas College
Jennifer Sanders, Executive Director, Dallas Innovation Alliance
Danielle Ayers, Minister of Justice, Friendship West Baptist Church
Kate Zielke, Principal Transportation Planner, North Central Texas Council of Governments
Matt Garcia, Senior VP, Public Policy, Dallas Regional Chamber
Valerie Stone Hawthorne, Ph.D., Director Government Relations, North Texas Food Bank, Panel Moderator
SEPT. 24th - "Ending Poverty to End Hunger in America: A Roadmap" will feature an interview and conversation with two authors who put forth solutions that work.
Joanne Samuel Goldblum & Colleen Shaddox, authors of Broke in America: Seeing, Understanding and Ending U.S. Poverty
Courtney Collins, Senior Editor KERA News and Lead Reporter "One Crisis Away" Project
OCT. 1st - "Addressing Food Insecurity and Healthy Food Access: Dallas Area Initiatives and Best Practices" will highlight local visionary and vigilant practitioners and social innovators.
Edward T. Rincón, Ph.D., Author of The Culture of Research, and Innovator of the Urban Site Location Dashboard
Owen Lynch, Ph.D., Co-Founder Restorative Farms
Ashley Douglas, Senior Director Southern Dallas Thrives, United Way
Laila Alequresh, Former Chief Innovation Officer, City of Dallas
Pastor Daryl R. Carter, Carver Heights Baptist Church
Alexis Baker, Food Recovery Manager, City Square
Doric Earle, Ph.D., Meadows School of the Arts, Southern Methodist University, Panel Moderator
For further information, contact wyonella_henderson-greene@baylor.edu.