Our classes are better than our puns - we promise! Come have fun decorating our Spring themed Sugar Cookies!
About this Event
Join us for our spring-kled themed cookie decorating class! We'll be creating this beautiful flower vase set! For mom - or for whomever! We'll teach you lettering!
Due to covid-19 concerns and CDC recommendations, we have limited this class attendance to 10 total people. Each person will be given their own workstation 100% separate from each other to ensure social distancing between participants. Attendees will be given their own dedicated, separate piping bags, decorations, and decorating utensils to limit cross-contamination and create a clean, organized working space! MASKS ARE REQUIRED. Hand sanitizer will be provided.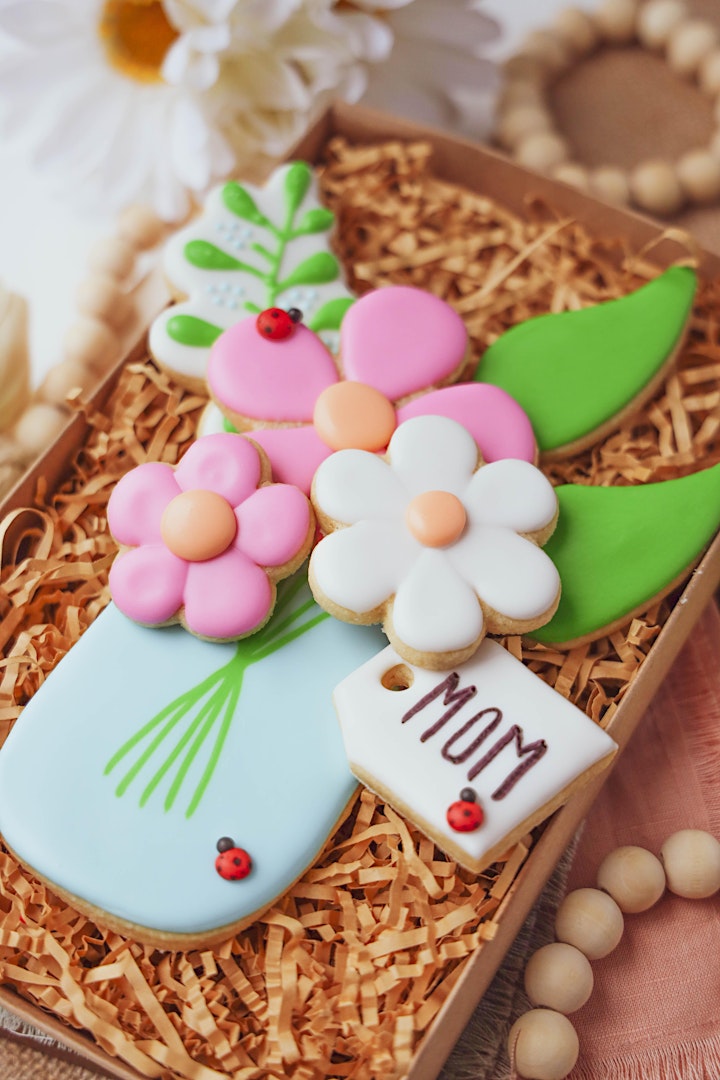 About the Class
This class is for the beginner cookier or for the person who is just curious about what cookie decorating is all about! We will be doing a fun Spring theme set that tastes amazing and will look even better once you've completed your decorating!
We provide everything you will need from cookies, icing, sprinkles, and a box to take your awesome creations home in - we just need YOU!
This class is on April 18th from 1:00 pm to 2:30 pm so we can have enough time to decorate and ask questions along the way. Come by yourself, bring your best friend, or bring the family- we have seating up to 10 people!
This class is good for ages 8+, but you can definitely request a kit to take home to your littlest ones so they can have fun too!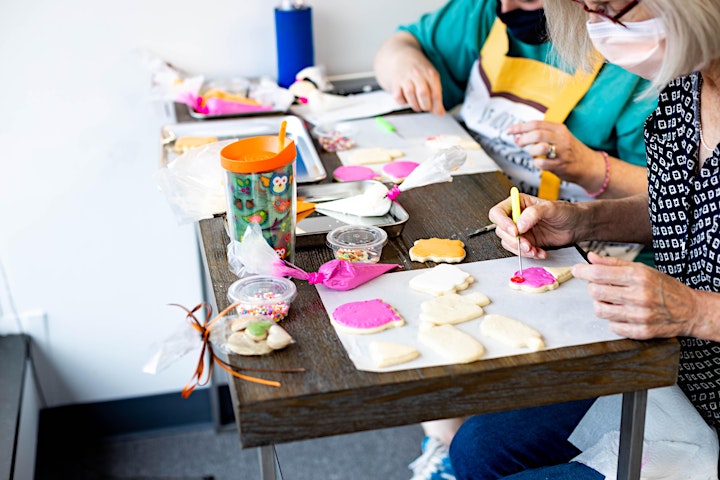 FAQ
What will I be doing in class?
Besides having the most fun ever? We will be going over some cookie facts, decorating techniques and you will be decorating your very own set of cookies that you will take home with you that day.
Do I need to know how to bake?
Nope! We will have the cookies pre-made for you and will give you the recipe in an email after class so you can create your own on your own!
What will we learn in class?
You'll learn what goes into preparing royal icing, the value of different icing consistencies, how to color icing, and tricks to fill piping bags (believe me, it's harder than it looks). You'll also learn different decorating techniques such as marbling, outlining, wet-on-wet, brush embroidery, and painting. Techniques will vary depending on the class and can be customized to your needs.
What do I need to bring?
Nothing! Everything will be provided for you including our rather tasty sugar cookies. All you need to do is join us and have fun! Messy decorator? You can bring your own apron or just wear easy-to-wash clothing.
What age is best for cookie classes?
Our classes are for almost any age! From youngsters to grandparents- come on in and have some cookie fun with us!
What will I bring home?
By the end of the class, you will have created a set of gorgeous cookies ready to dry for 24 hours in their own box. And of course, you'll have new skills, memories, and fun!
Can I sign up as an individual or as a group?
You can sign up either as an individual, with a friend, or with a whole group. The more the merrier! We are limited to a total of 10 seats per class, so definitely sign up ASAP!
Where are the classes located?
This class will be held at the NVS Kitchen and Bath Design Studio in McLean, VA - that address is 6712 Old McLean Village Dr, Unit A, McLean, VA 22101.
I signed up for a class but can't make it?
*sad face* We understand that life happens so that's why we allow you to cancel up to 5 days before the class. You can always transfer your spot to a friend though (what a nice friend you are). Read below for our COVID-19 Cancellation Policies.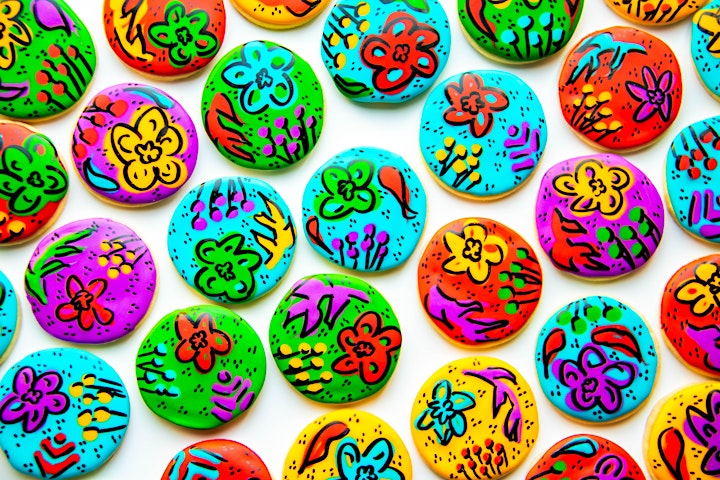 About SugarCookieClasses
Who doesn't love getting out and doing something fun while also eating delicious cookies!? That's what Sugar Cookie Classes is all about!
Our classes are based in Northern Virginia and cater to the beginner cookier. Whether you just want a fun date, a girls-night-out or just want to explore what cookie decorating is on your own- we have a seat for you.
All you will need to bring is yourself (and an apron if you are a messy decorator) and we take care of the rest. You will get a set of pre-baked cookies (pretty tasty if I do say so myself) as well as all the supplies you will need to decorate them.
Our classes are an hour and a half and that will give us enough time to decorate the cookies and answer any questions along the way.
You will leave the class with your very own box of your very own newly decorated cookies (plus a little gift from us).
We have classes throughout the year which highlight different themes so make sure to sign up for our newsletter so you can get in on the cookie action!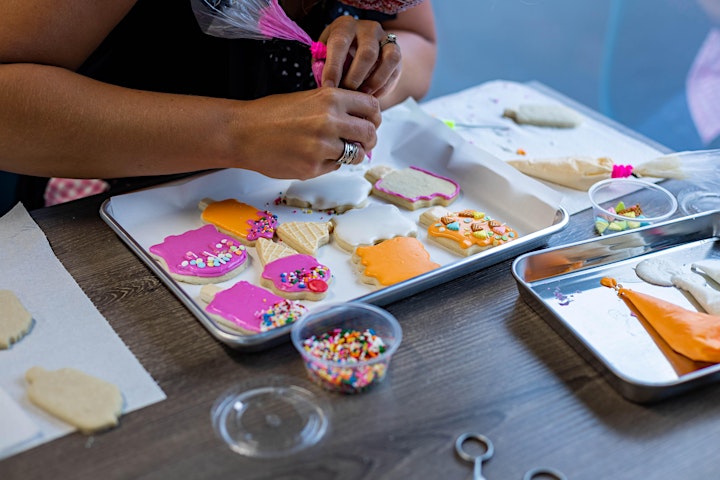 Covid / General Cancellation Policy:
Showing Symptoms Before 5 Days Out:
If you're sick prior to the 5-day refund cutoff, you can cancel for a full refund! And might we say thank you for quarantine-ing (is that a word??). To request a refund through Eventbrite, follow these steps.
Showing Symptoms After 5 Days Out:
For any sickness symptoms prior to your class's start time but after the 5-day refund policy, please email us before your class's start time, and we'll give you a credit for the next class.
Upon Arrival, Thermometer Is Over 100:
If you arrive to class and the thermometer registers a temperature over 100 degrees Fahrenheit, we will ask that you leave class, but we'll give you a full credit towards a future class. We want you better!
You Don't Show Up Or Email Prior To Class:
If we do not hear from you before your class's start time, and you do not show up for class, we won't be able to offer you a refund or a credit regardless if you're sick. So please reach out to us if you're feeling sick before class starts!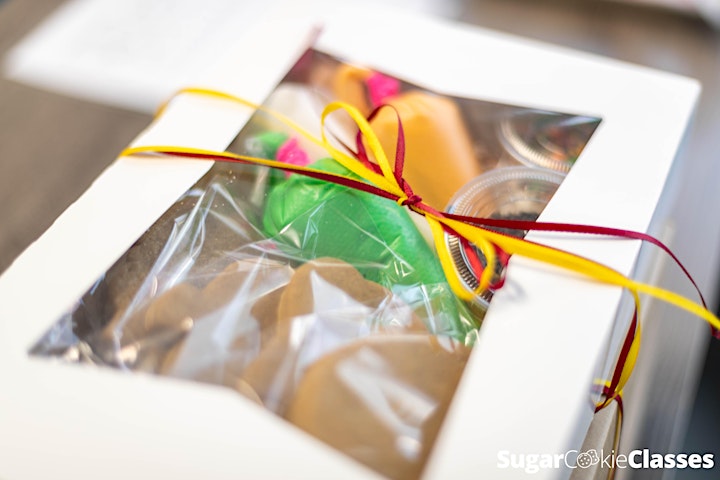 New Item - Sugar Cookie Class Kits!
Back by popular demand - order your sugar cookie class kit and take the class home with you to teach a child or friend! Our class kits come with everything you'll use in class and we'll email you the class PowerPoint so you can follow our step-by-step instructions from home! Sugar Cookie Kits are created before your class and you'll pick them up and take them with you after class.
How long can a kit last? Depending on how you store your icing, your kits can last for a week or longer. Freezing cookies keeps them fresh for a long time, but we recommend using your kit as soon as possible - ideally in the first week after you've taken it home.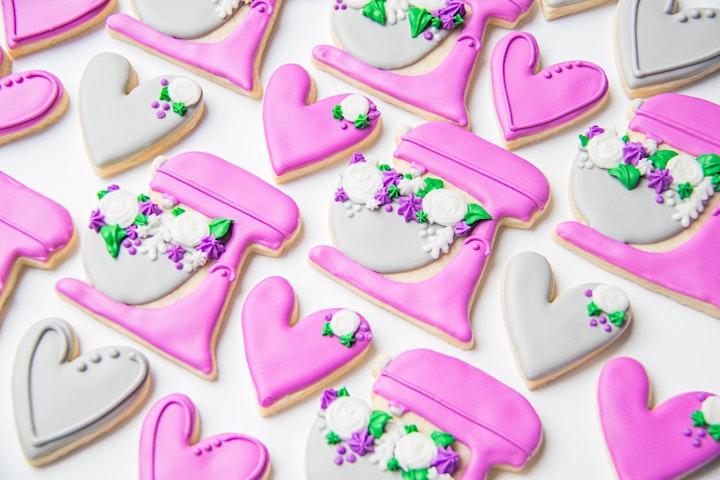 Allergens: Eggs, gluten, and nuts are present in the kitchen used to bake these cookies and icing. Please consider your allergies before registering.
Eventbrite Fees: Your ticket price includes your Eventbrite fees; however, Eventbrite does not refund fees. If you cancel your ticket for a refund, we'll give you a refund less the Eventbrite fee - since we don't get this back either. Eventbrite keeps it regardless if you show up or cancel. :( *sad face*