Experience 29Rooms for yourself in Toronto September 26 – October 6; Washington, D.C. October 18 – October 27; Los Angeles November 8 – November 17; and New York City, dates announced soon. Follow Refinery29 on Eventbrite to be the first to know when 29Rooms tickets go on sale.
The Chicago Board Of Trade Building is an awe-inspiring monolith of gray limestone, capped by a three-story tall aluminum art-deco statue of the Roman Goddess Ceres. For 35 years between 1930 and 1965, it dominated the skyline as the tallest building in town and remains a defining feature of the bustling Loop area. The U.S. Government has certified this groundbreaking skyscraper as a National Historic Landmark, and its gorgeous visage is regularly used to backdrop a wide array of iconic film scenes and the random car commercial here and there. But I'm not interested in scrutinizing the Trade Building's exterior today. I'm far more invested in experiencing the unique opportunities within. I'm here to expand my reality.
That's the offer that's pitched to me by Refinery29 and their 29Rooms project: Expand Your Reality. Reading the promo materials, I'm told that that 29Rooms is an "immersive world of culture and creativity." A "one-of-a-kind experience," a "space for interaction and exploration," where I can "dream bigger," and "give a damn." The pitch reads like a swirling collection of big promises, heady adjectives, and frilly superlatives, but my interest is piqued. Who wouldn't want to expand their reality?
"We saw that getting great photos and videos was a social currency and a channel for self-expression, something our audience really valued."
So here I am, staring skyward at Ceres glinting in the early evening sun, waiting to see what opportunities await inside. I legitimately have no idea what's waiting for me once I find a place in line. I'm a music writer by trade. Normally I interview artists, review records, and most analogous to this specific situation, attend a number of music festivals each year. I've seen my fair share of eye-popping temporary art pieces, branded initiatives, crafted menus, immersive activities, and cultural collaborations, but usually, they're soundtracked by the far-off thump of a Travis Scott set or the melodic guitar histrionics of Jack White not so subtly calling for my larger attention. 
The first thing that strikes me as I make a scan of the lower lobby is how eclectic the make-up of the crowd is. In a long, tangled line files teens, twenty-somethings, sexagenarians, and everyone in between from all walks of life; there's absolutely no rhyme or reason to the kinds of people enticed by the same promise of reality expansion. I thought an event like this would mostly appeal to a younger crowd, but then again, in an era where everyone has an Instagram, Twitter, Facebook, Tinder, LinkedIn, and Snapchat just waiting to be filled with fresh content, there's really no end to the type of person an event like this could conceivably appeal to. 
"We were one of the first events to really harness the power of social media and visual culture in a way that fueled creativity and meaningful conversation," Refinery29 Executive Creative Director and Co-Founder, Piera Gelardi told me. "We saw that getting great photos and videos was a social currency and a channel for self-expression, something our audience really valued. We built for both the in-person experiences as well as thinking of our space as a stage for self-expression. We've seen our audience use our space to make music videos, do fashion shoots, take engagement photos, and to talk about their values and beliefs."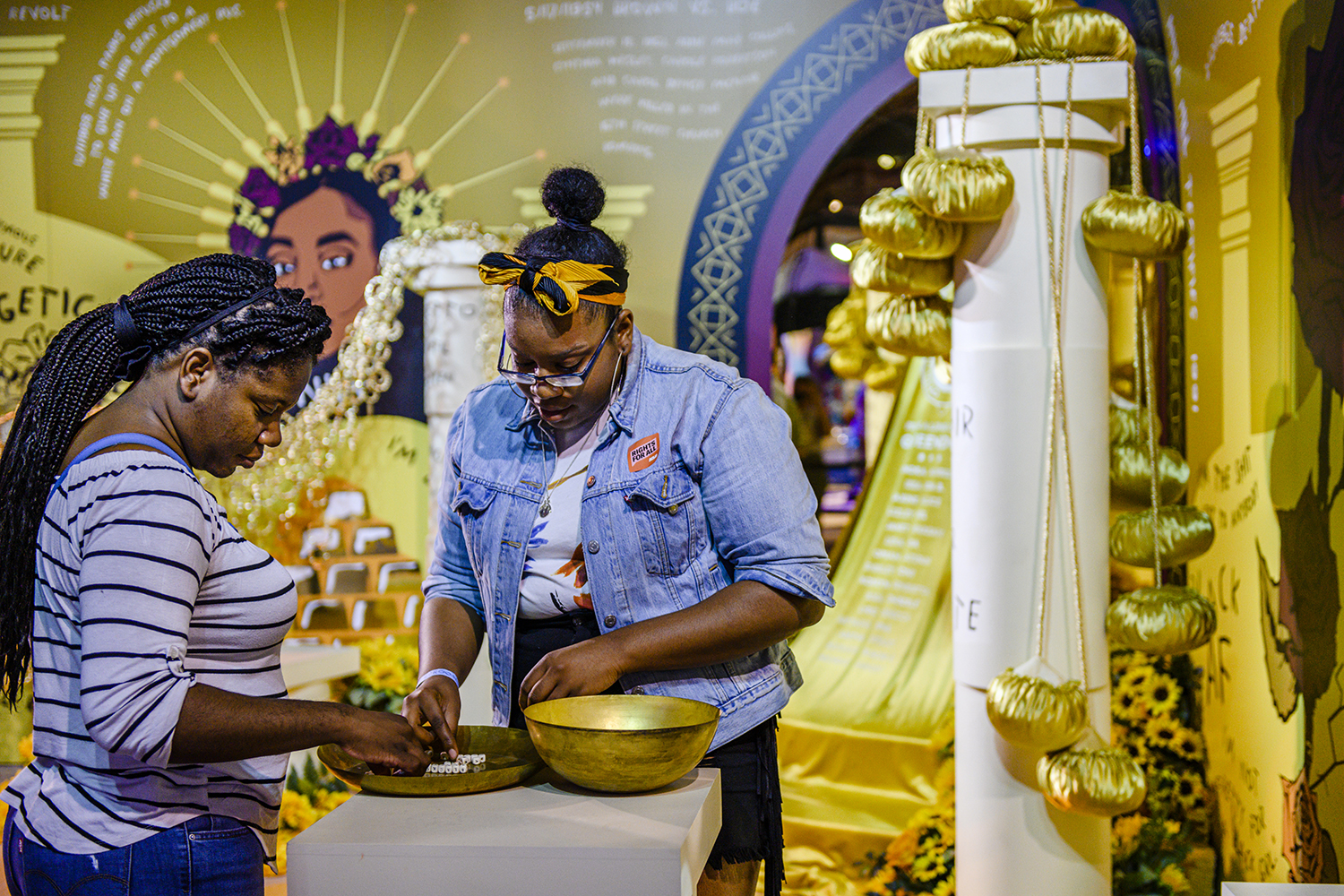 Teal Thomsen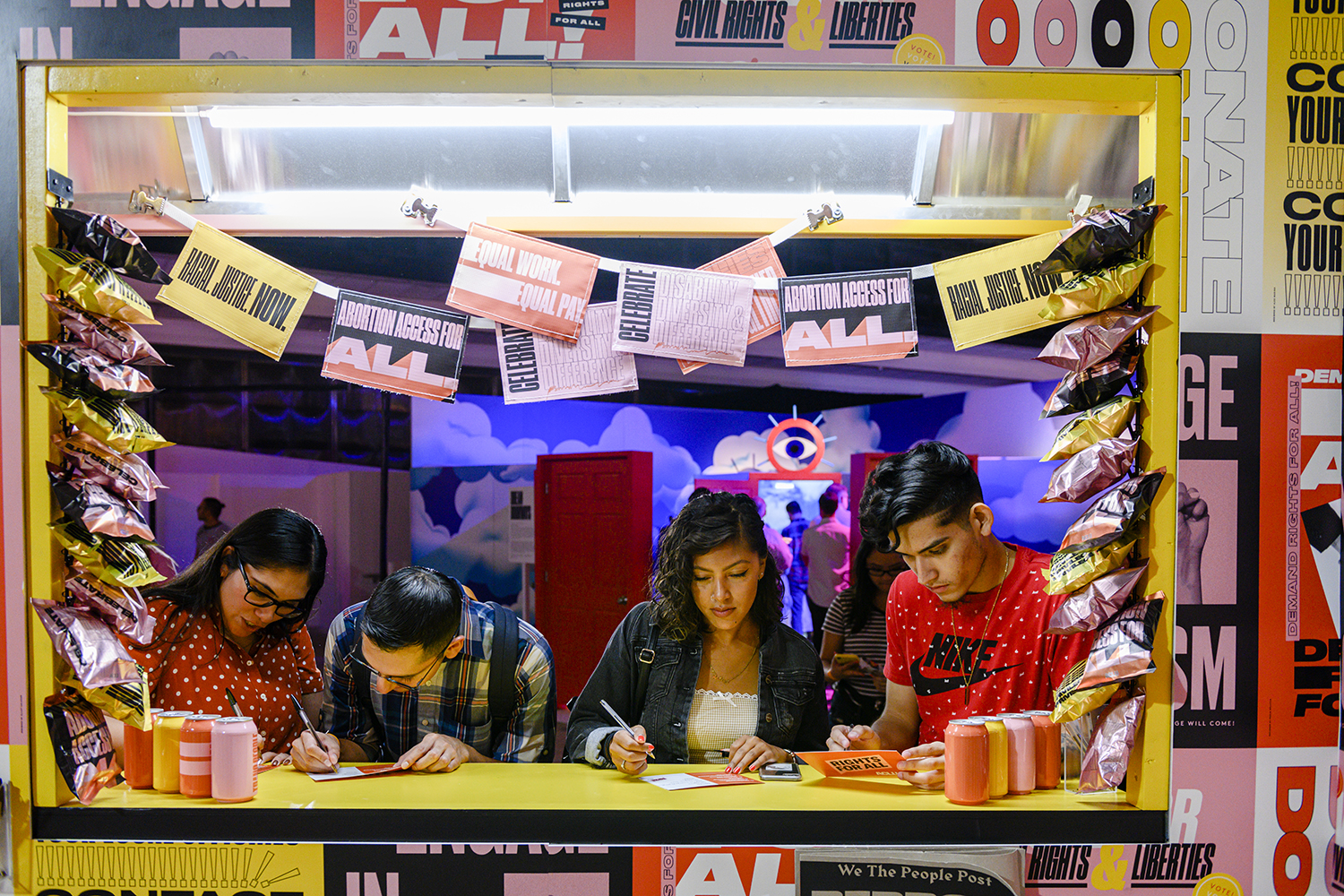 Teal Thomsen
Four escalator rides later, and I've made it to my final destination, a sprawling open floor filled with colorful displays and several staff people scurrying around in uniforms. I instantly get a better sense of what Piera meant. I pause to grab a picture of the room itself and then walk over to the large map on the wall to try and get the lay of the land. There are indeed 29 different installations all vying for my attention and engagement. Feeling a little overwhelmed by the wealth of options, I decide to amble down the small staircase and stroll around to see what grabs me.
Immediately, I notice that people are already lining up to take selfies in front of a wide spectrum of proactive art pieces. The very first, situated in the front of this huge space, is a modified newsstand emblazoned with a wide array of calls for social justice. "Snack, News, Soda, Rights," the awning screams. "Engage In Activism" the pink posters gracing the exterior blare. A mother places her small child in a sundress on the lip of the window, and as she holds up a yellow can with the phrase, "SOCIAL JUSTICE NOW" and smiles.
To my immediate left is an assembly of mirrors and doors that's part of an installation co-curated by neo-soul singer Kali Uchis. To my right is a psychedelic gyroscope designed by a Toronto-based artist named Hanski. Just beyond that is large, yellow cinderblock looking piece, touched with vibrant blue ooze created by Dan Lam from Dallas. And up ahead is a colorful display created by a local Chicago artist named Yvette Mayorga called "Dreaming A Dream," featuring a large green toy soldier, a pink slide, and an array of consumerist objects like a bottle of orange soda and a flip phone with a message that reads, "There have been 693 deaths at the US/Mexico border since 2017." Apparently, the inspiration behind the scattershot installation was the Polly Pocket toy, a small compartmentalized plastic carrying case filled with all sorts of tiny tchotchke that was all the rage back in 1994. It's certainly eye-catching. 
"I wouldn't say I made a friend out of this experience, but it did bring me back to a time when in order to connect with people you really did have to exit your own self-curated bubble."
I feel a little too self-conscious to ask for someone to snap my picture in front of the many different eye-popping art pieces  — the No Filter multi-light display is easily one of the most popular and well-attended exhibits on the floor — so as I navigate around the space, I find myself drawn instead to the range of different interactive exhibits crying out for my attention. The first is called Teen Bedroom, and appears to be a whimsical facsimile of, well, a teen's bedroom across the span of decades. The walls are covered in a range of different posters featuring all sorts of pop cultural ephemera like The Spice Girls, Saved By The Bell, Titanic, and Prince. To the right, on the blue carpet is a fuzzy yellow television and a Nintendo 64 with a copy of Mario Kart just raring to go. Nostalgia gets the best of me, so I plop down, cross my legs, grab a controller and navigate Luigi around the colorful track. As I dodge the many banana peels chucked my way, semi-oblivious to teenager behind me waiting his turn, I think back to my own teenage bedroom and the many, many, many different posters and Internet printout pictures I used to cover the white walls. Jimmy Page here, Trent Reznor there; my entire fledgling identity scotched taped to stucco, hidden from the rest of the world, but privy to close friends and family allowed within my cozy inner-sanctum.
After coming in 4th place on Mario Kart, I set the controller down and decide to explore further. Near the accessibility ramp is a refreshment stand where you can purchase beer, wine, bottles of water, and a collection of different, healthy-sounding bowls of quinoa. There's also a separate cart just for refreshments on the other side of the room, a stand sponsored by a salad dressing, and a booth put together by Panera where you can get a temporary tattoo of a strawberry, which I'm told are in peak season right now. The line for that one is a long as anything here.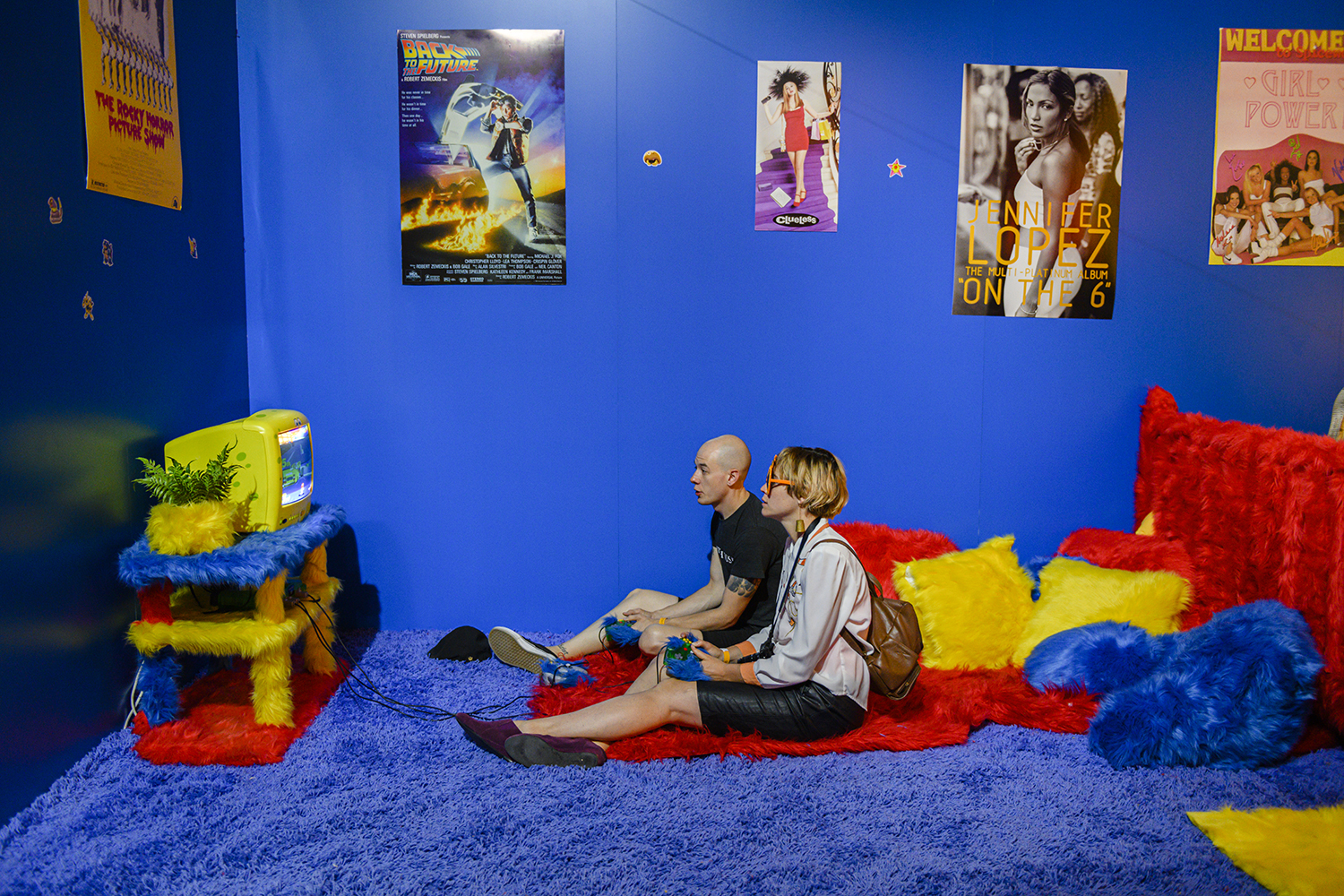 Teal Thomsen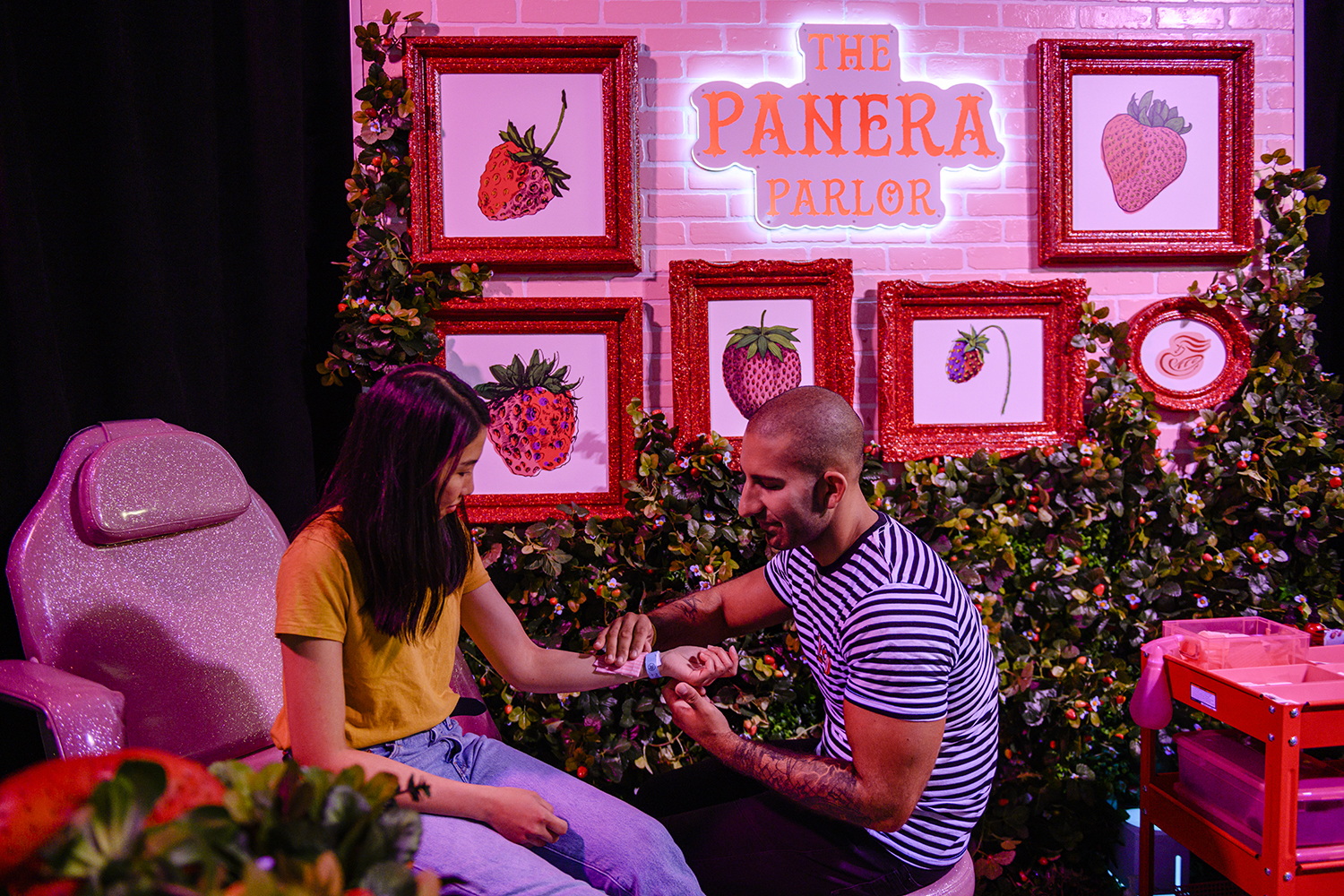 Teal Thomsen
As I go further in, the activities become a lot more intensive. There's a room, covered in silver streamers inviting you to dance. Another space sponsored by Chance The Rapper's initiative Social Works is open for those who want to express their creativity through painting, sculpture, or bedazzlement. There's even a blank white room covered with hundreds of pink sticky notes; messages people have written to their inner child. After enjoying the Teen Bedroom display I'm feeling a little sentimental so I decided to stroll in and leave a message for the much younger, far more naïve and anxiety-riddled version of myself. 
I had been wandering around for about an hour at this point. I can't say that my reality had been expanded quite yet, but it was an interesting, off-kilter way to enjoy an afternoon. Then I stumbled across an exhibit that kind of terrified me in a weird way. It was called 29 Questions. The basic premise was that you go into this room and have a conversation with a total stranger. You ask each other questions about yourselves and get to know a person you've never met before on a deeper level beyond the typical pablum about jobs, the weather, and other inane topics we all broach in order to protect our inner-psyches. 
I honestly didn't want to do it. I wouldn't say I'm a guarded person,but the idea of investing my personal history, fears, and aspirations directly into the face of an absolute stranger was unsettling. Then I remembered the request asked of me as I entered 29Rooms: "Grant yourself permission, take back I Can't." What in the hell was the point to all of this if I was only going to remain inside of my own comfort zone? I think back to something Peira told me. "We want to see people get involved…see them dance, sit down and make art, talk to a stranger, make a voting pledge, be in the experience." Well, here goes nothing, I suppose.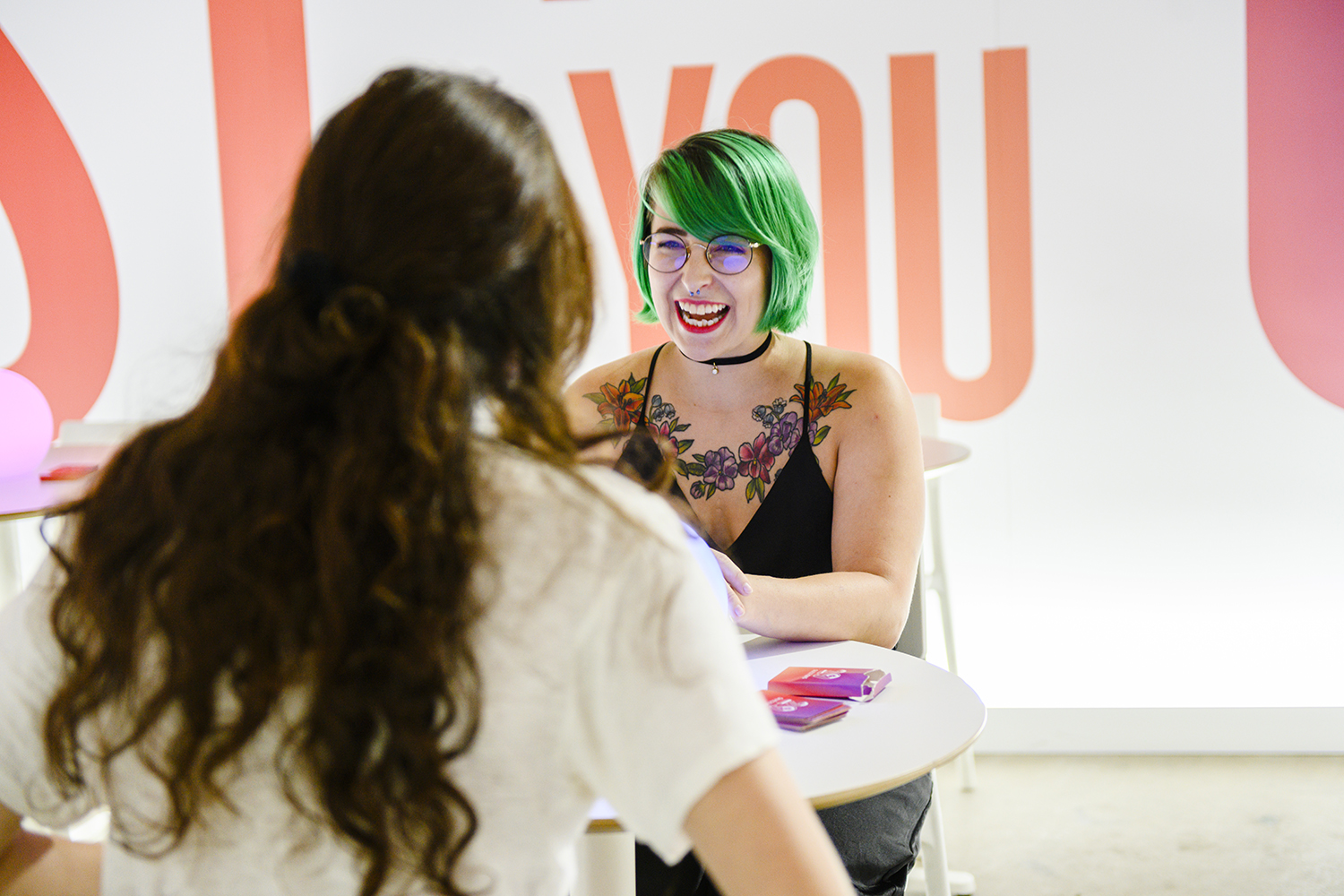 Teal Thomsen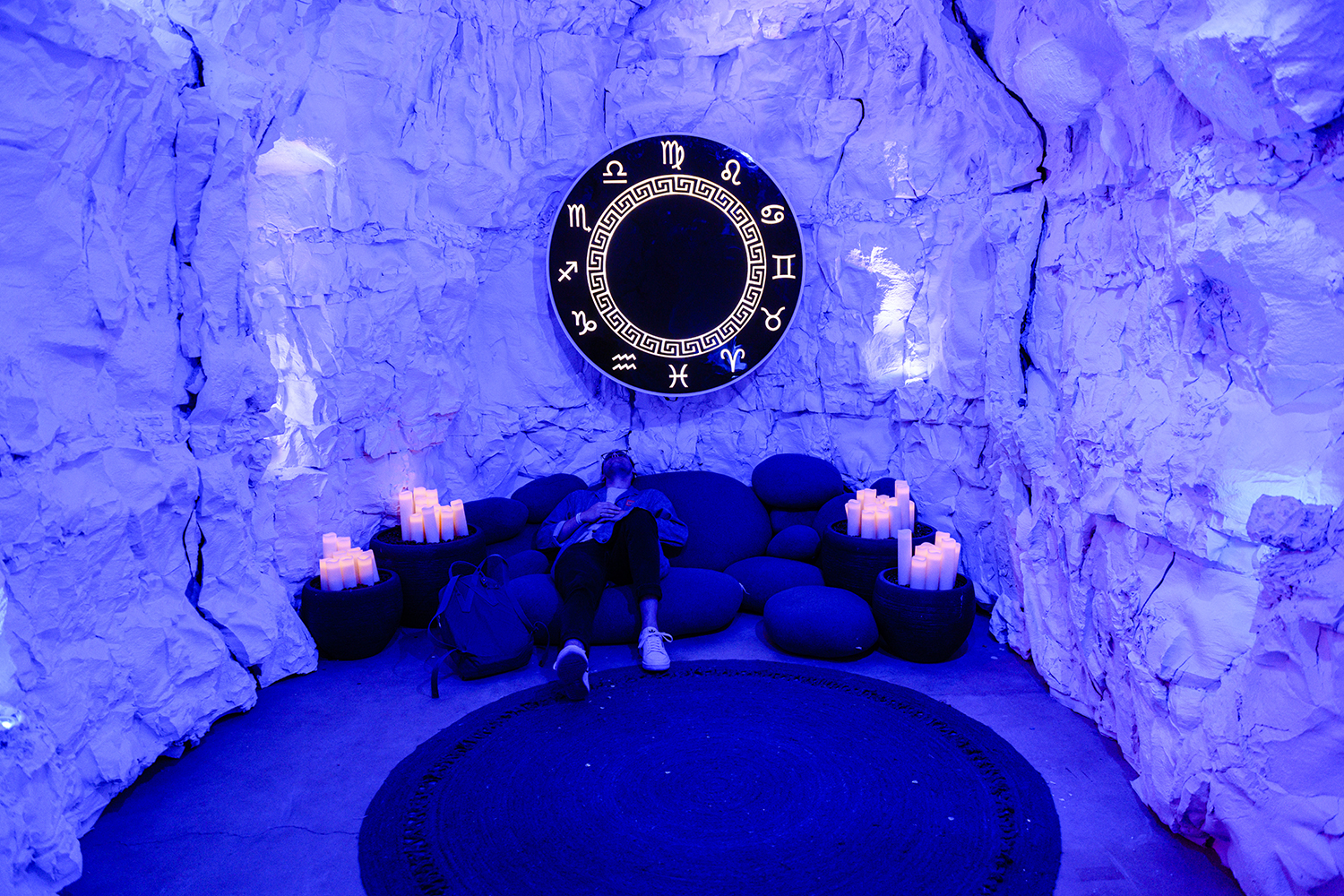 Teal Thomsen
At the prescribed time — sessions were scheduled in 15-minute blocks  I walked through the black curtain and met a guy named Brad. We had a truly nice conversation. I learned about who he was; an insurance adjuster from Northbrook. He learned about me; a music writer from all over. On the surface, I'm sure we looked like two distinctly indistinct 30-something white dudes having a mundane conversation, but he learned about my past in the U.S. Army — something I'm not always inclined to open up about — and I learned about his passion for photography. Then at the end, we parted ways. I'm almost certain I'll never see Brad again. We didn't exchange contact info or anything when it was all over, and I wouldn't say I made a friend out of this experience, but it did bring me back to a time when in order to connect with people you really did have to exit your own self-curated bubble. 
We interact with strangers all the time online, but that's already coming from a shared interest. I put out the flag that I'm into X topic — Soundgarden, cookie dough ice cream, or whatever — and people usually flock to me to discuss it. There's no deeper level to the interaction beyond that. My chat with Brad reminded me of all the ways I used to meet total strangers and put myself out there in the hopes of meeting a like-minded soul. Unlike Teen Bedroom, or the message I scrawled to my younger self, 29 Questions didn't cause me to pine for a time long gone, but instead forced me to consider my own behavior in the here and now. I don't know what else I might take from this experience, but I know how I felt after my brief interaction with Brad, and since then, I've made more of an effort to strike up random bits of conversation with those out in the world, at the supermarket, the record store, and the dog park.
If I'm being totally honest, I didn't expect my experience with 29Rooms to have that kind of lasting impact on my everyday behavior. I, perhaps like many others, blindly assumed it'd be a fun way to spend an afternoon while grabbing a couple of interesting shots for the Gram. I figured it was an insular world unto itself; a place you can check yourself at the door, get lost for a while, and find yourself again when it's time to head out. 
At the end of the day, however, 29Rooms is like anything else in life; you get out what you put into it. You could go in as a cynic, scan around at the different colorful displays, sip a beer, grab some selfies, play some games and duck out before dinner time. Or you can abide by the spirit with which the project was created, drop your guard, open your eyes, get a little uncomfortable, and learn something about yourself along the way.
Inspired? Experience 29Rooms for yourself in Toronto September 26 – October 6; Washington, D.C. October 18 – October 27; Los Angeles November 8 – November 17; and New York City, dates announced soon. Follow Refinery29 on Eventbrite to be the first to know when 29Rooms tickets go on sale.