MARKETS & SHOPPING
The Best Holiday Markets in DC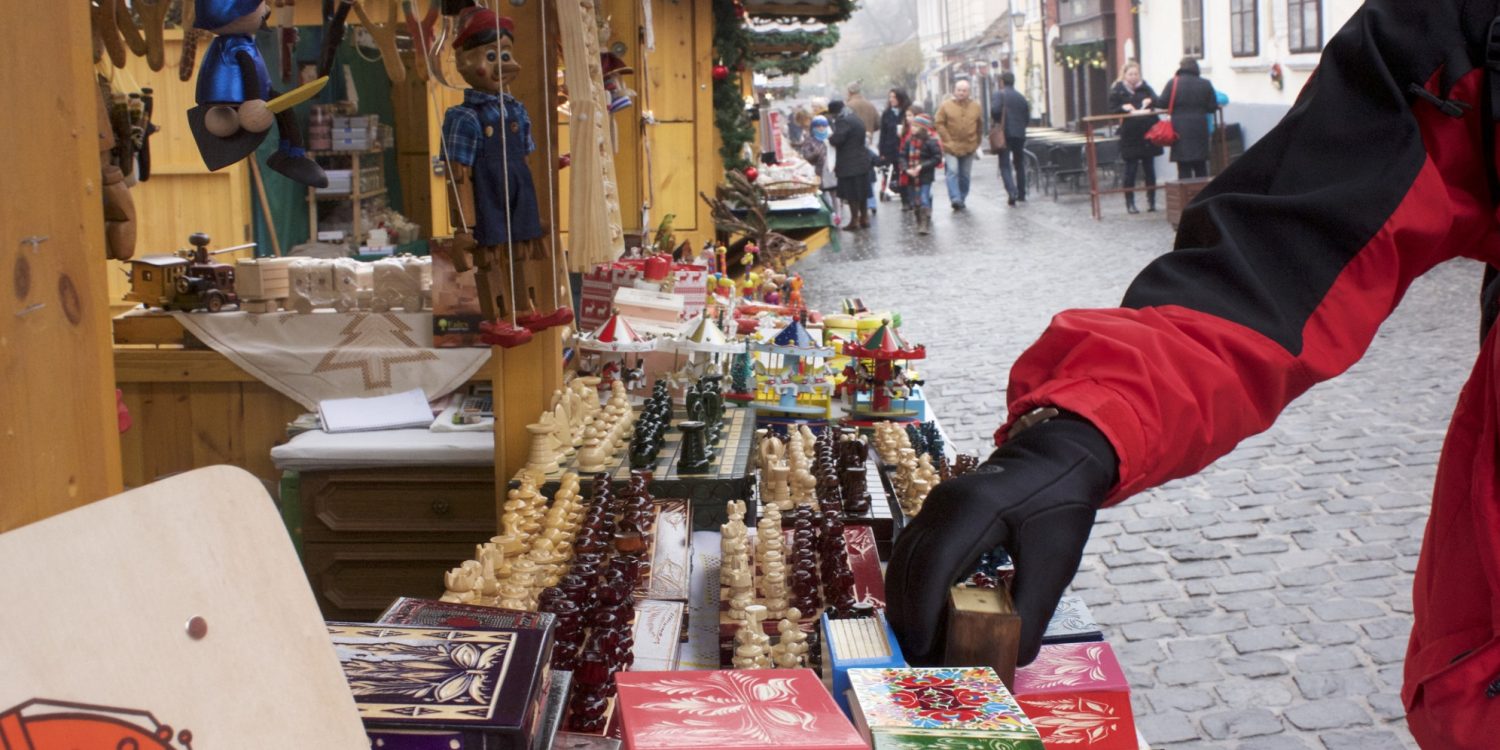 There's really nothing worse than fighting traffic, searching for parking, and spending hours at the mall, only to go home virtually empty-handed without anyone crossed off your list. It's the kind of thing that will turn even the jolliest elf into a full-blown Scrooge. Sure, there's online shopping, but that doesn't put you in the holiday spirit, and who knows when your gifts will actually arrive? This year, ditch your normal shopping routine, and visit any one of DC's many holiday markets with one-of-a-kind items, entertainment, and tasty goodies to help fuel your day of browsing.
National Harbor
November 16-January 1

This signature holiday attraction's theme for 2018 is A Charlie Brown Christmas, depicted with two million pounds of ice sculptures and displays hand-carved by artists from China. Tap into your inner kid and slide down any of the four two-story ice slides, then warm up after all the fun inside the Cocoa Shoppe.
Tenleytown
November 23–December 1
The number of attractions at this winter festival are almost too many to count. There's Winter Feast, which includes special deals at local restaurants, a yeti hunt, live performances, caroling, a showing of Frosty the Snowman, and, of course, a holiday market with food and gifts. Listen to the sweet sounds of a capella music as you shop, and don't leave without purchasing a freshly cut tree for your home.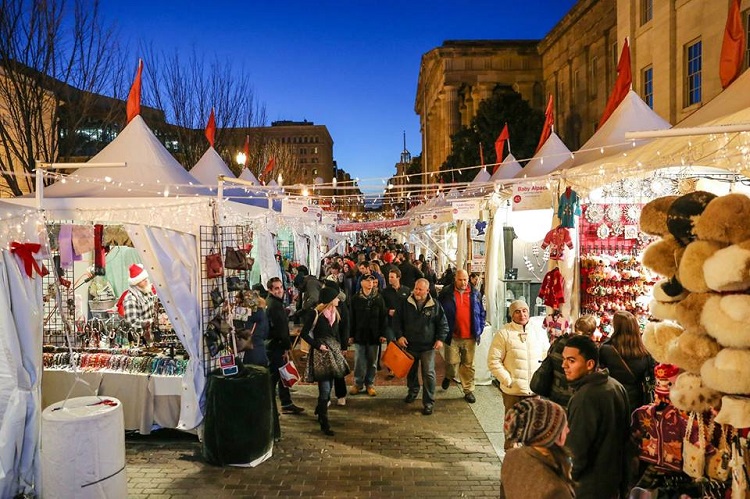 Downtown Holiday Market
Downtown
November 23–December 23
This is the mother of all holiday markets in DC. A unique festive shopping "village" features more than 150 regional artisans, crafters, and boutique businesses of ethically produced goods like jewelry, pottery, paintings, and textiles. Lively seasonal entertainment, great snacks, and festive treats while you shop make your experience that much tastier.
Dupont Circle
November 30–December 2
Visit Dupont's only holiday artisan market for over 40 vendors from Virginia, DC, and Maryland including jewelers, ceramicists, chocolatiers, and makers of housewares. Proceeds from this year's market will benefit the Heurich House, a museum that honors the Heurich family's German heritage by recreating this traditional German public Christmas market in its garden. After you shop the market, tour the seasonally decorated historic house.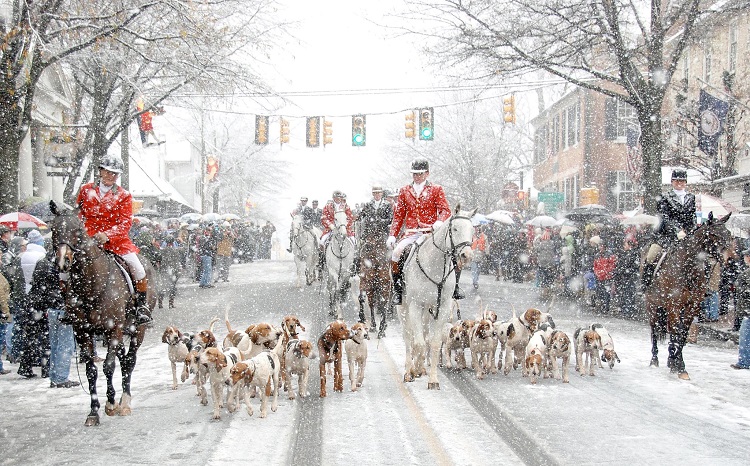 Christmas in Middleburg
Middleburg
November 30–December 2
Middleburg is a one-stop shop for everything Christmas. Witness a tree lighting, watch the mile-long Christmas parade, hear carolers sing, and shop for unique holiday gifts at the craft fair all in one place. End the weekend at the Nutcracker Tea Party, with a performance by the Loudon Ballet.
NoMa
November 30–December 16
Picture a winter wonderland with twinkly lights, s'mores, warm blankets, fire pits, and warm cups of hot chocolate and hot toddies as you pick the best tree to bring home. There will also be fun DIY workshops, photos with Santa, live music, and, of course, plenty of shopping at vendors featuring some of the region's most talented makers.
Alexandria
November 30-December 16 (weekends only)
Open three weekends this winter, be sure to stop by the Del Ray market a couple of times since they feature new artists each week. You'll find goods like fiber, paper crafts, glass, wall calendars, cookbooks, and upcycled tote bags for sale. Participating artists have chosen to donate a portion of their sales to help support Del Ray Artisans' mission to promote art throughout the community.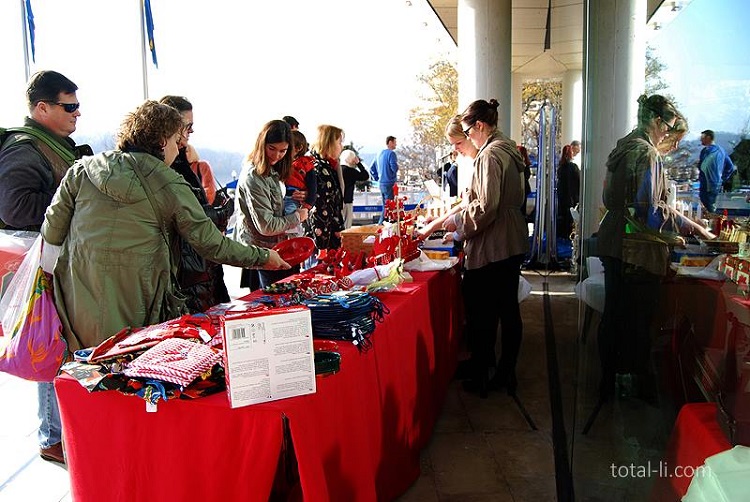 SWEA Bazaar
Georgetown
December 1
Hosted by the Swedish Women's Educational Association, this is possibly the most unique holiday market you'll find throughout the District. Shop gifts, crafts, textiles, and books, as well as homemade bread, glassware, and some Swedish delicacies like as "princesstårta" and "glögg." A portion of the proceeds will benefit SWEA Washington, DC's support of cultural events and grants.
Southwest Waterfront
December 1-2
Shop through wares from dozens of some of the finest Native American artists, like silver and semiprecious jewelry, handwoven baskets, pottery, and traditional pieces like beadwork and dolls. Members of the National Museum of the American Indian will get the special opportunity to meet with some of the artisans before the market opens to the public.
Chantilly
December 7-9
Shop creations from over 300 artists from around the country and hear stories about the inspiration behind their work. Find the perfect gifts, watch on-site demonstrations, and listen to live musical performances. Before heading home, pick up a sweet treat from Firehouse Donuts or Carolina Candy Company and a cuppa from Jersey Charm Gourmet Coffee.
Silver Spring
December 9
The vendors at this market and craft fair have everything you need to surprise everyone on your list this year. Arts and crafts, jewelry, baked goods, haircare and body products abound on Veterans Plaza, and you can even have your purchases gift-wrapped while you enjoy a sweet treat or participate in one of their many contests with fun prizes.
Want more? Follow us on Instagram and Facebook for ticket giveaways and more of the best happenings around DC.