OUTDOOR
Lace Up Your Skates at These DC Ice Rinks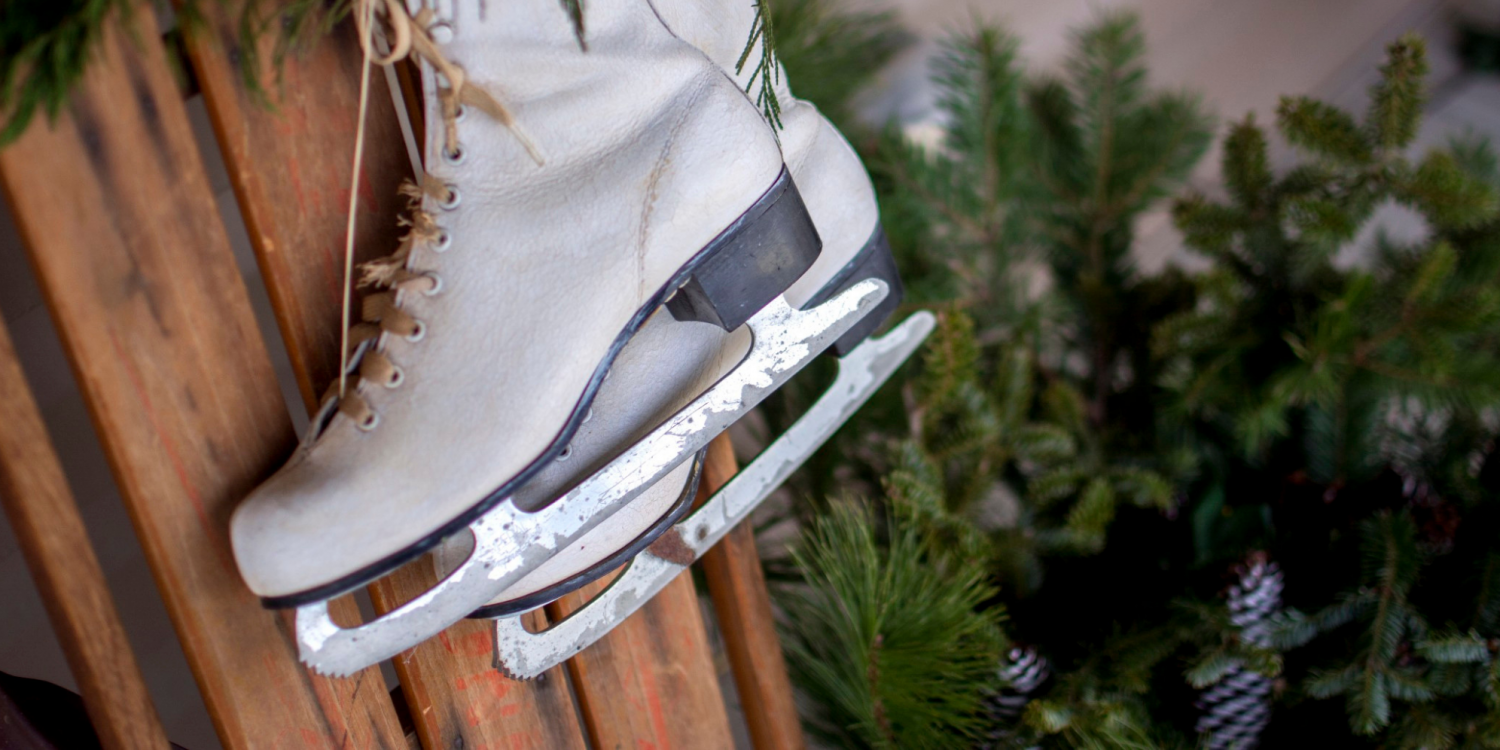 City dwellers don't need to head to the mountains (or even the suburbs) to go ice skating this winter. The District has more than a half-dozen rinks all around the city, Northern Virginia, and Maryland where you can bundle up in your warmest winter gear and glide around the ice like the true Olympic figure skater that you are.
Grab your pals or your sweetheart and get ready for a day out on the ice.
Capitol Riverfront
Canal Park is already a destination for visitors and residents alike, with restaurants and bars overlooking the Anacostia River, but in the winter, the ice rink is a hot spot all its own. Unlike other DC rinks, the ice here is set on a track in the shape of a figure eight with different views at every turn. Come here to avoid the crowds of larger rinks around the city, and schedule your skate around mealtime so you can hit up one of the many dining options nearby.
Prices: $9 per adult; $5 skate rental; $105 for five weeks of lessons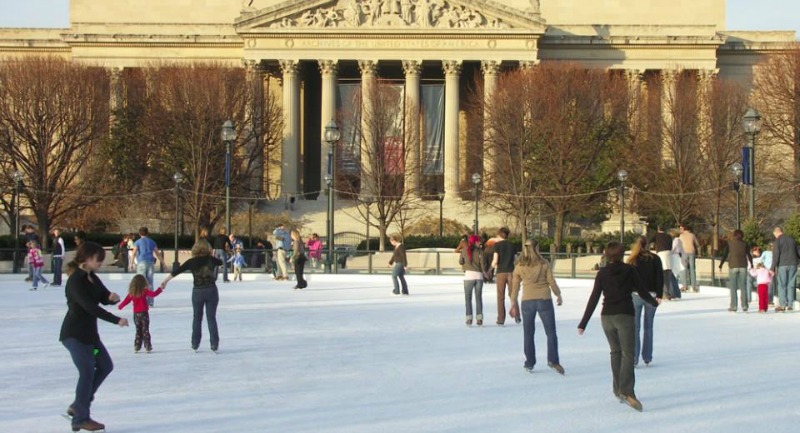 Artful Gallery Apartment
Connecticut Avenue NW
Ice skating at the National Gallery of Art is a popular DC activity in a wonderfully idyllic setting: Imagine gliding around the ice surrounded by artwork and towering sculptures, all lit by the white glow of twinkle lights. The rink is open every day for public skate, or sign up for one of many classes: You can learn anything from perfecting your triple axel to simply remaining upright on your skates. After a few laps around the rink, warm up at the Pavilion Café and take in the panoramic views of NGA's famous Sculpture Garden as you sip on mulled wine or peppermint tea.
Prices: $9 per adult for open skate; $4 skate rental; classes range from $70 per session to $385 for a full season
Arlington, VA
At almost 7,000 square feet, Pentagon Row is the largest outdoor rink in all of Northern Virginia. Cozy up by the double-sided stone fireplace, book a party or special event for a group, or enroll in their Skating School to take lessons on quiet Sunday mornings. You don't even have to leave the area once you're done skating, because Pentagon Row is chock-full of bars, restaurants, shops, and even a spa where you can loosen up your hard-working skating muscles with a massage or body wrap treatment.
Prices: $9 per adult; $5 skate rentals; group rates and season passes available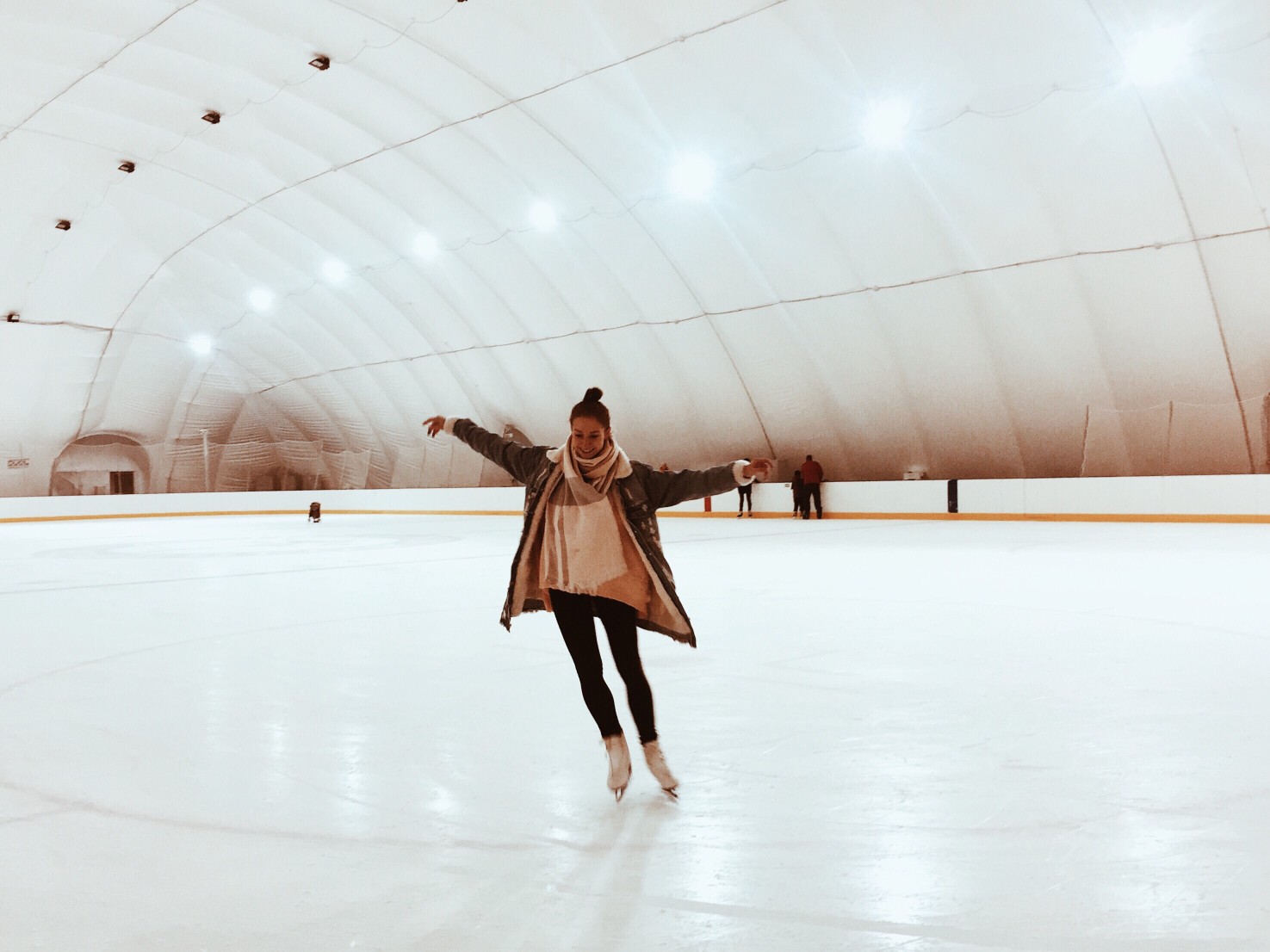 Silver Spring, MD
What's more magical than snow falling lightly around you as you glide on the ice? This year, the Silver Spring rink hosts "Snow on the Row" to enhance that wonderful winter feeling for us all. Legend has it that even Santa himself has made an appearance here, and since it's open on holidays, there's a good chance another sighting will occur. Bonus for locals: You can park for free after 8pm on weekdays and any time on weekends. (It's the little things, right?)
Prices: $9 per adult; $5 skate rentals
Georgetown
Insider tip: Skip the day skate and wait until nightfall to visit this rink; sparkling faux snowflakes and white Christmas lights twinkle in the sky above to create an enchanted evening. With nearly 12,000 square feet of ice, there's plenty of room to skate around with all your friends, especially if you go on one of their weekly theme nights, like Two for Tuesdays with two-for-one admission pricing. Look for the fire pits and heaters that line the patios of nearby bars for a nightcap or a hot cup of cocoa.
Prices: $10 per adult; $6 skate rental; group rates available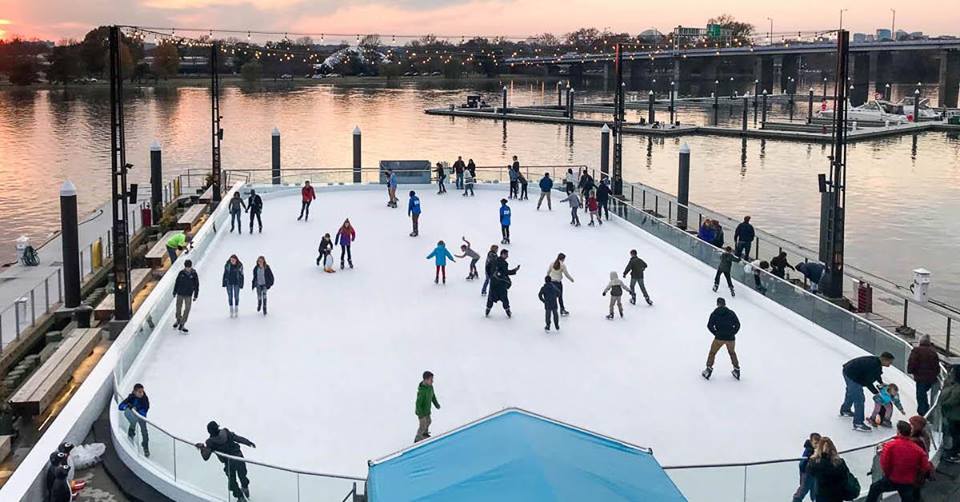 Wharf DC
The Wharf
As one of DC's newest attractions, District Wharf has quickly become a one-stop-shop for food, drink, and play. The ice rink is situated on the Transit Pier with views of the Potomac River and strings of Edison bulbs glowing overhead. Open every day from late November through late February, it's just four blocks from the National Mall, so you could truly create the perfect winter day by including a stop here.
Prices: $12 per adult; $6 skate rental; be sure to bring a credit card, as this rink is cash-free
Foggy Bottom
The Watergate Hotel's rooftop bar transforms into a winter wonderland with an ice rink, fire pits, outdoor heaters, and plush couches made for snuggling. You don't have to be a guest of the hotel to gain admission, so everyone can enjoy 360-degree views of DC and Arlington plus a seasonal menu of winter cocktails and special treats like s'mores and hot pretzels.
Prices: $20 per adult for admission and skate rental
Want more? Follow us on Instagram and Facebook for ticket giveaways and more of the best happenings around DC.