Want to experience trap yoga for yourself?  Follow Trap Yoga Bae on Eventbrite to stay in the know on upcoming classes and events near you.
We're crouched on rubber mats, our legs apart, knees bent, and butts shaking as "Twerk" by City Girls and Cardi B blares through a set of speakers. A pulsing mass of nearly 100 women of all ages, shapes, and sizes, we're gathered together on a Sunday morning in a downtown Oakland event space with high ceilings and exposed infrastructure. We're here to cut loose, open up, quash our inhibitions, and partake in Trap Yoga. 
Britteny Floyd-Mayo, the creator of Trap Yoga, beams down at us from a semi-circular stage flanked by a handmade, cardboard waterfall sculpture.
"What you're looking back at is not your behind — it's all those bitch-ass people you're about to leave behind," she preaches down to us as we bend our bodies into low squats like sumo wrestlers, our hands gripping our knees for stability. 
"We think we need someone else's permission to live our mother-fucking best lives. Well, we don't! Free yourself!"
We clap when she says this, a sweaty, but willing crowd eager to sop up this blue-haired woman's funny and poignant quips. Some of us even yell out "Bars!" — a word Floyd-Mayo encouraged us to say when we agree with statements that sound like bars from rap songs. At the beginning of the class, she'd warned us that we'd probably find ourselves saying the term regularly.
"I've got these messages about a better way to live your life and I plant them in you like little seeds in a catchy way that's kind of like the music you listen to," Floyd-Mayo tells me later.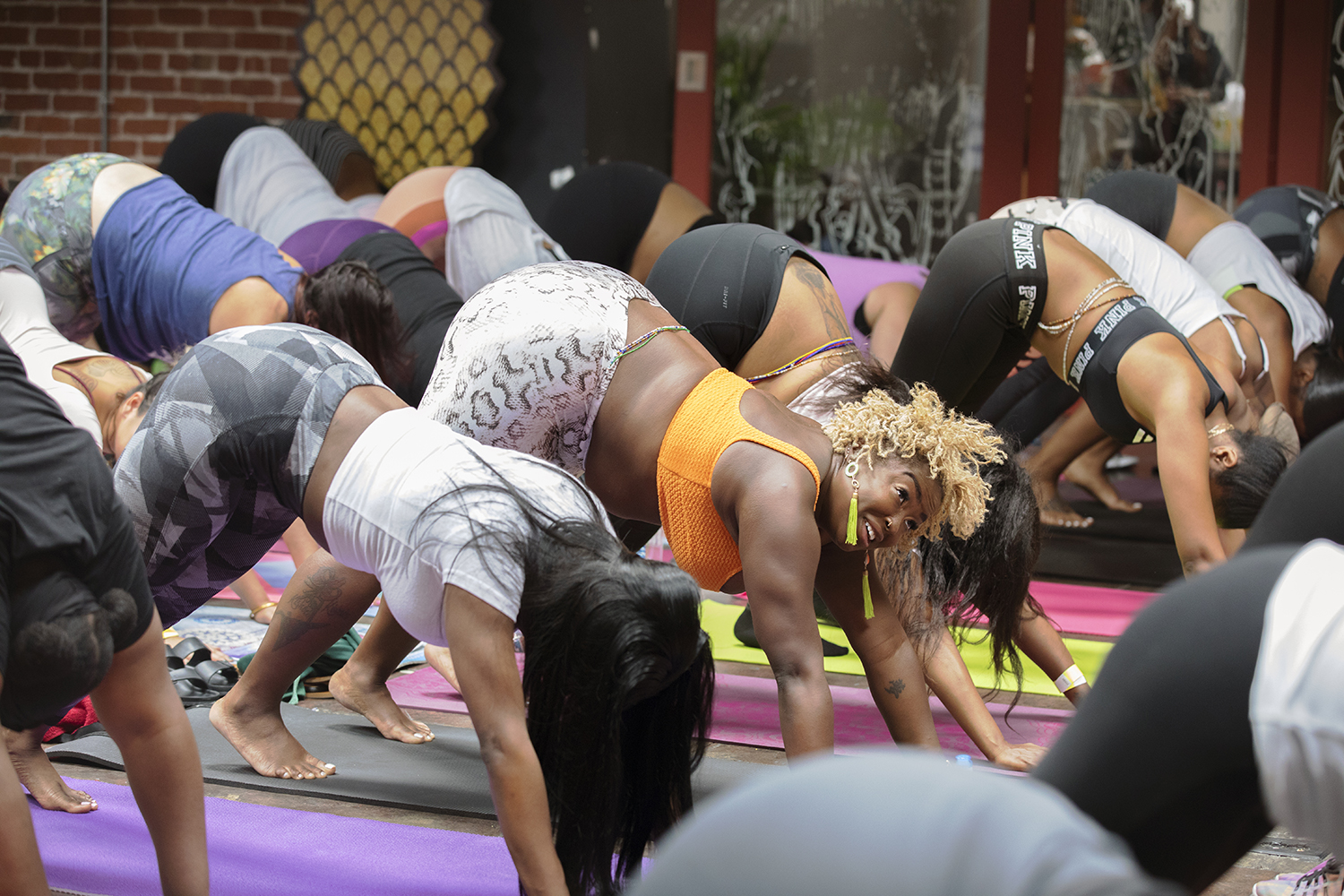 Angie Smith
What is trap yoga?
Known online as Trap Yoga Bae, Floyd-Mayo is an Oakland-born yogi who, after a tumultuous nine-year relationship, went on a personal journey that led to the creation of her own special brand of yoga. By combining hip hop, twerking with traditional poses, and extensive profanity, Floyd-Mayo's Trap Yoga classes are solving wellness' diversity problem, helping those who feel left out of traditional yoga environments to finally feel welcome.
"I feel like it's really hard to get people of color to want to do yoga because they've got this preconceived notion that it is not for them," Floyd-Mayo tells me over the phone. "There's this assumption that you should have read your Bhagavad Gita and that you should know what an om is, when you're already concerned about whether you're good enough, whether you belong here, whether you're wearing the right clothes. And it seems like too often yoga studios are happy to confirm that bias that you don't belong here, that you aren't good enough, and that, yes, this is a place for the elite and you so happen not to be elite."
So, instead of having us chant hard-to-pronounce sanskrit mantras, she breaks our practice down into a language we know. She calls the chaturanga pose "This Shit Hurts" and introduces baby cobra as "a reminder to watch out for the snakes."
Trap Yoga classes are solving wellness' diversity problem, helping those who feel left out of traditional yoga environments to finally feel welcome.
Unfiltered though it may be, Floyd-Mayo's raw and honest teaching style is a big part of her appeal. It's why yogis and non-yogis alike beg her to visit their states and why she's been teaching as many as 50 large-scale events across the nation since February 2017. It's why you can now take her classes online or sign up to receive motivational text messages from her, why the rapper 2 Chainz asked her to be part of his last album campaign, and why the meditation guru Sheila Marie invited her to tour alongside her. 
All of this success has built up to today's six-hour event that sees Floyd-Mayo, along with her DJ and COO Kaylah Burris (aka DJ TrueStarr), merging wellness with self-care and self-love in a positive, party-like atmosphere. Through games, communal activities, pampering, discussions, food, and shopping, Trap Yoga Day is meant to help us change and better our lives by tweaking our attitudes and changing our perspectives — something Floyd-Mayo did five years ago.
How Trap Yoga Bae came to be
Back then, Floyd-Mayo was embroiled in an abusive relationship with a man who would eventually become her husband and the father of her two children. It was a dark period in her life where she suffered emotional and physical pain, extreme insecurity, and eventually, a struggle with depression. Yet now, she realizes it was something she had to go through — and get out of — in order to re-discover herself and find her purpose. 
Her subsequent travels to India also helped with this purpose-seeking journey, where she enrolled in a three-month yoga teacher certification program in Rishikesh. At the time she had no plans of actually using her credentials to become a yoga teacher; she just chose to do the program because it was the cheapest way to travel abroad. 
Upon returning to the States, Floyd-Mayo had planned to become a nurse esthetician, but her plan was sidetracked when a friend who owned a dance studio in San Francisco invited her to teach a yoga class.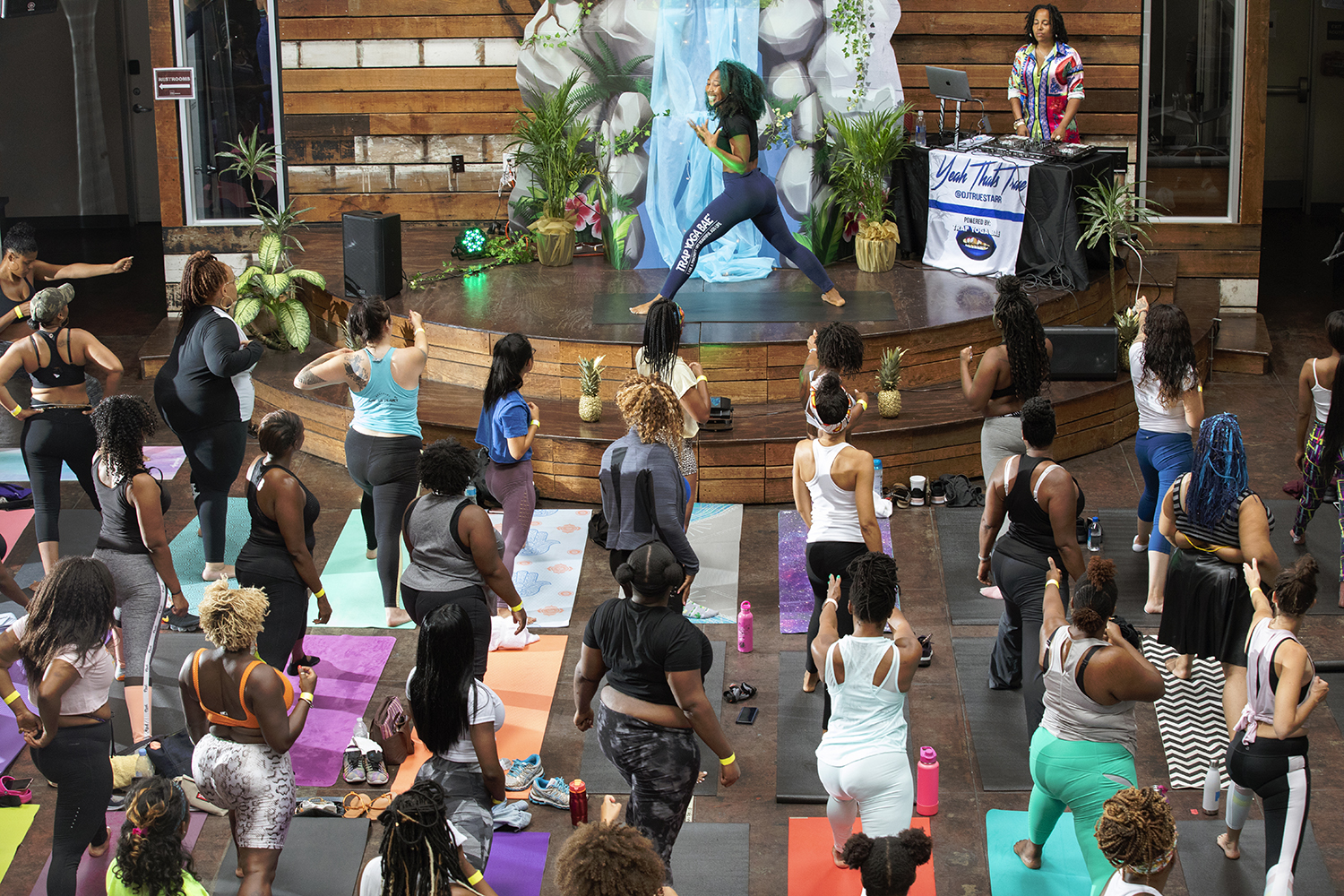 Angie Smith
Wanting to create something "really fun and culturally relevant," Floyd-Mayo landed on the idea of calling it Trap Yoga and playing only trap music. Ninety-two people showed up for the first class. Even more showed up for the second.
"We were like, holy shit! We're on to something," Floyd-Mayo says. "I realized this is what I want to do with my life." So she dropped out of medical school and dedicated herself full-time to growing her brand and honing her online persona as Trap Yoga Bae. She started integrating advice, life lessons, and details about her personal journey into her Instagram captions. Her candid messages were a hit, helping establish her not only as a yogi with a ripped body, but as someone who was inspiring.
Trap Yoga Day is longer than Floyd-Mayo's normal events so that attendees could have more time to ask questions, hang around, and soak it all in. From there, she added a wellness and self-care focus to the event — free massages, free CBD popcorn, free gel manicures — and a section where we could buy female-made, local products, like tooth gems, lipstick-shaped vibrators, head wraps, and sequin-encrusted jumpsuits. Floyd-Mayo also rounded up female experts to host informal lectures for us on topics ranging from healing with crystals to getting started as an entrepreneur.
"I feel like it's really hard to get people of color to want to do yoga because they've got this preconceived notion that it is not for them."
She planned a Ratchet Affirmations Workshop so that she could share the life lessons she'd accrued on her journey, and so that other women could have a chance to tell their stories, as well. She designed and printed out booklets called "An Introduction to Sucka-Free Living" filled with writing prompts for us to fill out and later take home. 
And, so that none of us would forget what we'd learned or why we'd come to Trap Yoga Day, she gave each of us a blue-beaded bracelet with a charm that says: "I am a PRIORITY in my beautiful ass life." 
She planned all of this a year ago and today, it's finally happening.
Trap Day: An all-inclusive experience (in more ways than one)
"All of this shit was in my head, and to see it in real life, I'm fucking bugging out," Floyd-Mayo tells the handful of women gathered around her after our morning Trap Yoga class. 
We're sitting in the adjoining room, scooping spoonfuls of yogurt parfaits out of plastic champagne glasses, our skin still dewy with sweat. Floyd-Mayo's energetic one-hour yoga class saw us doing vinyasa flows and a chaturanga pose modified to include twerking that was surprisingly easier to execute than it looked. 
In less than an hour, the first trio of fireside chats will begin, and for now, we have time to schmooze, snack, shop, and tack affirmations onto a large blackboard hanging from the wall. By the end of the day, there will be more than 50 on it, but right now, only a handful of us have scribbled out motivational quotes. One says, "I'm the one, not the two or three," and another reads, "I'm in control of my destiny & can't nobody stop what's for me." 
Most of us have chosen to remain in the stretchy pants and sandals we wore for the yoga class, but not Floyd-Mayo. With whirlwind speed, she's since changed out of her leggings and sports bra, dressing in a mesh bustier top and platform heels, with a pink West African wax print cape tied around her waist. Her body and her hair are doused with glitter and she shimmers as she navigates the open-air space, greeting others, cracking jokes, dispensing hugs, and doing body-rolls with her tongue out for peoples' Snapchat videos. 
The soothing scent of slow-burning palo santo sticks fills the space as we wait with anticipation to see what Floyd-Mayo has planned next. While some of the women came with friends, many more, including myself, showed up solo. Some flew in from Seattle and Portland or made the six-hour drive up from Los Angeles. One woman decided to celebrate her 41st birthday at Trap Yoga Day. Another received a ticket to the event as a gift from her husband. 
Sitting on fold-up plastic chairs near a table stocked with cucumber cleansing towelettes and cocoa butter lotion, I meet Tirzah Love and Kiki Victoria, two friends from Benicia who decided to book a hotel room in downtown Oakland and make a whole weekend trip out of Trap Yoga Day. They went out for drinks the night before and brunch the morning of. They even brought along their 11- and 13-year-old daughters.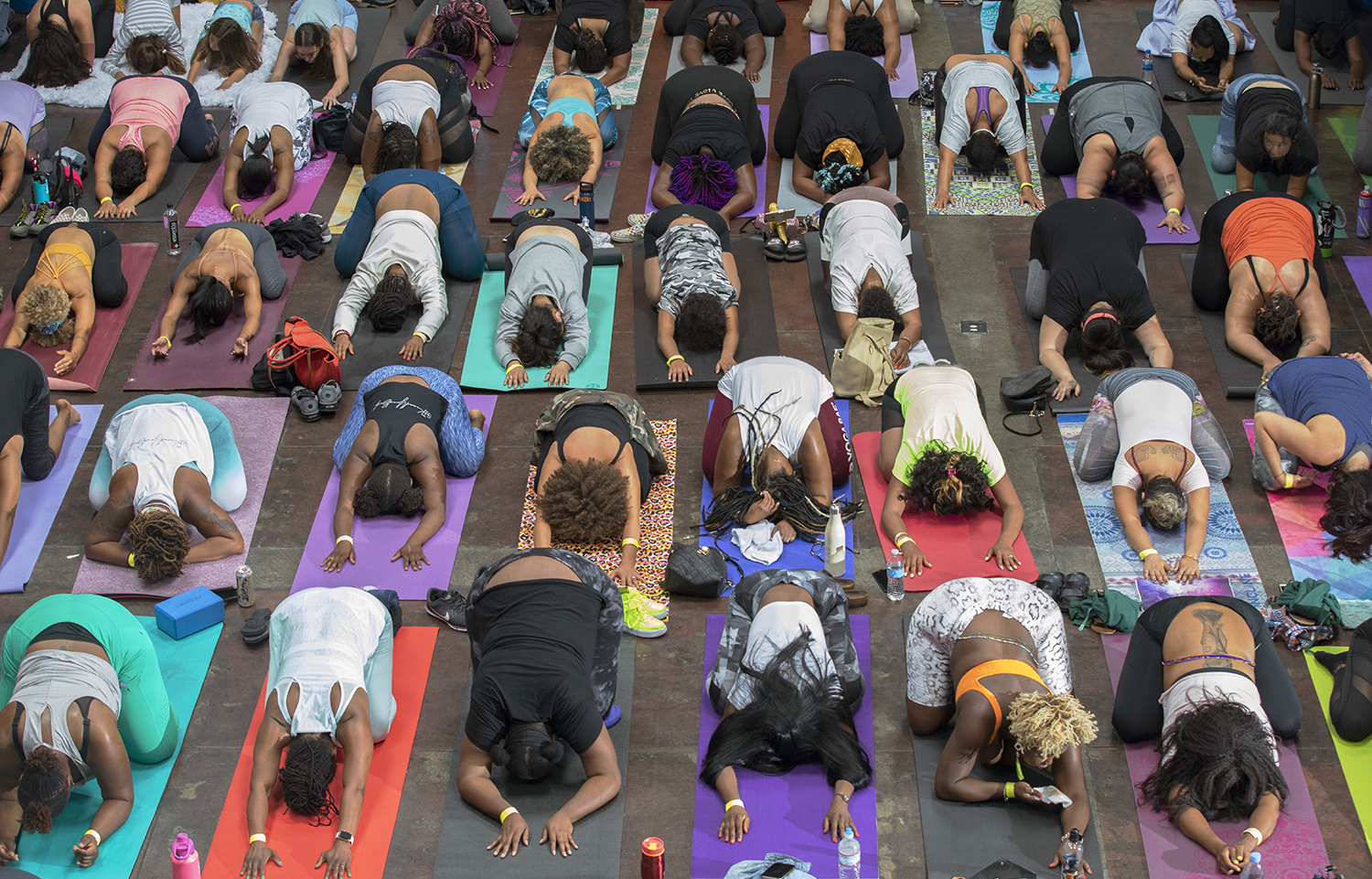 Angie Smith
"They need this: to hear women empowering themselves in a language that we talk in," Love says. "It's not some frou-frou, old language." 
"They're going to grow up and thank us," Victoria adds. 
I ask Victoria and Love's daughters what they think of the event, and only one of them responds: "I'm going to remember this as the time a bunch of butts were in my face."
Others at Trap Yoga Day made a conscientious decision not to bring along their daughters, even though they knew it would probably benefit them. 
"This is for Mama," a woman named Shardonnay Macias tells me, while seated outside in the shade near the massage tables.
I'd noticed her earlier, during a fireside chat about changing perspectives and attitudes called "Really With the Shi(f)t." When the speaker had asked for a volunteer to sit in the middle of the circle and share why they came to Trap Yoga Day, Macias had bravely come forward to tell her story. 
"Honestly, motherhood has totally just fucked my shit up and now I'm trying to put it back together," she tells me. "I want my kids to be rooted in their black identities, but I've also found that I have to find my own black identity first. I've lived in white spaces for so long that I've unknowingly silenced a lot of my blackness, and it's confusing."
Throughout the day, I meet more women who are here to work through their issues and better their lives. For Shelby Williams, a 27-year-old who rode the BART for an hour to get here, Trap Yoga Day couldn't have come at a better time. In five days, she'll head to Texas to meet her father for the first time in 17 years. It's a trip she feels she never would have been able to make if it weren't for Floyd-Mayo, whose Trap Yoga classes she has attended twice before.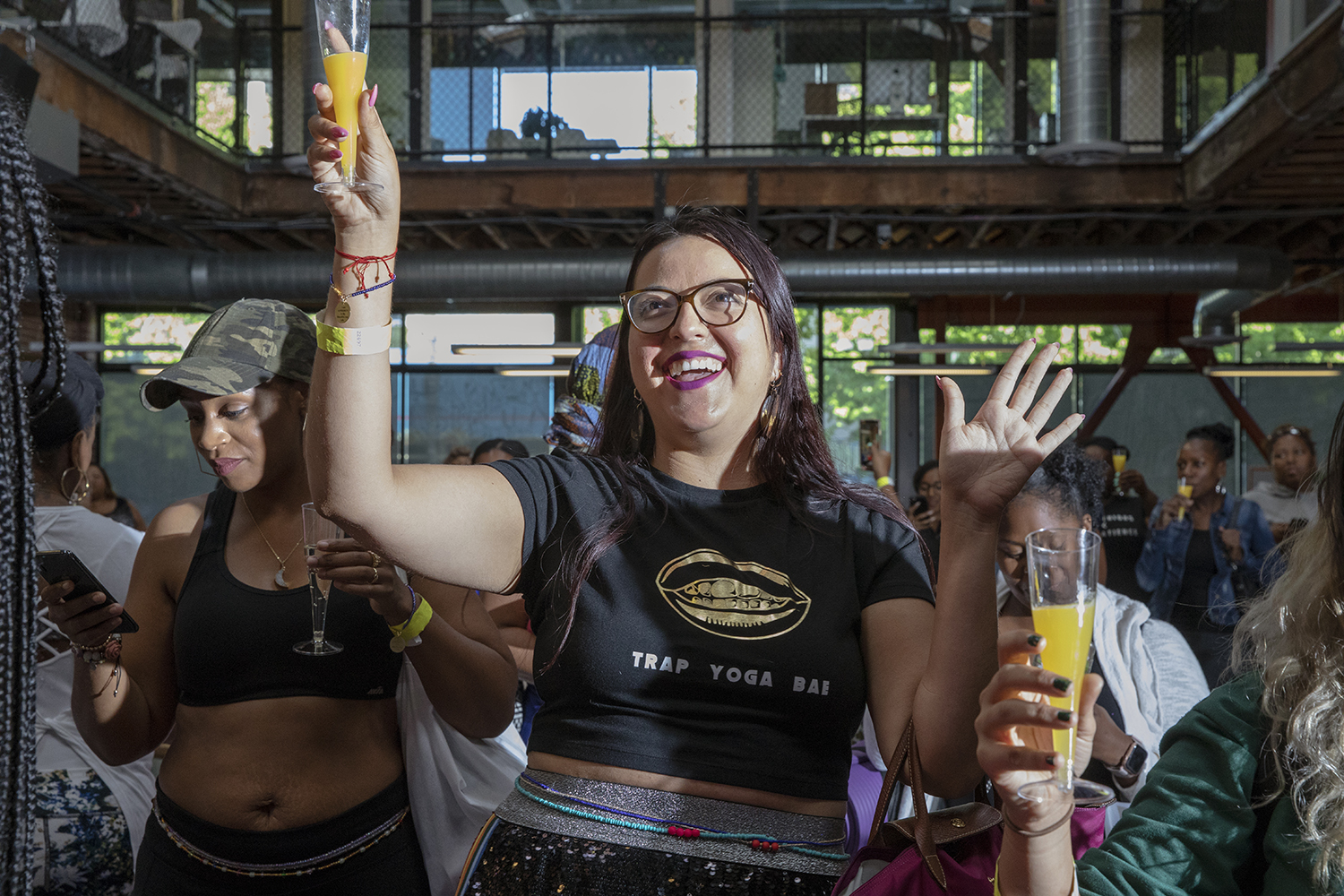 Angie Smith
But for all the good she does, Floyd-Mayo doesn't pretend to be a guru. She's just someone who lived through some shitty stuff, learned valuable lessons, and is now seeking to share them with others. For the most part, she's teaching us things we already know, basic life lessons we were already aware of but had maybe forgotten or ignored. Floyd-Mayo is helping remind us of them, infiltrating our ears and our minds with the stuff she feels we need to know, the stuff we've lost touch with.
She does this throughout the day, but her messages feel particularly deep and affecting as we lay on our backs at the end of our energetic yoga class. The music shifts to a slow number by the R&B artist Bryson Tiller, interrupted intermittently by Floyd-Mayo and her words of wisdom. 
"Next time you need someone to hug you, to tell you it's going to be alright, you're more than qualified to do that shit for yourself," she tells us. "You can save your mother-fucking self. Stop waiting for someone."
Following her commands, I slowly draw my knees up to my chest into a fetal pose, wrapping my arms around my legs for a much-deserved hug. Then, I rock myself into a seated position, plant my feet on the floor, and stand back up atop my mat. 
A surge of energy shoots through my body and I feel ready to receive — and put to practice — everything that Floyd-Mayo is teaching. She seems to have anticipated how we'd all feel, because she's saved the most important message for last. 
"Those L's that you think you've taken, those are not losses," she says. "They're lessons. And every day, you get to start over and use them to be a smarter bitch." 
I make a mental note to remember this, to truly believe it, and rethink the way I view my world. I have Trap Yoga Day to thank for helping me realize that I've been a smart bitch all along.
Ready to get inspired?
Follow Trap Yoga Bae on Eventbrite to stay in the know on upcoming classes and events near you.