When people think of wine tasting in California, their first thought is usually "Napa." But we're here to tell you that Santa Barbara Wine Country, along the Central Coast of California, is not to be overlooked… and is maybe even a better choice (gasp!).
First of all, the Central Coast is gorgeous. Second, it's nowhere near as touristy as Napa, which, let's face it, can be more hectic than fun during peak season. Third, it's a super-easy drive that's a little less than five hours from SF and about two hours from LA. Fourth, there's plenty of yummy (and affordable) food. And fifth, it's where Sideways was filmed (but no, you're not allowed to drink from the spit bucket, not even when you visit Fess Parker where the famous scene was filmed).
If you're a true wine connoisseur or even just love discovering new wineries, then this is the place to visit, since Santa Barbara County Appellation is the *world's* most diverse wine-growing region. That means it offers something for everyone, though you'll mostly find Chardonnay, Pinot Noir, Syrah, and Sauvignon Blanc.
There are nine different "wine routes" you can follow, but we made our home for the weekend in Solvang (the cutest town we've ever seen) and created our own route.
Read on to see where we tasted wine, where we ate, and where we recommend laying your head at night.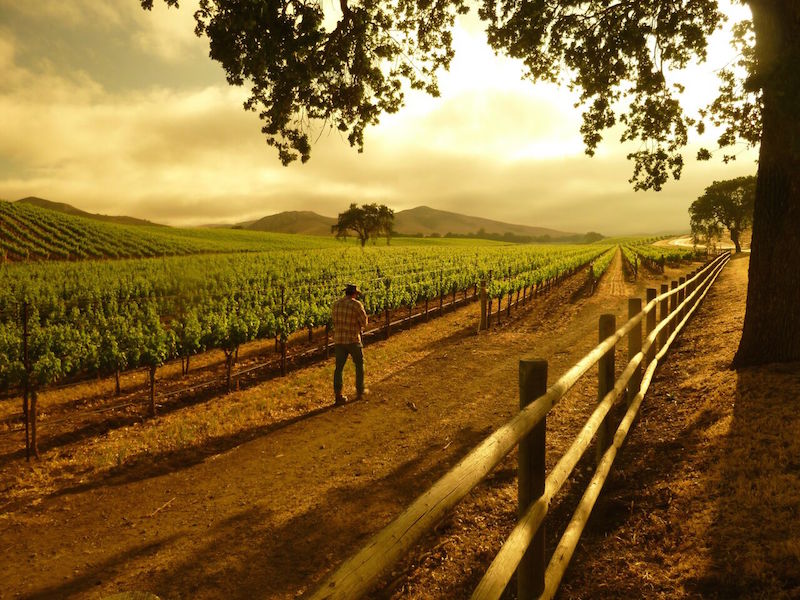 WINE TASTING
   Dragonette Cellars
The key to surviving a weekend of wine tasting is to choose a realistic number of wineries and tasting rooms to visit (four per day is usually a good number), eat a hearty breakfast (and lunch), and never be afraid to spit.
And also to go to all of these places, which we can't say enough good things about.
Epiphany
Epiphany Cellars
Los Olivos, CA
11 AM – 5:30 PM, 7 days a week
We love Epiphany because not only is the wine approachable, the thought process behind tasting the wine is also approachable. Ask questions. Experiment. Try new things. And most of all: remember the sole purpose of wine is to enjoy it.
Of course, it doesn't hurt that the tasting room is totally chic with comfy, stylish seating areas, pops or orange, and lots of light. If it's a sunny day, take your wine outside and sit under the vine-covered trellis. The tasting fee is $15 and you can also buy wines by the glass.
The Bubble Shack
Los Olivos, CA
11 AM – 4:30 PM, Friday – Sunday
Be sure to stop by The Bubble Shack (tasting fee: $12), which is right next door, and is the only sparkling wine tasting room in Los Olivos.
Our favorites: 2013 Petite Sirah, 2013 Revelation, 2014 Sibling Bubblery
Good to know: Nestled right behind the Epiphany tasting room are two "rustic, yet refined" cabins where you can stay the night. They're completely charming and within walking distance to a ton of tasting rooms and restaurants.
J. Wilkes
Los Olivos, CA
Hours: 11 AM – 5 PM, Thursday – Monday
The key to visiting the J. Wilkes Tasting Room and Education Center is to make sure winemaker Wes Hagen is there. Not only does he crack hilarious jokes (Q: Why is pinot grigio like having sex in a canoe? A: It's f*cking close to water.) and emit constant words of wisdom ("Skipping white wine is like skipping foreplay."), he is a skilled orator who makes learning about wine fascinating and fun.
If you want to know if Wes will be pouring and teaching, you should check his Facebook page. He is also available to lead private tastings. Email him at whagen@jwilkes.com.
The tasting fee is $10 for five wines.
Our favorites: 2014 J. Wilkes Wines Pinot Blanc, 2013 J. Wilkes Wines Pinot Noir
Bien Nacido Estate Wines
Los Olivos, CA
Hours: 11 AM – 5 PM, Thursday – Monday
Bien Nacido is one of the most well-known and well-respected vineyards in Santa Barbara wine country (and one of the hottest wineries in California), which makes the tasting room a must-visit. Known for its cool climate wine grapes, the winemakers at Bien Nacido also have a passion for sustainable farming and the history of the land.
The tasting room is in a quaint historic building right on Grand Avenue; take some time to check out the photos on the wall. And yes, the tasting fee is a bit higher at Bien Nacido ($20 for five wines), but it's definitely worth it.
Our favorites: Is "all of them" an acceptable choice? Okay, good.
Dragonette Cellars
Los Olivos, CA
Hours: 11 AM – 5 PM, 7 days a week
Dragonette Cellars has only been around for just over a decade, but thanks to the winemakers' passion and knowledge, the Pinot Noir was some of the best we tasted.
The winemakers take a patient and minimalist approach to their wine, which you should be sure to ask about when doing the regular or reserve tasting in the adorable tasting room. After all, while the best part of wine tasting is, well, tasting wine, the second best part is learning a little something while you're doing it.
Alma Rosa
Alma Rosa Winery
Buellton, CA
Hours: 12 PM – 6 PM, 7 days a week
Alma Rosa's tasting room is rustic and elegant with a huge fireplace in the back room and a gorgeous olive tree in the center of the main space. Despite how charming this space is, the wine still takes center stage.
This is because pioneer winegrowers Thekla and Richard Sanford are so incredibly passionate about the grapes they grow and the wine they make. From organic farming and sustainable agriculture to ecologically responsible packaging, this husband and wife team are producing Pinot Noirs and Chardonnays that are distinct and delicious.
Fingers crossed that when you're there Richard is also, as getting the chance to speak with him about his wine is truly an amazing experience. (He doesn't have set hours, but he is in the tasting room often.)
Gainey Vineyard
Gainey Vineyard
Santa Ynez, CA
Hours: 10 AM – 4 PM, 7 days a week. Check times for barrel tastings and Signature Cellar Tastings.
If you visit Gainey Vineyard in the spring, be sure to plan to partake in the Barn Tasting at the old family homestead. This is the way to do it for two reasons: 1) It's an intimate tasting at a barn right in the heart of the Home Ranch vineyard and 2) You get to take a Jeep to get there! It's a true one-of-a-kind experience and it's only $15 for six tastings.
Still, even if you can't do the Barn Tasting, it's worth a stop to taste these 100% estate-grown wines made with grapes from some of the best vineyards in Santa Barbara County. Gainey offers regular tastings, barrel tastings, and Signature Cellar Tastings. The first two are $15 and the latter is $45 and requires a reservation.
Fess Parker Winery
Fess Parker Winery
Los Olivos, CA
Hours: 10 AM – 4:45 PM, 7 days a week
Fess Parker is the kind of winery that's so beautiful it would be easy to spend half a day just hanging out on the property… and you can do so if you attend one of their events, which range from lunches with vineyard tours, vine-side tastings, sneak peeks at future releases, and a family-style meal at wine club member release day BBQs.
But even if you can't make one of those events, you should stop by to do the classic tasting ($14) which is led by someone in-the-know, and not just a bunch of random pours. There's also an enhanced tasting ($25) which takes place on the private terrace and is thematic. Reservations are recommended for the latter. Email Barrett: barrett@fessparker.com.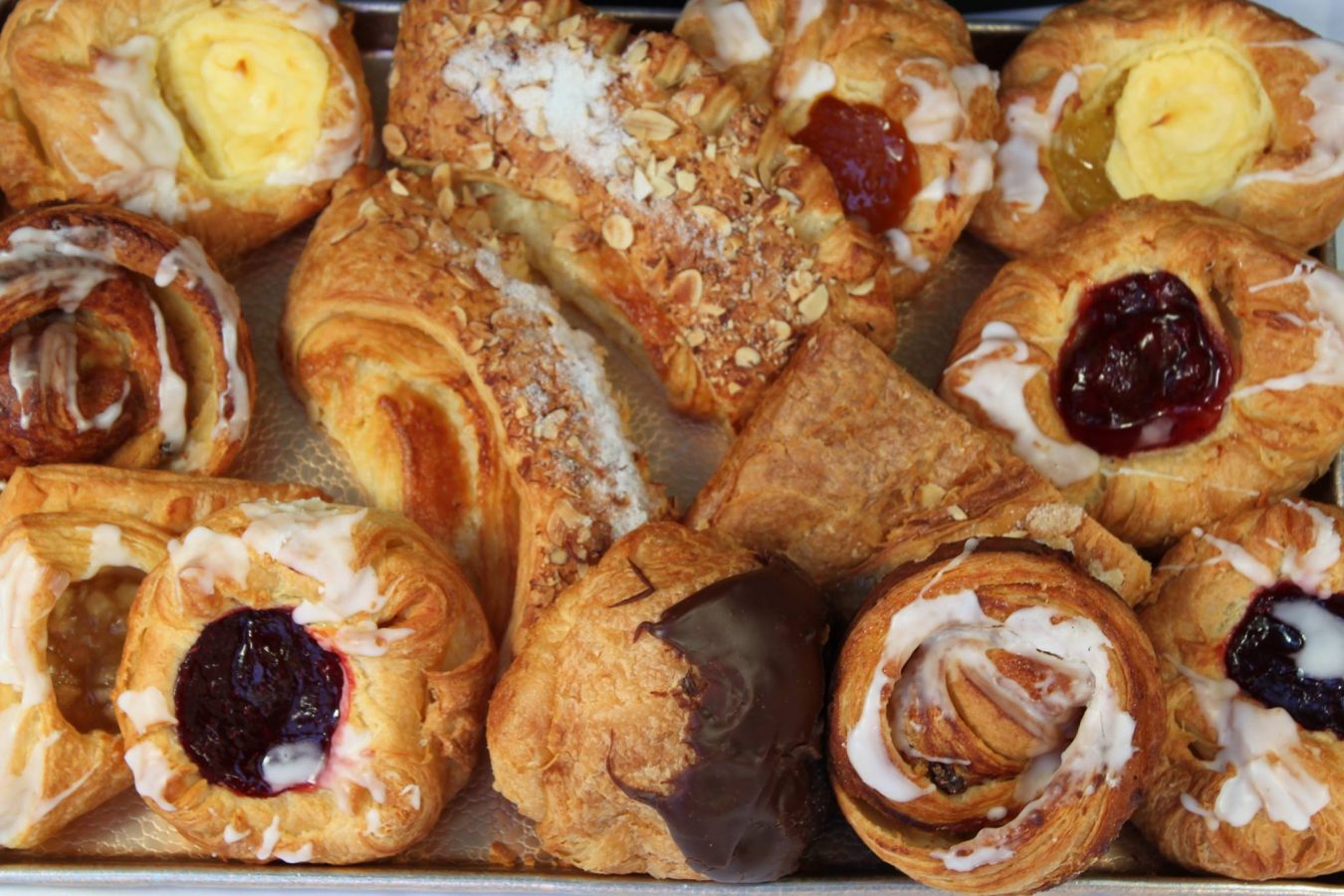 WHERE TO EAT
   Daisy Barringer
Great wine demands great food. (Plus, as we mentioned, the key to conquering a weekend of wine tasting is to eat often and eat well.)
Here are just a few spots we recommend:
The Gathering Table at the Ballard Inn
Ballard, CA
This romantic country inn is home to The Gathering Table, an intimate (just 12 tables) and romantic restaurant with a roaring fireplace and a tapas-style menu that was beyond perfection. The Hamachi is a must-order, as is the wild mushroom risotto, and the pork and shrimp shumai. Oh, and a word to the wise: save room for dessert.
The Hitching Post II
Buellton, CA
Though this spot was made famous by the movie Sideways, the real reason to go is for tasty west coast BBQ grilled over an open fire of red wood oak and an awesome wine list. Come hungry because every entrée (which is already a huge portion of meat) comes with a million sides. And yeah, you might as well add the shrimp cocktail for two bucks. Why not?
Sides Hardware and Shoes
Los Olivos, CA
After touring vineyards and walking around to tasting rooms all day, you'll have earned the hearty comfort food at this cute little restaurant that calls an old hardware and shoes storefront home. Sides is a great choice for lunch if you're hopping from tasting room to tasting room in Los Olivos. We don't want to tell you what to do, but maybe split the fried chicken sandwich and tossed cobb salad. Or the pastrami on rye and tostada salad. Or just get the Brothers Burger and don't share it with anyone. Dinner is just as tasty, but a little more elevated with options like lamb sirloin, diver sea scallops, and salmon. We got the fried chicken though because of course we did.
Olsen's Danish Village Bakery
Solvang, CA
This bakery originally started in Denmark in the 1900s and has now passed through four generations (it moved to Solvang in 1970) and is the place to go for a dizzying array of authentic Danish pastries, cookies, and cakes, including Danish Custard Kringle, Winerbrod Danish pastries, butter cookies, and Almond Ring Cake. It's a must, even if you just get a bunch of treats for the car ride home.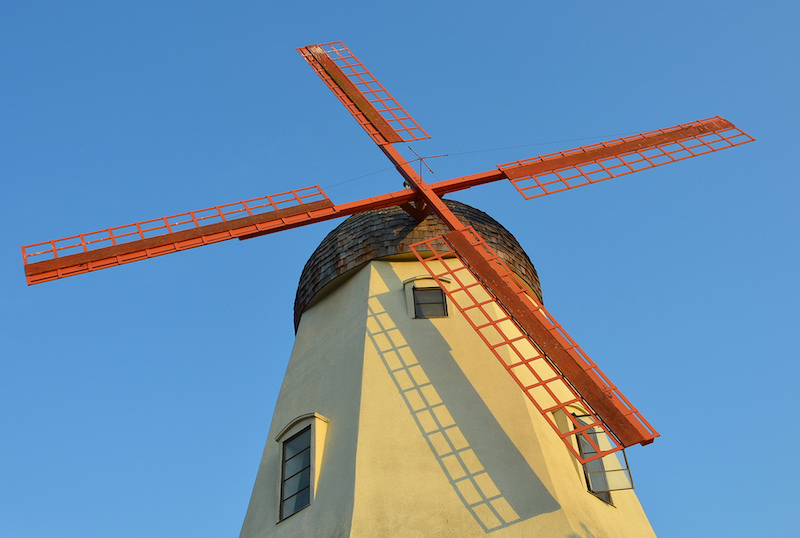 WHERE TO STAY
There's only one place we'll ever stay when wine tasting in Santa Barbara Wine Country and that's the Danish Village of Solvang. The town was founded in 1911 by a group of Danes and to this day, it looks like a little Denmark with Danish-style architecture, a copy of the famous Little Mermaid statue, a replica of Copenhagen's Round Tower, tons of museums, shops, and a guided tour of downtown on a trolley pulled by horses. It's the perfect place to stay as there's so much to do… After all, one can't only wine taste, right?
Plus, we found the cutest boutique hotel that anyone would love.
The Landsby
The Lansby Hotel
Solvang, CA
We're pretty obsessed with the recently remodeled Landsy Hotel, a luxury boutique hotel right in downtown Solvang. It has a traditional Scandinavian feel, but with a clean, modern aesthetic, which is a nice counterpart to Solvang's kitschy vibe. (Not that we don't love kitsch; it's just nice to have an escape when it's time to wind down.) The rooms are very design-forward with lots of natural light and delightful details, like local art and high-end finishes. And the beds are so comfy, you won't want to get up in the morning.
The lobby is the perfect place to grab a hand-crafted cocktail and people watch, and though we didn't eat dinner there, we hear the restaurant, Mad & Vin ("food and wine" in Danish) does not disappoint.