PERFORMING ARTS
I Tried It: Face Your Fears at The Moth StorySLAM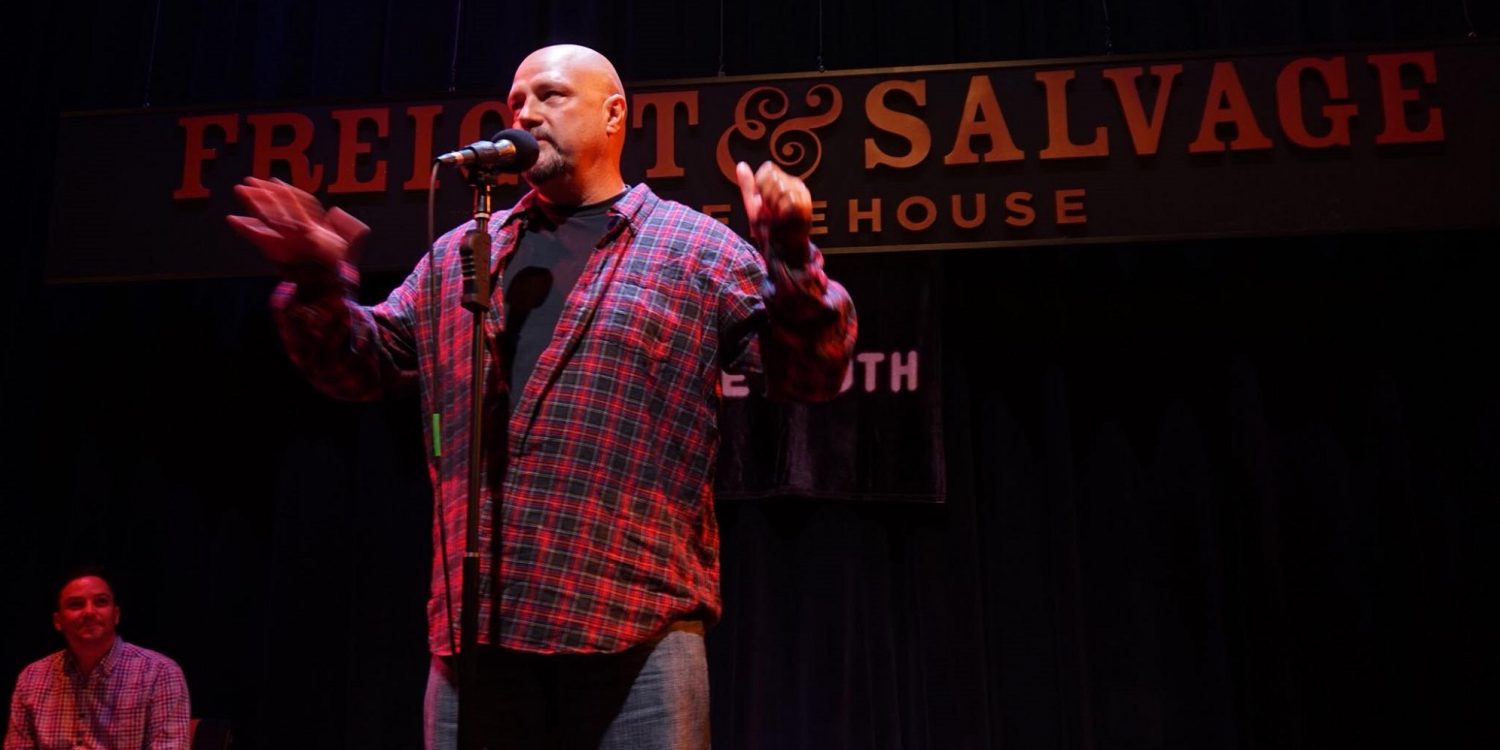 I'm sitting in the audience at The Moth: StorySLAM and it hits me: I can't remember the last time I was genuinely, pleasantly surprised.
The night before, on the couch with my husband, we watched a brand-new show and soundtracked it with the tap of our fingers on our phones. What movie was that one guy in? What are critics saying about this episode? It's the same with concerts, where I binge listen to the band's catalog on Spotify before I show up at the venue, or movies whose gasp-inducing moments were long ago demolished by accidentally stumbling onto spoilers.
At The Moth, I'm wrapped in that "who knows what's going to happen?" energy like it's the world's biggest weighted blanket.
What is The Moth: StorySLAM and what on earth are you talking about?
Twice a month, hundreds of people convene at either Freight & Salvage in Berkeley or Public Works in San Francisco. And in those throngs, there are undercover storytellers. They've shown up with (ideally) five minutes of crisp narrative that is somehow connected to the theme of the night.
Brave potential storytellers put their names in a sack before the show. The first name is pulled by the host, then each storyteller pulls the next name. Throughout the night, 10 names are chosen. So you could sit in the crowd for the entire nearly-three-hour performance waiting in agony if you decide to add your name to the sack, or you could unexpectedly pop up onstage at any point and fill up on adrenaline and spotlight shine.
I trailed Steven Haskins, a recent StorySLAM winner and regular attendee, for the night to learn more about his take on the StorySLAM experience. At his second StorySLAM a few months ago, his name was pulled. Not only did he take the stage: He won.
That's right! Once you get up and artfully bare your soul, you are judged by multiple crews of judges who are also plucked from the audience. The only criterion to become a judge is that you don't know anyone who's putting their name in for the show that night. The scores are tallied up, and the winner goes to a GrandSLAM Championship.
After his first win, Steven buckled down and started hitting as many StorySLAMs as he could. So far, he's been called onstage seven times.
How to tell a story at StorySLAM
"My process is knowing exactly how I'm going to start my story, exactly how I'm going to end, and the overall point of telling it," says Steven. "I'm a dog walker, and I tell the story to myself while I'm walking dogs. If it flows naturally, then I know I'm onto something. If I'm struggling to remember the order, I go back to the drawing board and I try something else."
He practices the first few lines over and over again until they flow, which he recommends to future storytellers. "My speaker advice is just practice, practice before you go up there. Do a little bit of homework as far as what constitutes a story. There are some real gems that really make the night worth going out to go see this," he says. "Don't try to guess what the audience wants to hear. Tell the stories you want to tell. Be true to yourself."
The Moth website has guides on how to craft your story for a StorySLAM. Like all good stories, your five-minute tale should offer a conflict and a resolution. The Moth discourages fake accents and stand-up routines, and encourages you to craft a magnetic opening line. But their most important piece of advice is to remember that notes and papers are not allowed onstage. Your story should be memorized, and the delivery matters.
The night I'm there, storytellers sound conversational and relaxed in a way that's only possible if you're very, very prepared. No robotic rote memorization allowed. And you may want to make some small adjustments once you get there.
"Oh man, I've got some F-bombs tonight," says Steven, nervously eyeing three rows of middle schoolers. "I can tell the story without them, though. I'm not worried." A woman in front of us stands, spots them, and says the exact same thing.
Want to talk element of surprise? Little do they know that in 30 minutes, one of those middle schoolers will go onstage and tell a story so razor sharp and meticulously delivered that people nearly bounce out of their seats with applause.
And just being in the audience and wondering what will happen next is exciting. There's no pressure to participate in the actual show. But you might wish you'd given yourself the chance.
How to watch a StorySLAM
"Just go and have a good time. Keep an open mind. And realize that public speaking is the biggest fear, so the people who are doing this have really taken a huge step out onto the ledge, and we're all sitting there watching," says Steven.
Unlike stand-up, this is a warm crowd. No one heckles. The scores are fairly high across the board, and the room buzzes with a supportive energy. Everyone gives a hearty laugh to each punchline.
"I've seen someone go up there and freeze, and the crowd will yell 'You can do it!' and then there's like this magic moment where they can do it," says Steven. "It's really interesting how memory recall almost needs that friendly little boost and encouragement."
Steven doesn't get picked the night I'm there. The lights go up and he shrugs. He has the next theme memorized, and in two weeks, he'll be ready to try again.
Why does a storytelling show matter?
It is a joy to be pleasantly surprised and truly relaxing to sit back and be fully present. What are you going to do, look up the next storyteller? Survey the list and wonder which ones will be good? There is no list. There is nothing to do but watch and listen.
StorySLAMs combine all the ineffable stuff we crave and turns it into an experience that is alternately side-splitting and healing, and overall a good time. It's a rich blend of intimacy, surprise, delight, and the stunning feeling of connection you get from someone sharing their stories with you.
At The Moth, people tell hilarious stories, light stories, dark stories, tear-jerker stories, but all of their stories shimmer with the connective authenticity that makes you feel less alone on earth.
When I ask Steven how he got into storytelling, he tells me he lost his father when he was 17 years old, and one day he realized he didn't have a recording of his voice. He wanted his stories, their stories, their family, to exist somewhere outside of his mind. He found a place to share them where his own sonorous voice is recorded every time.
At the end of the night, people filed up to the stage and shared the first line of their untold stories. It was weirdly beautiful.
Ready to check out your first StorySLAM?
Follow The Moth on Eventbrite to find the next StorySLAM near you. Tickets go on sale one week before each show, and they sell out fast. If you're interested in telling your story, the themes for the next few months are available online.